Joe Biden Paid Over $299,000 in Federal Taxes, Received Almost $47,000 Refund in 2019
Democratic presidential nominee Joe Biden and his wife, Jill, paid more than a quarter-million dollars in federal income taxes in 2019, while also receiving a refund of nearly $47,000.
In an apparent jab at President Donald Trump's refusal to release his personal tax returns, Biden and his vice presidential running mate, Senator Kamala Harris of California, released their 2019 tax returns on Tuesday ahead of the first presidential debate. Biden had previously released several years of his personal tax returns but not his return for 2019.
The documents showed that Biden—who filed jointly with his wife, which Harris also did with her husband—paid more than $299,000 in federal income taxes. The Bidens received a tax refund totaling $46,858.
"The American people deserve transparency from their leaders, it's why as of today, I've released 22 years of my tax returns," Biden tweeted on Tuesday, sharing a link to his returns.
In 2018, the returns show that the Bidens reported income of $985,233, of which $944,737 was taxable. Together, the couple earned $517,334 in wages, while the rest of their income came from Social Security, pensions, IRAs and income listed as "other.
This other income was divided between two S corporations set up by the Bidens— CelticCapri Corp. and Giacoppa Corp.—to control their speaking engagements, book royalties and other endeavors. They reported income of $53,384 from CelticCapri and $175,318 from Giacoppa. That "other" income totaled $228,704, making it the second-largest amount, followed by pensions and annuities payments of $186,001.
The release of another year of Biden's tax returns comes after The New York Times reported information from nearly two decades of Trump's closely guarded tax returns. Although the newspaper did not publish the documents, citing a desire to protect their sources, it reported that Trump had paid no federal income taxes in 11 of the 18 years reviewed. Additionally, Trump paid just $750 in 2016 and 2017.
Comparatively, Biden paid thousands of times more in taxes than Trump did in 2016 and 2017. The Bidens, who filed jointly both years, paid a combined $1.5 million in 2016 and $3.7 million in 2017—or 2,000 times more than Trump the first year and over 4,900 times more than the president the second year. Meanwhile, Biden and his wife are estimated to be worth about $9 million, while Trump's net worth is estimated to be about $2.5 billion.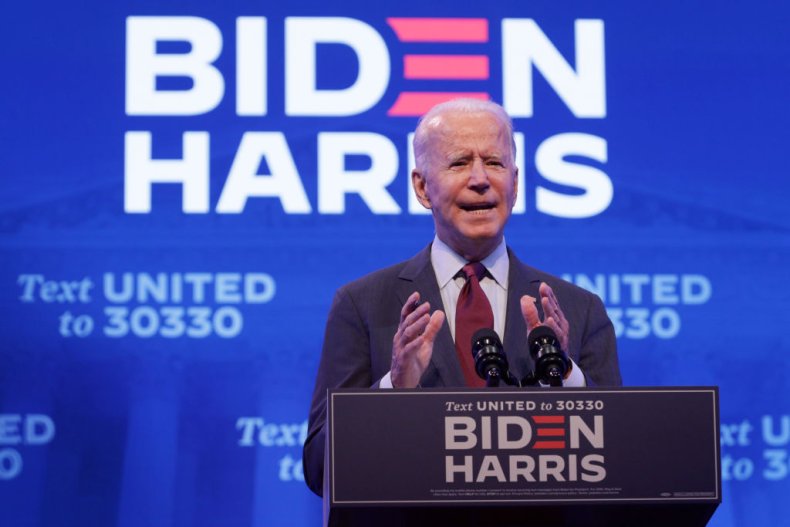 In 2016, Democratic presidential nominee Hillary Clinton suggested that Trump paid little or nothing in federal income taxes. In response, the Republican nominee suggested that this made him "smart." Although Trump dismissed the Times' report on his tax returns as "fake news," he did not cite any specific points he disagreed with.
He also emphasized that he used tax write-offs that are legal. "I paid many millions of dollars in taxes but was entitled, like everyone else, to depreciation & tax credits," Trump tweeted on Monday.
It's unclear whether Trump's avoidance of taxes was legal. Some legal and financial experts have suggested that the returns, according to the Times' reporting, appear to show highly questionable—if not illegal—accounting practices. New York state has been involved in a lengthy legal battle with the president to subpoena his tax returns as it investigates the possibility of financial wrongdoing.
Updated September 29 at 2:20 p.m.: More details and background information has been added to this story.