Joe Biden Pledges to 'Finish The Job' On $2,000 Stimulus Checks, $600 'Simply Not Enough'
President Joe Biden just reaffirmed his administration's commitment to putting more money in the pockets of Americans struggling financially amid the coronavirus pandemic.
"We're going to finish the job of getting a total of $2,000 in direct payments to folks," Biden said Friday while delivering remarks on the economy.
The president added that the $600 direct payment included in legislation passed by Congress in December — a bill he described as a "downpayment" — "is simply not enough if you still had to choose between paying rent and putting food on the table."
Biden signed two executive orders on Friday aimed at reducing the economic toll brought on by the COVID-19 crisis, adding to the flurry of actions he's taken since being sworn into office on Wednesday.
The latest wave of executive orders includes expanding food security programs, beginning a process to require that federal contractors pay employees at least $15 per hour and taking action to get stimulus checks into the hands of eligible people who still haven't received them yet.
"Right now there are up to eight million people that are eligible for direct payments under the CARES Act and a relief bill passed in December," Biden said. "They're entitled to those payments but there's not an easy way for those folks to access them. So we're making it a priority today to fix that problem and get them relief they're entitled to."
But the White House has made it clear that these executive actions are no replacement for a comprehensive congressional response.
Biden is pushing for a $1.9 trillion emergency relief plan that would send $1,400 direct cash payments to qualifying Americans—which when added to the $600 passed last month would make the total benefit $2,000.
His American Rescue Plan would also increase the minimum wage to $15 per hour for federal workers, extend the eviction and foreclosure moratoriums until the end of September and allocate billions of dollars to coronavirus testing and vaccination distribution, among other measures.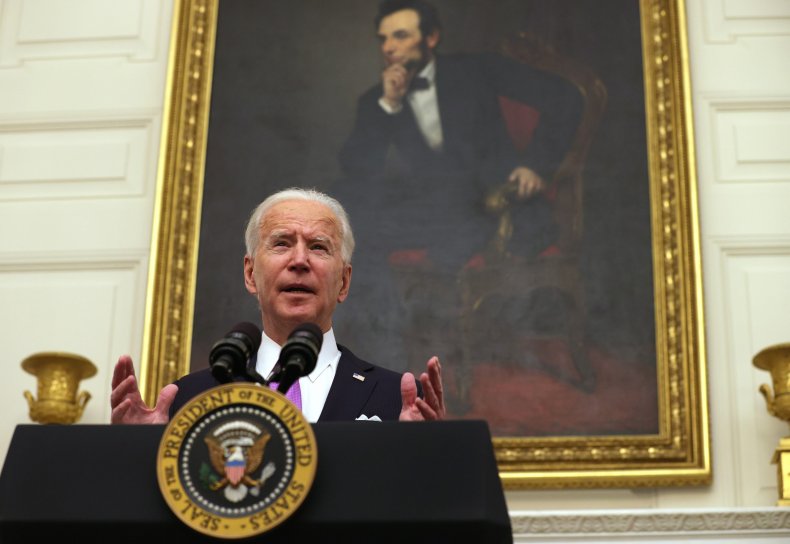 Republicans are already pushing back on the plan and questioning the need for such a pricey bill less than a month after Congress passed a $900 billion compromise coronavirus stimulus package.
Brian Deese, the director of the National Economic Council, justified the cost of Biden's proposal during a press briefing at the White House on Friday. He told reporters that "the risk of under-shooting far outweighs the risk of doing too much."
Biden echoed that sentiment, saying "if we act now our economy will be stronger in both the short and long run."
The president added, "We cannot, will not let people go hungry. We cannot let people be evicted because of nothing they did themselves. We cannot watch people lose their jobs. We have to act."