Joe Biden Poised to Win Big If Mike Bloomberg Supporters Vote For Their Second Choice, New Poll Shows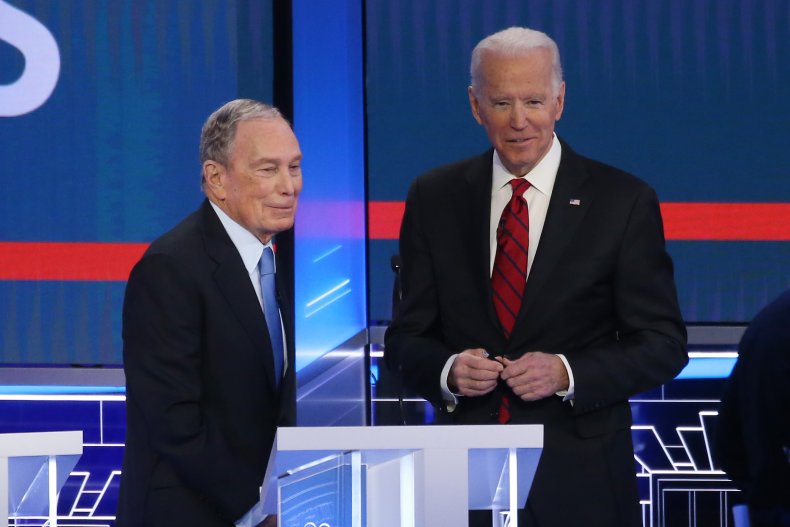 Former Vice President Joe Biden could win big in the coming Democratic primary contests if former New York City Mayor Mike Bloomberg's supporters vote for their second choice in upcoming primaries, according to a new poll.
The Morning Consult poll found that 48 percent of Bloomberg voters said Biden would be their second choice. Twenty-five percent of Bloomberg voters chose Vermont Senator Bernie Sanders and 15 percent picked Massachusetts Senator Elizabeth Warren as second choice candidates.
Morning Consult stated that this would equal to "a potential 8-percentage-point increase" to the 36 percent of potential Democratic primary voters who already support Biden, with a margin of error of plus or minus 4 percent.
The Morning Consult told Newsweek in an email that this poll was conducted "among 472 Democratic primary voters who identified Michael Bloomberg as their first choice in the Democratic presidential primary." The responses were collected beginning on Monday afternoon through Tuesday.
Bloomberg dropped out of the race for the Democratic presidential nomination Wednesday after a poor performance on Super Tuesday. In his statement informing the public of his decision, the billionaire also endorsed Biden.
"I've always believed that defeating Donald Trump starts with uniting behind the candidate with the best shot to do it," Bloomberg stated. "After yesterday's vote, it is clear that candidate is my friend and a great American, Joe Biden."
"I've known Joe for a very long time. I know his decency, his honesty, and his commitment to the issues that are so important to our country – including gun safety, health care, climate change, and good jobs," the statement continued.
While Biden seems to benefit the most from Bloomberg dropping out, Sanders is the candidate who would most likely benefit from Warren ending her campaign. Forty percent of likely Democratic voters who support Warren said Sanders would be their second choice, according to a Morning Consult poll of 13,428 likely Democratic voters conducted in late February. Biden was the second choice for 16 percent of her supporters.
Biden is the current Democratic frontrunner for the nomination after winning 10 of 14 states on Super Tuesday. He did so after receiving numerous endorsements in the days leading up to Super Tuesday, including from former South Bend, Indiana Mayor Pete Buttigieg and Minnesota Senator Amy Klobuchar. Both Buttigieg and Klobuchar dropped out of the race prior to Super Tuesday.
In addition to Biden, Sanders and Warren, Hawaii Representative Tulsi Gabbard also remains in the race for the Democratic nomination. Gabbard currently has one delegate -- earned in American Samona on Super Tuesday.