A Joe Biden Presidency Will Not Hurt the Economy, Says Goldman Sachs
A Joe Biden presidency would not hurt the economy, strategists with Goldman Sachs said Tuesday.
If the Democratic nominee is elected in November and his party ends up with majority control of both chambers of Congress, Goldman sees a 4 percent upward revision by 2024 to its baseline earnings forecast, which assumes no change in policy, Reuters reported.
The market analysts, led by David Kostin, Goldman Sachs' chief U.S. equity strategist, see a "a modestly positive net impact" if Democrats sweep the November elections, pushing S&P 500 earnings higher, according to Business Insider. The S&P 500 is a stock market index measuring the performance of 500 large companies.
This is in stark contrast to many market participants who've predicted that a blue wave election will have "major downward ramifications to earnings," Reuters reported. Some analysts have said that a Biden presidency would be detrimental to the economy, citing his promises of tax reform as evidence.
Under President Donald Trump, taxes dropped sharply, particularly on corporate profits. With the 2017 Tax Cuts and Jobs Act, which went into effect January 1, 2018, corporate taxes were cut from 35 to 21 percent. Biden has called for an increase in that tax rate to 28 percent—a change that could make the stock market less attractive to investors, The New York Times reported in July.
Bank of America researchers estimated that the Republicans' tax cut accounted for nearly half the 23 percent growth in earnings per share for the S&P in 2018. Biden's proposed seven-point raise for the corporate tax could see a "mid-single-digit hit" to earnings per share, according to the report.
Trump has also attacked his opponent on the subject of stocks. He tweeted on July 6: "If you want your 401k's and stocks, which are getting closer to an all time high (NASDAQ is already there), to disintegrate and disappear, vote for the Radical Left Do Nothing Democrats and Corrupt Joe Biden. Massive Tax Hikes - They will make you very poor, FAST!"
But ultimately, researchers have found that a Democratic sweep of both the presidency and Congress would be "growth positive," according to the Times. JPMorgan Chase predicted in July that a blue wave could be "neutral to slightly positive" for equities, CNN reported.
This is in part because analysts are predicting that Biden would moderate his policy proposals to suit the weak economy he would inherit, according to CNN. The coronavirus pandemic has caused a massive recession and the highest unemployment rate in more than 80 years.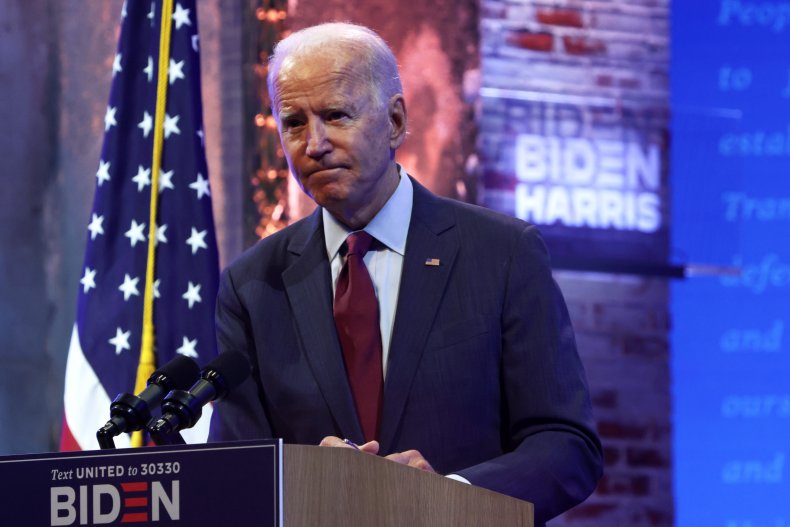 This stance is echoed by the Goldman analysts, who found that a Biden administration would support economic growth.
"A large increase in fiscal spending, funded in part by increased tax revenue, would boost economic growth and help offset the earnings headwind from higher tax rates," the Goldman strategists wrote Tuesday.
The company expects that Congress would enact a "pared-down" version of Biden's plans for tax reform, starting in 2022. New trade policies would support corporate profits throughout Biden's term, according to Business Insider.
Additionally, the Goldman analysts forecast that the S&P will close this year at 3,600, which would mean a 7.4 percent gain through the election season and into 2021, Business Insider reported. The number is an average of Goldman's forecasts for a Democratic sweep and a divided government.
The benchmark index under a Biden presidency would be slightly lower, at 3,500. With a divided government, the benchmark would be as high as 3,700, according to the forecast.
Newsweek contacted both the Biden and Trump campaigns for comments but did not hear back in time for publication.