Joe Biden Looking at His Watch During Debate Sparks Jokes, Republican Outrage
Presidential candidate Joe Biden was caught checking his watch during last night's debate against President Donald Trump, and Republicans are furious.
In the final presidential debate ahead of the election on November 3, Trump and Biden discussed fighting COVID-19, American families, race in America, climate change, national security, and leadership.
The debate was moderated by NBC White House Correspondent Kristen Welker who has been praised by both Republicans and Democrats alike for how she kept the debate running smoothly.
However, there were standout moments from the debate that had viewers frustrated, including when Biden looked at his watch. Biden has since been accused by Republicans on Twitter of being tired or not being able to make it through to the end of the debate.
There are even conspiracy theories swirling that suggest Biden was checking a digital watch for text messages, despite photographs from the evening appearing to show the former vice president wearing an analog watch.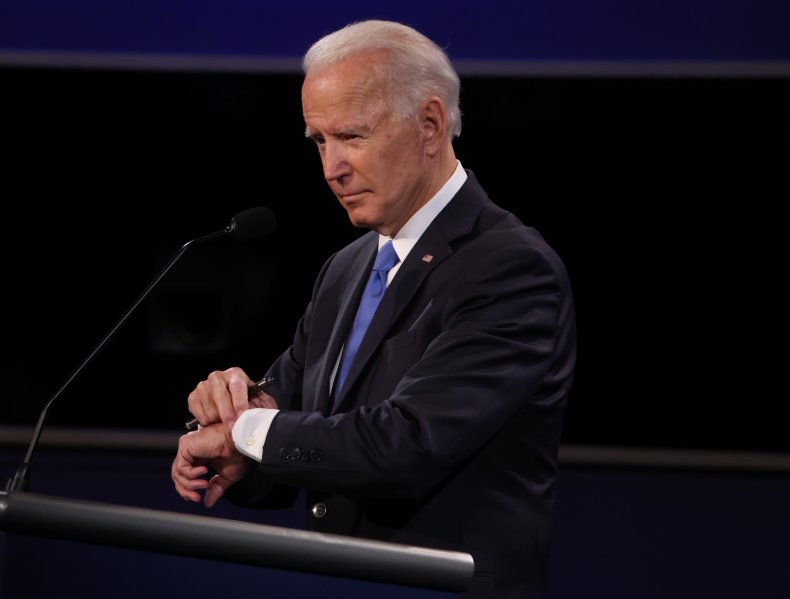 Donald Trump Jr. led the wave of outrage late on Thursday and played up to Trump's nickname for the former vice president, "Sleepy Joe," saying: "If you're checking your watch in a debate you're getting pummeled. Joe was just wanted out of there. He's tired.
"If Joe doesn't have the energy to go 90 minutes how could he possibly run the country???"
Founder of the anti-Muslim ACT! for America group Brigitte Gabriel said: "Joe Biden keeps checking his watch, it's past his bedtime!!"
Journalist Clay Travis said: "Biden's checking his watch! He's like a boxer trying to see if he can make it to the end of the fight!"
Trump himself retweeted a tweet from Republican Kevin McCarthy which included a photo of Biden looking at his watch, which said: "Donald Trump has the ball and Joe Biden can't run out the clock. A Red Wave is coming 'big guy.'"
Actor and Trump supporter James Woods had a different take and appeared to push a conspiracy theory accusing Biden of using his watch to receive outside help during the debate, saying in a tweet with more than 43,000 likes: "Old Joe checked his watch a lot. For those who don't have the Apple Watch, please know that you can set it so texts automatically appear on the watch."
However, Woods' claim is baseless as it appears as though Biden was not even wearing a digital watch. The photo below of Biden and his wife Jill Biden at the event shows Biden's watch, which is not a digital Apple watch, as insinuated by Woods.