Joe Biden Projected as Winner of South Carolina Primary
Joe Biden got a major boost in the Democratic presidential race with a win in the South Carolina primary on Saturday, according to the Associated Press, CNN and Fox News, who all projected Biden as the winner.
South Carolina was the fourth state to vote in 2020, with all of them taking place in February. This was the first victory for Biden, the former vice president. There were 54 delegates at stake in South Carolina, and early projections on CNN showed Biden with 14 delegates as the votes began coming in after the polls closed.15 percent of the vote, he would win all 54 delegates.
Early results showed Biden taking more than 50 percent of the vote, followed by Bernie Sanders (14%) and Tom Steyer (12%), with four percent of the precincts reporting. Biden overwhelmingly won the black vote and senior citizen vote among Democrats in the Palmetto State, according to CNN. Candidates need at least 15 percent of the vote to win delegates. If Biden is the only candidate with more than
South Carolina is the fourth state to vote in the Democratic presidential primary this month, following Iowa, New Hampshire and Nevada.
Pete Buttigieg and Bernie Sanders split the vote in the Iowa caucuses, with each winning 26.2 percent of that state's votes. Buttigieg took 13 delegates, compared to 12 by Sanders in Iowa, according to the Associated Press.
Sanders went on to win the New Hampshire primary and then the Nevada caucuses last Saturday, giving him more cushion with a larger delegate count heading into South Carolina.
Sanders said his success in the first three states that cast votes are a reason why he believes his momentum will continue to ramp up as more and more primaries are on the horizon.
"In Nevada, in New Hampshire and in Iowa, what we showed is that our volunteers are prepared to knock on hundreds and hundreds of thousands of doors," Sanders said. "No campaign has a grassroots movement like we do, which is another reason why we're going to win this election."
The race moves toward Super Tuesday
Super Tuesday will be March 3, 2020, when the following states will vote in their primary elections: Alabama, Arkansas, California, Colorado, Maine, Massachusetts, Minnesota, North Carolina, Oklahoma, Tennessee, Texas, Utah, Vermont and Virginia. The territory of American Samoa will also hold an open caucus that day, and any U.S. citizen living abroad who is part of Democrats Abroad can vote that day, with 17 delegates awarded from that group.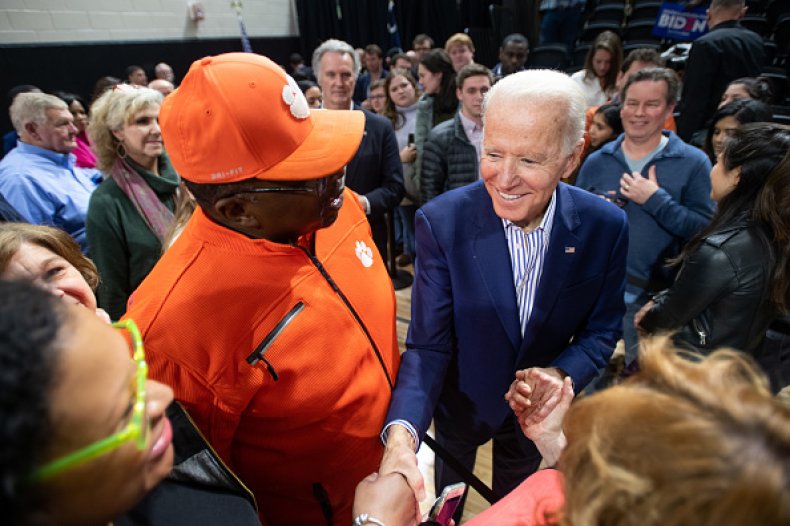 This story will be updated as the results are made available Saturday night.