Joe Biden Promises He'd Pick a Woman as Vice President, Bernie Sanders Says It's 'Likely' He Would
Former Vice President Joe Biden said during Sunday night's Democratic presidential debate that he would pick a woman to be his running mate as the vice president. Bernie Sanders said he would likely do the same if he won the nomination.
When Biden was asked how his cabinet would affect women's physical and financial health, the former vice president said he has committed to appoint the "first black woman to the courts," and that his administration "would look like the country."
"Secondly ... I commit that I'd pick a woman as vice president," Biden said. "There are a number of women who are qualified to be president tomorrow. I would pick a woman to be vice president."
The CNN moderators pressed Sanders to see if he would also pick a woman as vice president, and he said it's "likely."
"In all likelihood, I will," Sanders said in his immediate response, followed by, "for me, it's not just nominating a woman. It's making sure we have a progressive woman, and there are progressive women out there. So my very strong tendency is to move in that direction."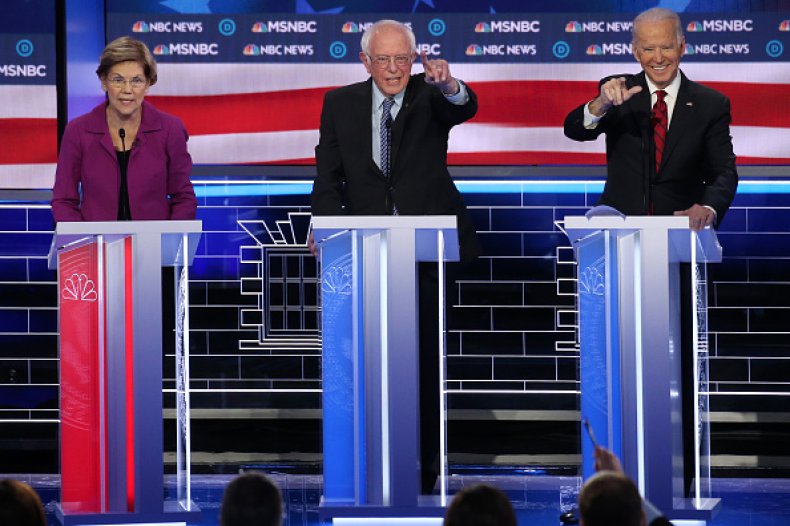 Regardless of who wins between Biden and Sanders, they'll have a lot of potential possibilities to choose from for a running mate.
There were six female candidates in the Democratic presidential primary race who were considered legitimate contenders, with Senators Elizabeth Warren (Mass.), Kamala Harris (Calif.) and Amy Klobuchar (Minn.) creating the most headway through the crowded field. Sen. Kirsten Gillibrand (N.Y.) was a come-and-go candidate who was the first of the women to drop out of the race. Tulsi Gabbard is still part of the race, but hasn't won enough delegates to be considered a major contender, and Marianne WIlliamson, who's a self-help guru, was a flash in the pan when it came to the debates and the race itself.
There have only been two women who have been picked as vice presidential candidates for major parties in American history—one Democrat and one Republican—and both lost.
Geraldine Ferraro was the VP candidate for Walter Mondale during the 1984 election, in which they lost to Ronald Reagan and George H.W. Bush.
Then in 2008, Sarah Palin was the VP candidate for John McCain in a Republican bid against Barack Obama and Joe Biden, which resulted in a win by Obama-Biden.
In 2016, Hillary Clinton became the first woman to win a major presidential nomination when the Democratic Party selected her over Sanders, but Clinton lost to Republican candidate Donald Trump in the general election.