Joe Biden Promises to Protect Health Care From 'Far Right Ideologues'
Democratic President-elect Joe Biden has promised to protect health care from "far-right ideologues" amid the raging pandemic.
As President Donald Trump lashes out at the election process and refuses to concede, Biden on Tuesday publicly denounced the Trump administration's efforts to eliminate the Affordable Care Act and vowed that his in-coming administration would expand access to quality, affordable health care.
"This case represents the latest attempt by the far-right ideologues to do what they've repeatedly failed to do for a long time, in the courts and the Congress and the court of public opinion, over the last decade: to eliminate the Affordable Care Act," Biden said. "Congress, expressing the popular will of the American people on a bipartisan basis, has rejected numerous attempts, numerous efforts by President Trump to erase the laws."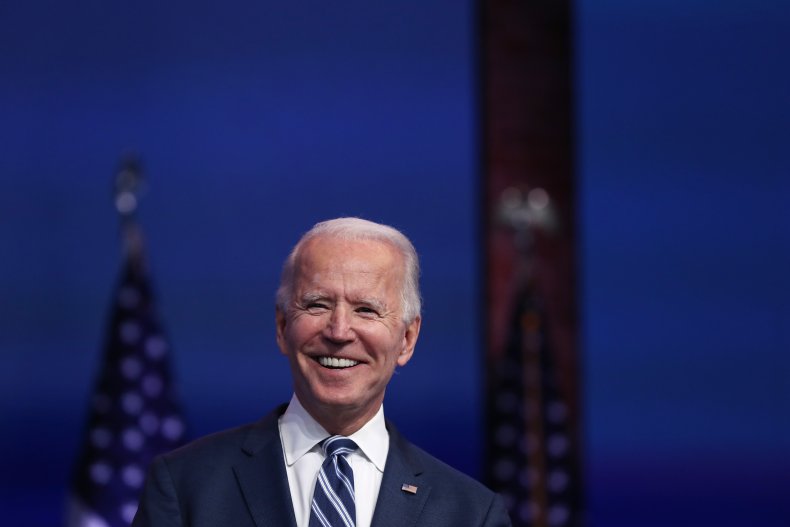 "These ideologues are once again trying to strip health coverage away from the American people... in the middle of a deadly pandemic," he continued.
This morning, the Supreme Court heard oral arguments in a lawsuit backed by the Trump administration threatening the health care coverage of at least 20 million Americans. The Affordable Care Act (ACA), passed in 2010 and also known as Obamacare, allowed people free vaccinations and caps insurer profits. The president's administration and his Republican allies have asked the court to strike down the legislation.
Biden vowed that—regardless of the outcome of the case—his administration will "do everything in our power to ease the burden of health care" for American families.
"I promise you that," he said. "I will protect your health care like I protect my kids and my own family."
"By building on the Affordable Care Act through dramatic expansion of health care coverage and bold steps to lower health care costs, my transition team will soon be starting to flesh out the details so that we can hit the ground running."
Biden has secured at least 290 Electoral College votes—exceeding the 270 required to win the presidential election—but Trump has still not conceded. The president and many of his supporters and allies have claimed without evidence that Biden and Vice President-elect Kamala Harris received votes through widespread voter fraud.
Conservative Justices John Roberts and Brett Kavanaugh suggested it may side with the Supreme Court's three liberals, signaling that significant elements of the ACA will remain intact in the latest challenge. On Tuesday, the two justices suggested that the Supreme Court shouldn't be tasked to invalidate the entire health care bill, even if some provisions are found to be unconstitutional.
Newsweek reached out to the White House for comment.