Biden Promotes 'Behemoth' Electric Car Worse for Environment Than Gas Car
President Joe Biden was recently seen in a "behemoth" electric vehicle that may be worse for the environment than some gas-powered cars.
"On my watch, the great American road trip is going to be fully electrified. And now, through a tax credit, you can get up to $7,500 on a new electric vehicle," Biden wrote in a tweet, which included a photo of him in a GMC Hummer EV.
While the Biden administration has continued to promote the use of electric vehicles throughout the U.S., a study conducted by the American Council for an Energy-Efficient Economy (ACEE) found that some electric vehicles, including the one Biden is pictured in, can still damage the environment.
"Fully electric vehicles with no gasoline engine (which we will refer to as EVs) get their power from the electric grid. And in the United States, about 60% of electricity is generated by burning fossil fuels," the ACEE said in a blog post on June 21. "Comparing larger vehicles, the original Hummer H1 emits 889 grams of CO2 per mile and the new Hummer EV causes 341 grams, demonstrating that behemoth EVs can still be worse for the environment than smaller, conventional vehicles."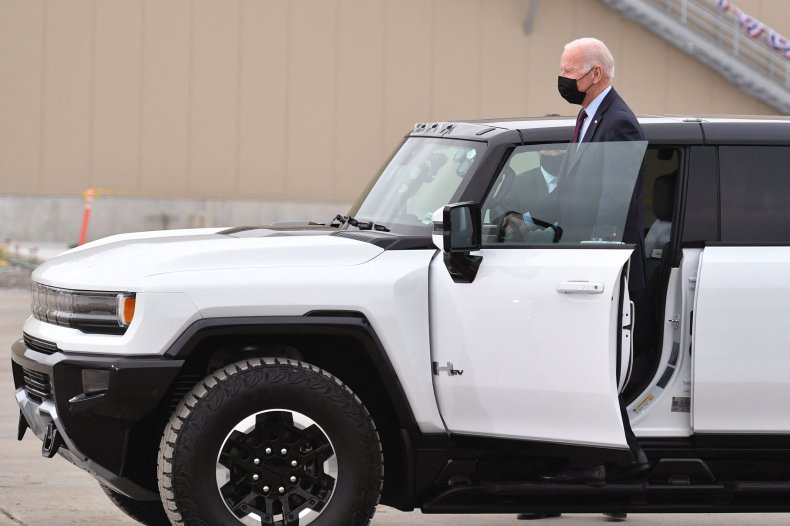 In September, the White House issued a statement discussing the Biden administration's plan to increase electric vehicle manufacturing.
"The President united automakers and autoworkers around the bold goal for electric vehicles to make up 50% of all vehicles sold in the United States by 2030. His economic agenda, including robust new 'Made in America' policies, has spurred domestic manufacturing of EVs, EV chargers, and batteries.
"And, thanks to the Inflation Reduction Act, President Biden is making new and used EVs affordable for consumers and providing the auto industry market certainty," the White House said.
In addition to the report from the ACEE, several other Twitter users pointed out that under guidelines from the IRS, the vehicle Biden is seen in does not qualify for the clean vehicle tax credit worth up to $7,500.
"The GMC Hummer EV does not currently qualify for a $7,500 EV tax credit per @IRSNews," David Shepardson of Reuters wrote on Twitter. "(SUVs/trucks must be priced $80,000)."
Riley Beggin of The Detroit News wrote, "The GMC Hummer EV Pickup Edition 1 POTUS is driving here costs >$110k and isn't eligible for the tax credit."
While speaking with Reuters last week, Biden's Energy Secretary Jennifer Granholm praised the president's work with electric vehicles and said that many manufacturers are moving to the U.S.
"All these companies announcing they are locating now in the United States. It's electric vehicles, it's the guts to the electric vehicle, it's the guts to the battery—the whole supply chain now locating in the United States," Granholm told Reuters.
Newsweek reached out to the White House for comment.