Watch Joe Biden Rally Live From Pittsburgh: How to Stream His First Official 2020 Rally
Former Vice President Joe Biden will hold his first campaign rally since entering the 2020 presidential race in Pittsburgh on Monday, where he is expected to make a pitch to middle-class voters.
Info on how to watch Joe Biden's Pittsburgh rally online follows below.
After months of speculation, Biden finally announced his candidacy last Thursday and is the 20th Democrat to enter the primary field. Although he represented Delaware in the U.S. Senate for 36 years, he was born in Pennsylvania—a key battleground state in the upcoming election.
Biden will speak to an organized labor crowd on Monday afternoon between 2 p.m. and 5:30 p.m. EDT. The event can be watched live below, courtesy of PBS News Hour.
While in Pittsburgh, Biden will also receive the official endorsement of the International Association of Fire Fighters, which represents 316,000 full-time firefighters. It's the first major union endorsement of the 2020 presidential race.
"Joe's a lot like our firefighters. He's a problem solver who cares deeply about America and is committed to making our country better. He's one of the staunchest advocates for working families," IAFF General President Harold Schaitberger highlighted in a video released on Monday morning.
Pennsylvania and its 20 electoral votes went to Donald Trump in 2016 election as he edged out Hillary Clinton by less than 1 percentage point.
Biden, 76, is largely seen as a front-runner in the Democratic primary. In the first 24 hours of his campaign, he raised a record $6.3 million—eclipsing the sums raised by other candidates on their first day. Beto O'Rourke and Bernie Sanders were only slightly behind Biden, raising $6.1 and $5.9 million, respectively.
Plus, according to a recent Washington Post-ABC News poll, Biden is the favorite among all 2020 Demorcratic candidates. The survey, largely conducted before Biden's announcement, found that the former vice president topped the field with 13 percent among Democrats and Democratic-leaning respondents, followed by Sanders at 9 percent and Pete Buttigieg at 5 percent.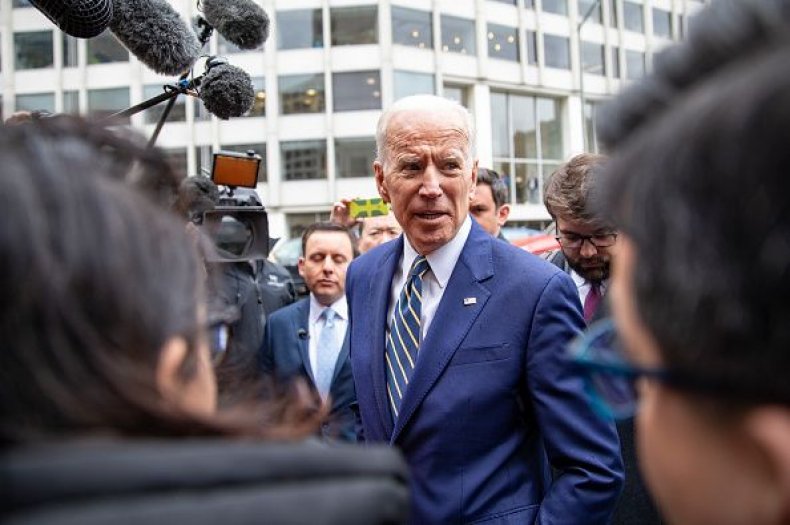 But Biden has been plagued by problems in recent weeks as at least a half a dozen women accused him of inappropriate touching. He's also come under attack for his handling of Anita Hill's 1991 testimony during the Supreme Court confirmation hearings for Clarence Thomas.
During an appearance on The View last Friday, Biden acknowledged that he had to be "much more aware of the private space of men and women." He also said that he was "sorry for the way" Hill was treated during her testimony but did not directly apologize for his actions as the Senate Judiciary Committee chairman.
It also doesn't help that Biden has a history of losing presidential campaigns. In 1988 and 2008, Biden ran for the Democratic Party's nomination and lost.
In his announcement video, Biden did not mention any other Democratic candidates and went straight for President Trump.
"I believe history will look back on four years of this president and all he embraces as an aberrant moment in time. But if we give Donald Trump eight years in the White House, he will forever and fundamentally alter the character of this nation—who we are—and I cannot stand by and watch that happen," Biden said.