President Joe Biden told U.S. officials to rebuke the U.K. for "inflaming" tensions in Ireland and Europe amid a battle over post-Brexit customs checks in Northern Ireland.
The U.S. Charge d'Affaires Yael Lempert told U.K. minister Lord Frost that the Biden administration was "increasingly concerned" about the customs checks stand-off, The Times reported Thursday.
She also urged the U.K. government to reach a "settlement" with the European Union over chilled meats entering Northern Ireland, adding that Biden planned to publicly raise the issue at the G7 summit in Cornwall.
A leaked U.K. government memo obtained by The Times said the U.S. was "increasingly concerned about the stalemate on implementing the [Northern Ireland] protocol," and believed the dispute was "undermining the trust of our two main allies."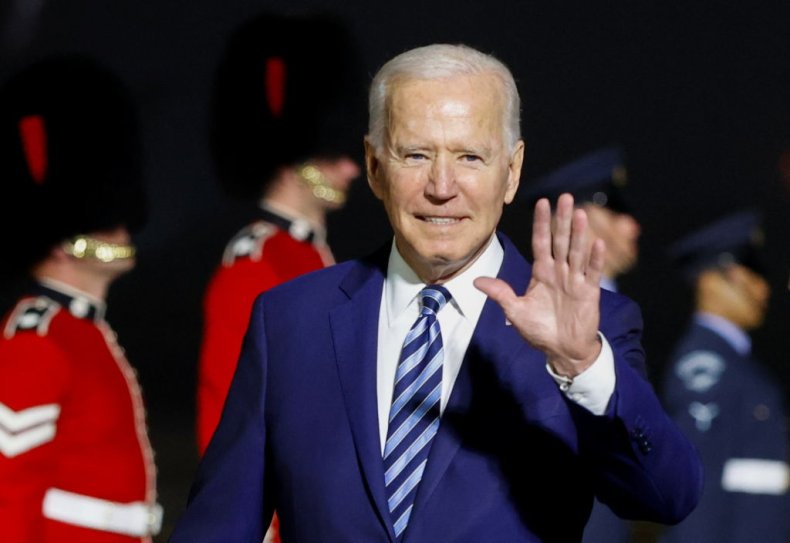 The Times also reported that Lempert had been told to issue the U.K. with a demarche, a formal diplomatic rebuke that could overshadow the G7 summit this week.
Lord Frost reportedly hit back that European Union leaders were prioritizing the bloc's single market over peace in Northern Ireland, as he urged the Biden administration to speak with European leaders.
Newsweek has contacted the U.K. Foreign Office for further comment. The U.S. embassy in London was also approached for comment.
The U.K. and EU are in a dispute over customs checks on goods traveling between Great Britain and Northern Ireland that both parties signed up to during Brexit negotiations.
Great Britain does not follow EU rules on product standards, but Northern Ireland does because it is bordered with the Republic of Ireland, a European Union member. Therefore, the EU wants the U.K. to enforce customs checks on goods arriving at ports in Northern Ireland.
However, this has caused tensions as chilled meats such as sausages are barred from entering the EU market from non-member countries. The U.K. wants the protocol to be simplified so it can still transfer such goods to Northern Ireland.
President Biden's National Security Adviser Jake Sullivan said the two sides needed to find a way to proceed on Wednesday and "not imperil" the Good Friday Agreement that delivered peace in Northern Ireland.
The European Commission vice president Maros Sefcovic also said the bloc's patience was wearing "very, very thin" after a meeting with Lord Frost earlier this week, adding that the allies were at a "crossroads" in their relationship.
"There weren't any breakthroughs," Lord Frost reportedly told the media after the meeting. "There aren't any breakdowns either and we're going to carry on talking."