Joe Biden Refuses to Disavow South Carolina State Senator After Racist Comments, Says 'He Is, I Believe, Sorry For What He Said'
Former Vice President Joe Biden would not disavow one of his supporters who made racist comments, refusing the request of fellow presidential candidate Tom Steyer at the Democratic debate in New Hampshire on Friday.
Steyer confronted Biden during a discussion on race. Steyer alleged that South Carolina state Senator Dick Harpootlian, who supports the Biden campaign, made racist comments about a person associated with Steyer's campaign. The state's Legislative Black Caucus condemned Harpootlian's remarks and asked to Biden to disavow them earlier in the week.
"Joe, I'm asking you to come with me and the Legislative Black Caucus and disavow Dick Harpootlian and what he had to say, it was wrong," said Steyer. "I'm asking you to join us. Be on the right side."
Biden refused Steyer's offer, instead touting his support from black voters.
"I'm asking you to join me," Biden replied. "And join in the support I have from the overwhelming number of members of that Black Caucus. I have more support in South Carolina in the Black Caucus and the black community than anybody else. Double what you have, or anybody else has."
Senator Bernie Sanders disputed Biden's claim, and the discussion diverged briefly. However, Steyer would not drop the topic and asked Biden to disavow the comments and the state senator a second time.
"Joe, I want an answer," said Steyer minutes later. "I think you should come over and disavow the statements that this man made, that were openly racist, that were wrong, and the Legislative Black Caucus is against. I'm asking you to join us and do the right thing."
"I've already spoken to Dick Harpootlian," Biden said, again refusing the call from Steyer. "And he is, I believe, sorry for what he said."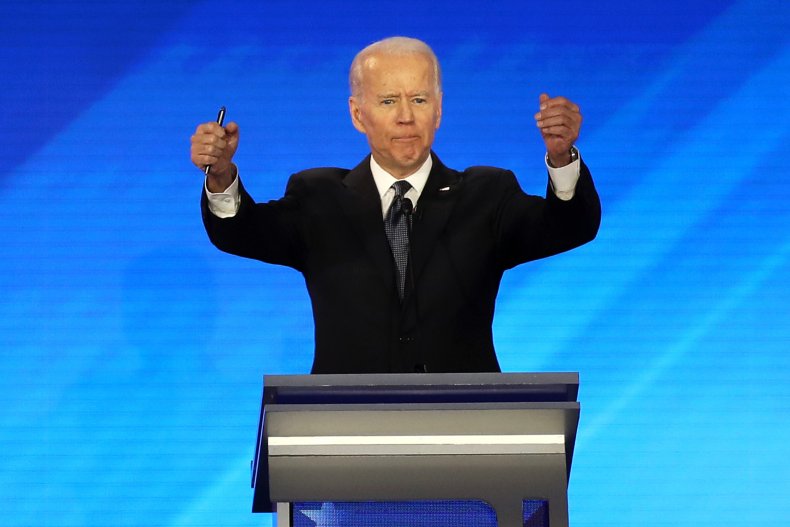 Biden's night got off to a slightly unusual start when he seemingly conceded that Senator Bernie Sanders would likely win the New Hampshire primary. The vice president's first question concerned his dismal performance in the Iowa caucus, where he landed far from expectations in fourth place.
"I took a hit in Iowa and I'll probably take a hit here," Biden said, responding to moderator George Stephanopoulos. "Traditionally, Bernie won by about 20 points last time, and usually it's the neighboring senators that do well."
The New Hampshire primary is set for Tuesday, with Nevada's caucuses following on February 22. A strong lead in polls suggests that Biden could face better fortunes in South Carolina's primary the week after that, although current surveys were largely conducted before the Iowa results were revealed and news broke about the controversy concerning Harpootlian.