Joe Biden Refuses To Question Actions of Texas Police, While Fox News Does
President Joe Biden has so far refused to publicly question the police response to the deadly school shooting in Uvalde, Texas as questions have been raised about how law enforcement handled the incident, while Fox News hosts have been notably critical.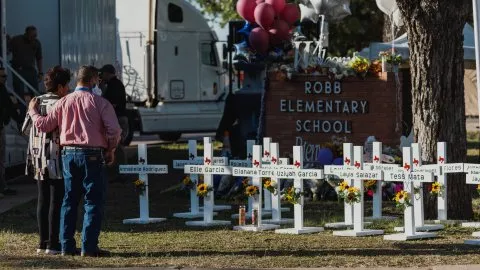 White House Press Secretary Karine Jean-Pierre was asked directly on Thursday if the president believes there should be an investigation into the police response to the shooting and appeared to hedge in response.
"The president has the utmost respect, as you all know, for the men and women of law enforcement," Jean-Pierre said. "Just days ago, he honored the memory of the former police officer, Aaron Salter, in Buffalo who was killed bravely while trying to stop the shooter at the supermarket."
"I know that right now authorities are working to piece together more details of what happened in Uvalde, so we won't prejudge the results from here at this time," she said.
Those remarks stand in stark contrast with highly critical comments from Fox News personalities Tucker Carlson and Jesse Watters, both of whom highlighted confusion surrounding the events of the shooting and inconsistencies in the information provided by law enforcement.
The shooting at Robb Elementary School in Uvalde left 19 children and two adults dead, while the alleged shooter was killed at the scene by law enforcement.
Carlson noted on his Thursday show that authorities had initially said a school resource officer had engaged with the shooter before he entered the school but a Texas Department of Public Safety official later reported that that was not the case.
"Was there a school resource officer who exchanged fire with the gunman?" Carlson asked. "That's not something you would imagine. That either happened or it didn't, and you would know right away if it happened or it didn't. It didn't happen, but they said it did happen. That's a lie. Why did they lie?"
"Police did say that officers went inside the school for four minutes after the suspect but then they retreated outside the school and then police did not reenter the school for another hour," he went on. "During that time they say they were waiting for backup, including, for some reason, for multiple crisis negotiators."
"No matter how pro-law enforcement you are—and we are—there's only so much B.S. you can take in the face of a tragedy like this," Carlson said. "We were waiting for specialized equipment? You have an 18-year-old with a firearm and little kids being killed. What kind of specialty of equipment do you need? Negotiators? Really? As children are being murdered?"
Watters told viewers on Thursday that the Texas Department of Public Safety "ended up leaving us with more questions than answers" following a press conference.
He highlighted reports that police had refused to allow parents to enter the school and had used pepper spray against one parent and a taser against another.
"It's been over 48 hours since this horrific shooting happened, and we definitely have a lot more questions than answers," Watters said. "I feel like we're not getting the whole story here. Law enforcement, everybody involved needs to be more upfront. We need to know what happened because it looks like a lot went wrong."
Outraged citizens have been venting their frustration at the Uvalde Police Department on social media after the timeline of the officers' response to the deadly shooting revealed gaps and unexplained delays.
No investigation of the police handling of the shooting in Uvalde has yet been launched. Jean-Pierre said on Thursday that it "is always a good idea to look back and try to find any lessons we can learn" from tragedies so that "we can prevent them from moving forward, including law enforcement response."
Newsweek has asked the White House for comment.
{{#isDisplay}} {{/isDisplay}}