Biden Bashing at RNC Fails to Prevent Raft of Republicans Shifting Support
Despite speakers at the Republican National Convention taking aim at Democratic presidential candidate Joe Biden, overtly public GOP defections continue to mount.
Vice President Mike Pence made his case against Biden on Wednesday, claiming people would not be safe in America under his leadership.
His comments pile on to prior attacks, with RNC speakers bemoaning the alleged socialist slant of the Democratic party while also looking to reiterate President Donald Trump's law and order pledges to win over voters.
But despite this condemnation, more than 100 staff who previously worked for late senator and former Republican presidential candidate John McCain on Thursday issued a letter detailing support for Biden.
"Given the incumbent president's lack of competent leadership, his efforts to aggravate rather than bridge divisions among Americans, and his failure to uphold American values, we believe the election of former Vice President Biden is clearly in the national interest," their letter read, in a damning broadside against President Donald Trump.
Alongside this, Republican Voters Against Trump released a new ad, "contrasting the unifying leadership style of McCain with the divisive rhetoric of President Trump."
The ad, named Country First, will target people nationally through digital platforms while it is also due to be aired on Fox News in Arizona.
This comes after McCain's wife narrated a video at last week's DNC which highlighted the friendship between Biden and McCain despite them having represented different parties.
A group of more than 30 staff members has who worked on Republican Sen. Mitt Romney's 2012 campaign also signed a letter, published at Romney4Biden.com, condemning Trump's leadership and released Thursday.
"What unites us now is a deep conviction that four more years of a Trump presidency will morally bankrupt this country, irreparably damage our democracy, and permanently transform the Republican Party into a toxic personality cult," the letter reads. "We can't sit by and allow that to happen."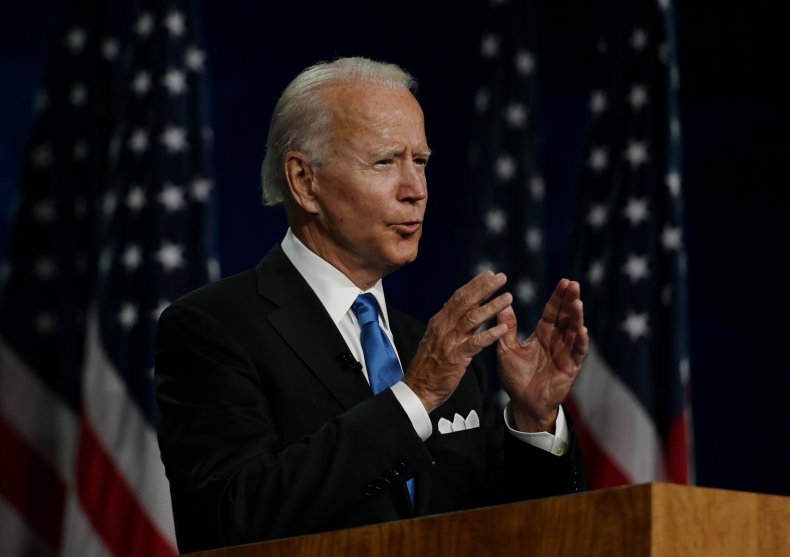 A letter has also been issued Thursday, the day of Trump's keynote speech at the RNC, by a group named 43 Alumni for Joe Biden.
Signed by several staffers who formerly worked for President George W. Bush, the letter hit out at Trump's leadership and touted Biden as antithesis to his flaws.
"We need Joe Biden to restore character, integrity and decency to the White House," it reads. "These principles are the cornerstone needed to rebuild a dignified, secure, resilient country.
"In order to emerge strong and ready to tackle the challenges before us, we must act. We must step up, get out of our comfort zone, and vote for Joe Biden."
One member of the group, Kristopher Purcell, a former staff member in the White House communications office during the Bush administration, told Newsweek that there have been three and a half years of "failure, chaos and incompetence" from Trump.
"The attacks from the Trump National Convention have been deliberately false, full of alternate facts, and the narrative has been an alternate version of reality," he said.
"As long as Donald Trump remains in office, America isn't safe and Covid will continue to ravage our families and economy."
Sarah Longwell, co-founder of Republican Voters Against Trump, told Newsweek that perceptions of Biden as moderate have emboldened people unhappy with Trump's leadership to shift to support the Democrats.
"I think these people have all been out on Trump for a while, then there was the nomination of Joe Biden who is broadly viewed as not a radical socialist at all, which is the way the Trump campaign has tried to paint him," she said.
"I also think the closer people are to politics, the more likely they are to see what Trump is doing is uniquely awful."
Commenting on the attacks against Biden, she said: "I just think they haven't been able to get a toehold against Biden. Biden ran in a crowded field of Democrats in which he was widely considered to be the most moderate of the group. Most voters just aren't buying it."
Newsweek has contacted the Trump and Biden campaigns for comment.
While there have been high profile transfers of party allegiance, some polling has indicated less people are inclined to switch support from their traditional stance.
Despite his continued lead, Biden has seen some decline in support from people who are traditionally Republicans or Republican-leaning independents.