A women's advocacy group accused former Vice President Joe Biden of being the "ringleader of a hostile and sexist hearing" after he expressed regret about how he handled the case involving Anita Hill, and warned it will likely follow him into his potential 2020 presidential bid.
Biden was chairman of the Senate Judiciary Committee during the 1991 hearing involving Hill, who accused then-Supreme Court nominee Clarence Thomas of sexual harassment.
"We knew a lot less about the extent of harassment back then, over 30 years ago. She paid a terrible price, she was abused for the hearing. She was taken advantage of. Her reputation was attacked," Biden said at the Biden Courage Awards in New York City on Tuesday.
"I wish I could have done something," he continued. "To this day I regret I couldn't come up with a way to get her the kind of hearing she deserved, given the courage she showed by reaching out to us."
The women's group UltraViolet did not buy that.
"Joe Biden was the ringleader of the hostile and sexist hearing that put Anita Hill, not Clarance [sic] Thomas, on trial," Shaunna Thomas, UltraViolet's co-founder and executive director, tweeted. "In doing so, Biden caused tremendous harm to all survivors, he set back the movement, and he helped put Clarence Thomas on the Supreme Court."
Thomas also hinted that Biden's past missteps could come back to haunt him, should he decide to run for president.
"This is not a subject he can sweep under the rug. This is not something he can just get out of the way before announcing his candidacy," Shaunna Thomas tweeted. "This is not something one line in a speech or interview will fix."
Shaunna Thomas tweeted that Biden "owes Anita Hill a direct and sincere apology" adding that he "also owes the American public an honest conversation about his role during this dismal moment of our nation's history."
"Our message to @JoeBiden is clear: do better," Shaunna Thomas tweeted. "Do better for women. Do better for survivors of sexual assault. Do better to acknowledge the role you played in those hearings and the harm it caused not only to survivors, but all women."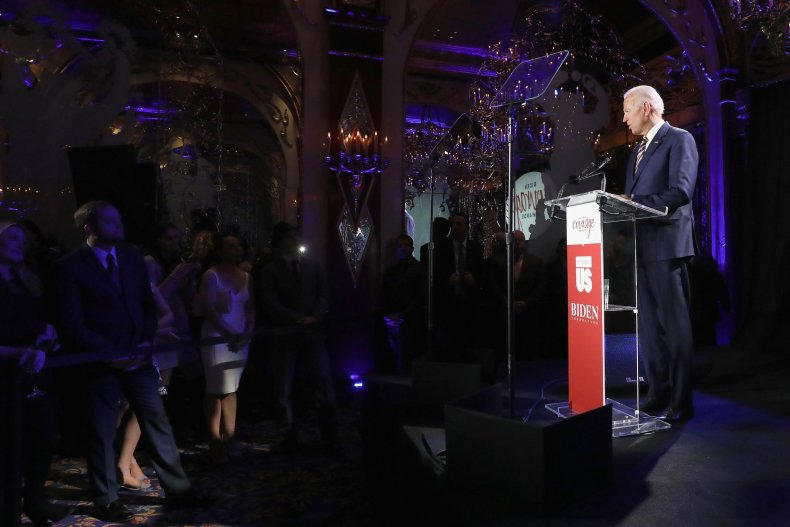 A spokesman for Biden and the Biden Foundation did not immediately respond to requests for comment from Newsweek on Wednesday.
On Tuesday, Biden claimed he had apologized to Hill about how he treated her. As of September, Hill says she has not received a personal apology from Biden.
Uncommon Knowledge
Newsweek is committed to challenging conventional wisdom and finding connections in the search for common ground.
Newsweek is committed to challenging conventional wisdom and finding connections in the search for common ground.
About the writer
A Los Angeles native, Jessica Kwong grew up speaking Spanish, Cantonese and English, in that order. Her journalism career started at the San Francisco Chronicle and she has also been a staff writer at the San Antonio Express-News, La Opinión, Time Warner Cable Sports, San Francisco Examiner, and the Orange County Register. Kwong earned her bachelor's degree in Comparative Literature in Spanish and English and Mass Communications from the University of California, Berkeley.