Joe Biden and Ron DeSantis Praised for Putting Unity Above Politics After Condo Collapse
President Joe Biden and Florida Governor Ron DeSantis received praise for setting aside their political differences this week to present a united front in the aftermath of the Surfside condo collapse.
"You know what's good about this? We're letting the nation know we can cooperate," Biden said to DeSantis at a Thursday meeting in Miami Beach during the president's visit to the Sunshine State. "I mean, just the simple act of everybody doing whatever needs to be done. And it really makes a difference, Gov."
The Republican governor, a close ally of former President Donald Trump and one of Biden's harshest critics, thanked his political rival for his response to the incident that has killed 22 people, with a further 126 missing and feared dead.
"You've recognized the severity of this tragedy from day one. And you've been very supportive," he said, adding that Florida "had no bureaucracy" or delays in receiving federal aid.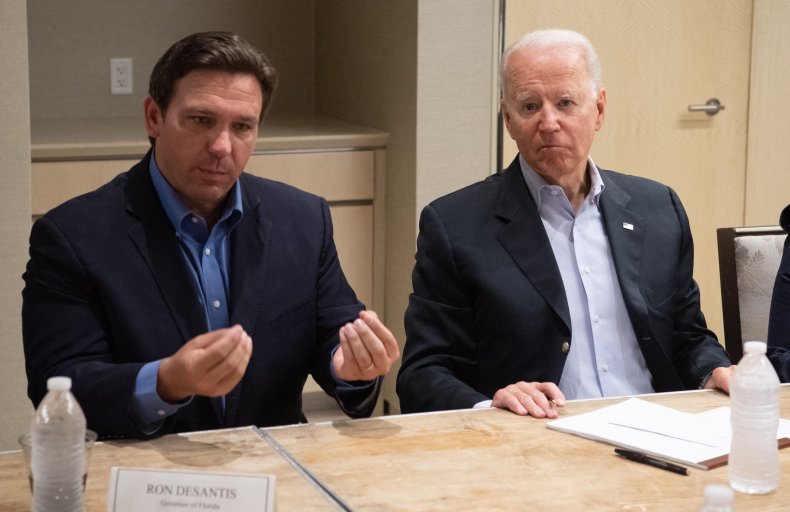 After meeting with families of people who died or were still missing in Surfside due to the collapse, Biden promised that the federal government would pay all of the rescue costs for the first month. "They're going through hell. The whole nation is mourning with these families," he said. The announcement of further support came after Biden sent millions of dollars and groups of personnel to assist Florida officials in their search-and-rescue effort.
Both leaders were applauded for reaching across the aisle and delivering on their promise that Biden's visit would be apolitical.
Miami-Dade County Commissioner René Garcia, a former Republican state lawmaker, called Biden and DeSantis "strong leaders."
"They're man enough to say you know what, this is not about politics," she said, according to The Hill. "This is about doing the right thing for our state and for our country and for our people."
Barbara Perry, the Gerald L. Baliles professor and director of presidential studies at the University of Virginia's Miller Center, said, "It reminds us that we are all mortal and that we are all human and that we all share these same feelings, whether you're red or blue."
Observer Moshe Horowitz, who was staying at the hotel where Biden and DeSantis met, called the meeting "a wonderful thing," according to Reuters. "They should continue to do that," he said. "There should always be dialogue between both sides."
DeSantis, who's said to be considering a 2024 presidential run, declined to attend a Trump rally in Sarasota on Saturday due to the ongoing search for survivors. Trump reportedly advised the governor to prioritize the rescue effort over his event.