Joe Biden's remark on Thursday noting the difficulties around getting "Latinx" vaccinated has caused a flood of jokes on social media. The word aims to be a gender-neutral term for referring to members of the Hispanic/Latin American community.
In a speech highlighting the importance of getting vaccinated, given at the Green Road Community Center in Raleigh, North Carolina, Biden said: "It's awful hard, as well, to get Latinx vaccinated as well. Why? They're worried that they'll be vaccinated and deported."
Biden's "Latinx" remark was made while speaking about a focus on "equity" and "access for people" as part of the country's latest COVID-19 vaccination efforts.
The president said: "Nationwide, we're seeing the lowest number of daily cases and deaths since the first day of the pandemic. And we've built equity into the heart of the vaccination program. I put together a vaccination team, headed by a really bright guy, and we put together a group of 23 doctors. And what they did was we had one doc who does nothing but deal with equity—access for people.
"Seventy-three percent of the shots administered at community health centers through the federal program we have and more than 58 percent of the shots administered in federally run vaccination sites have gone to people of color. It makes a gigantic difference.
"And across the nation, people of color have accounted for more than half of all the vaccinations in the last month. The more we close the racial gap in vaccination rates, the more lives we can save," Biden said.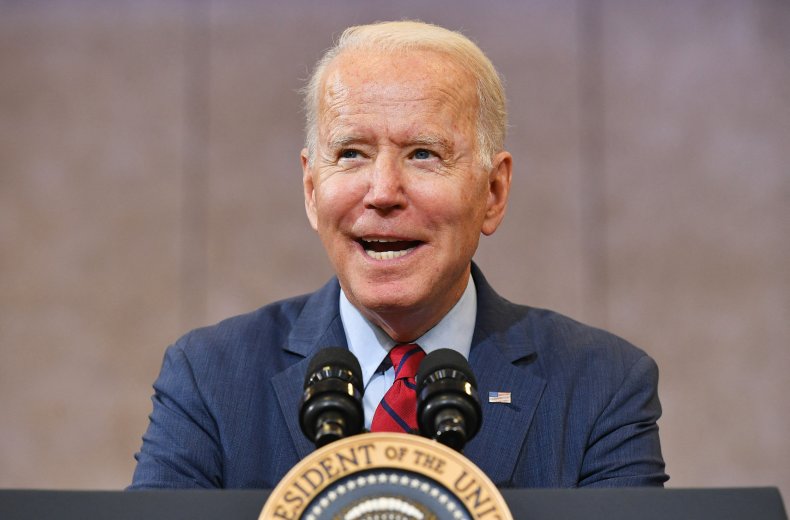 Several Twitter users have shared jokes, memes and comments mocking the president's remark.
User @CualquieraMujer shared a cartoon graphic alongside the Spanish words: "Cuando Biden dice 'latinx,'" which translates to "When Biden says 'latinx.'"
Sharing an image of Biden appearing with furrowed eyebrows, user @ColonelSugna tweeted: "Hispanics hearing the word 'LatinX.'" The post received at least 1,300 likes at the time of writing.
User @MelkorCorleone also tweeted an image noting: "What I think of when I hear anyone use Latinx." The image showed a person pouting with a caption saying "Hispanic liberal saying 'latinx.'" Meanwhile, a man pictured in the background with a seemingly disapproving look on his face was captioned "People from Latin America and normal Hispanics." The tweet has received nearly 2,000 likes since it was first posted.
User @greg_price11 tweeted: "Unironically using the word 'latinx' is almost as embarrassing as implying that all Hispanic Americans are illegal lmao." The post has received nearly 2,000 likes since it was shared.
User @thehalestone wrote: "can someone please put this man down for a nap" in a tweet that's received nearly 200 likes since it was first shared.
User @Harvi_Blip wrote: "Pls I'd rather they call me a slur then call me Latinx," in a tweet that's received over 100 likes since it was posted.
About the writer
Soo Kim is a Newsweek SEO Reporter is based in London, UK. She reports on various trends and lifestyle stories, from health, fitness and travel to psychology, relationships and family issues. She is also a South Korea expert who regularly covers Korean culture/entertainment for Newsweek, including the latest K-dramas, films and K-pop news, and is the author of the book How to Live Korean, which is available in eight languages. Soo also covered the COVID-19 pandemic extensively from 2020 through 2021 after joining the general news desk of Newsweek in 2019 from the Daily Telegraph (a U.K. national newspaper) where she was a travel reporter/editor from 2010. She is a graduate of Binghamton University in New York and the journalism school of City University in London, where she earned a Masters in international journalism. Languages spoken: English and Korean.
Follow her on Twitter at @MissSooKim or Instagram at @miss.soo.kim
You can get in touch with Soo by emailing s.kim@newsweek.com