Joe Biden Says $2,000 Stimulus Checks 'Will Never Get There' if Loeffler and Perdue Elected
In a final campaign speech before Tuesday's Georgia senate elections, President-elect Joe Biden said that if Georgia's Republican senators were reelected, Americans would never receive $2,000 stimulus checks.
Georgia's special election will determine which political party gains control of the Senate. Democrats, including Georgia senate candidates Jon Ossoff and Reverend Raphael Warnock, have supported sending Americans $2,000 direct payments as part of a coronavirus economic relief effort.
Despite support for the stimulus checks from President Donald Trump, House Majority Leader Mitch McConnell has all but rejected the idea. During his Monday remarks, Biden asserted that incumbent Georgia senators Kelly Loeffler and David Perdue would block the $2,000 stimulus checks from going out.
"If you send Jon and the Reverend to Washington," Biden said, "those $2,000 checks will go out the door restoring hope and decency and honor for so many people who are struggling right now. And if you send Senators Perdue and Loeffler back to Washington, those checks will never get there. It's just that simple. The power is literally in your hands."
Newsweek reached out to Loeffler's office for comment.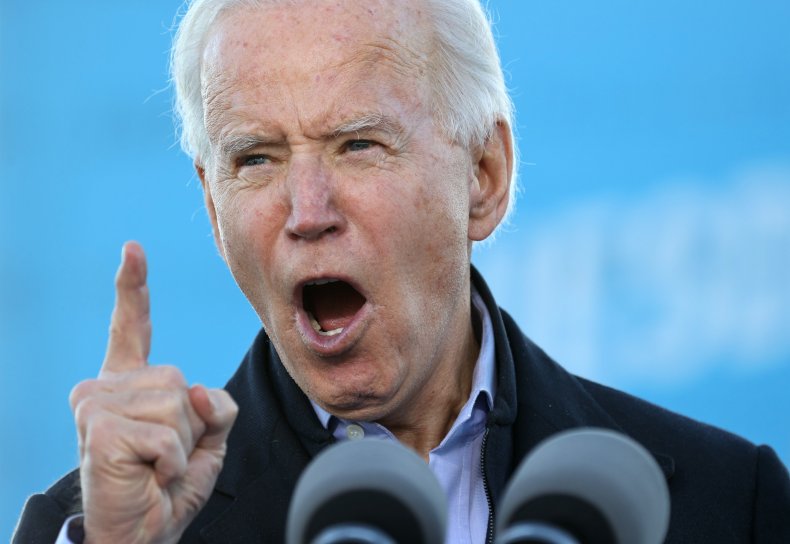 If Ossoff and Warnock win their elections, then Democrats and Republicans would each hold an equal number of seats in the Senate. Senate. However, Democrats would have an advantage over Republicans if Ossoff and Warnock win as Democrat Vice President-elect Kamala Harris would be responsible for casting any tie-breaking votes.
Although Biden encouraged those in attendance at the event to vote on Tuesday, many Georgians have already participated in early voting. According to data from the U.S. Elections Project, which tracks nationwide elections, 3,041,581 people have already cast their ballots in Georgia's runoff, accounting for 39.3 percent of the state's total of registered voters. Trump is expected to appear at a campaign event on behalf of Loeffler and Perdue on Monday night.
Biden also criticized attempts by some Republicans to overturn the results of the election. Trump has baselessly claimed that widespread election fraud caused his loss in the November election. Some Republicans are expected to submit challenges to the results of the Electoral College during Wednesday's Congressional count of electoral votes. Many observers do not expect the attempt to change the outcome of the election.
"In America, as our opposition friends are finding out, all power flows from the people," Biden said. "That's our history. That's our law, that's our tradition, that's our Constitution. That's our democracy."
"Politicians cannot assert, take or seize power," Biden added. "Power is given, granted by the American people alone and we can never give that up."
According to the Associated Press, Biden won the Electoral College with 306 votes to Trump's 232 electoral votes. A presidential candidate needs to receive 270 electoral votes or more to be considered the winner of the election. All 50 states have officially certified the results of their elections.