Joe Biden Says Donald Trump's Debate Entourage Did Not Wear Face Masks
During an outdoor town hall meeting in Miami, Florida on Monday, Democratic presidential nominee Joe Biden said that people who attended the first presidential debate with President Donald Trump were not wearing masks.
Trump revealed on Friday that he had tested positive for COVID-19, resulting in a three-day-long stay at Walter Reed National Military Medical Center for treatment. Criticized by some for erratic usage of face masks during the pandemic, Trump returned to the White House Monday. Before entering the White House, Trump paused and removed his face mask for a photo opportunity.
Also on Monday night, Biden told town hall moderator Lester Holt that he was not concerned about contracting the disease because he was "fastidious" about social distancing.
"When Melania [Trump] came up on the stage she smiled and waved," Biden said. "I waved to her because it was the same distance."
"It was a little disconcerting to look out and see that, [Trump's] whole section, no one had masks on," Biden said. "My wife is sitting further down. She had a mask on, the people who were with us had masks on. I didn't quite get that."
Biden said he could observe from his vantage point that some people in the debate area were not wearing masks. "I was standing backstage and you could see people coming in and a lot of people didn't have masks on," Biden said.
When asked about Trump removing his face mask upon his release from the hospital, Biden said he hoped Trump tells Americans that "masks matter."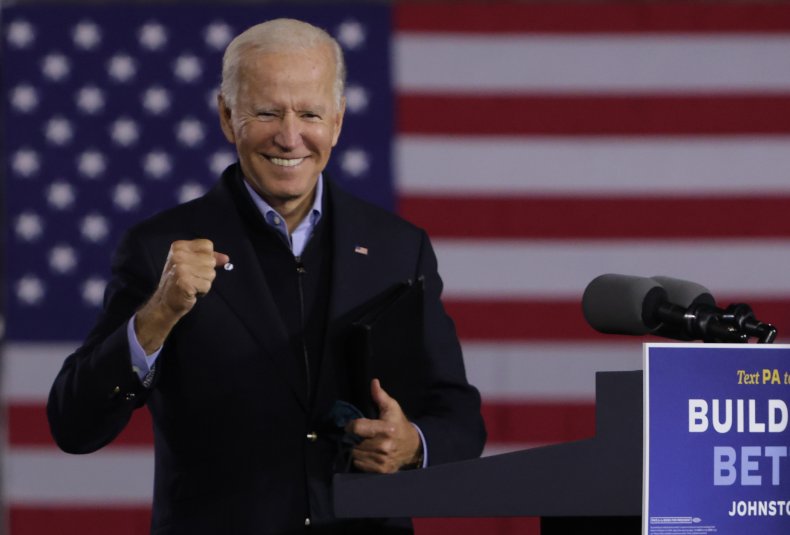 "Instead of talking about, the only thing I heard was one of the tweets saying don't be so concerned about all this essentially," Biden said. "There's a lot to be concerned about. 210,000 people have died. You have about 1,000 people a day getting the coronavirus. 50,000 a week. So it's of great concern."
Newsweek reached out to the Trump re-election campaign for comment.
Trump posted a video to Twitter after his release from the hospital, espousing the medication he was given. "I didn't feel so good and two days ago, I could have left two days ago," Trump said. "Two days ago I felt great, like better than I have in a long time."
Echoing his words from a Monday tweet, Trump encouraged Americans not to be afraid of contracting the virus. "One thing that's for certain," Trump said, "don't let it dominate you. Don't be afraid of it. We're gonna beat it."
Other Republicans have recently announced positive coronavirus tests including Trump's re-election campaign manager Bill Stepien and White House Press Secretary Kayleigh McEnany.
According to Monday data, there have been a total of 7,679,644 reported positive cases in the U.S. with 215,032 fatalities attributable to COVID-19.