President Joe Biden stated Wednesday that he would enjoy a potential rematch in the 2024 election with former President Donald Trump.
Biden's remarks came during a primetime interview at the White House with ABC News' World News Tonight anchor David Muir, who proceeded to ask the president if he would run again during the next election.
"You said you would absolutely serve eight years if elected," Muir said. "Do you plan to run for re-election?"
"Yes," Biden answered. "But look, I'm a great respecter of fate. Fate has intervened in my life many many times. If I'm in the health I'm in now, if I'm in good health, then, in fact, I would run again."
Muir followed up by asking what would occur if the 2024 election were to pit him against Trump.
"You're trying to tempt me now," Biden replied with a chuckle before answering the question. "Why would I not run against Donald Trump if he were the nominee? That would increase the prospect of running."
Biden's assurance that he would run again echoes the sentiment that White House press secretary Jen Psaki gave reporters in November, telling the media that the president was planning on a second term.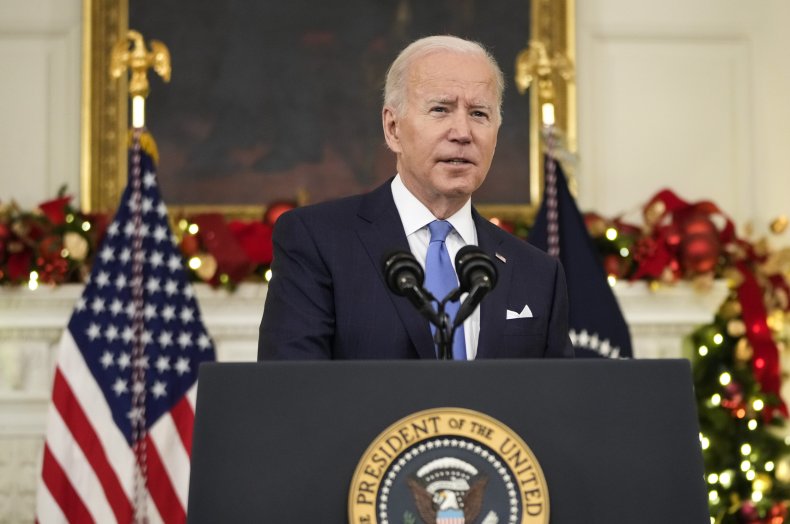 At 78, Biden became the oldest person to ever be elected president when he defeated Trump in 2020. As he would be 82 years old during the 2024 election, many have questioned whether he would be able to handle an additional campaign season.
Despite this, though, Biden has continually stated, as he did during Muir's interview, that he would run in the next election and plans to serve eight years. While a Biden 2024 campaign has not kicked off, it is possible that the president could be getting his electoral machine into gear as the 2022 midterm year approaches.
While Biden expressed interest in running against Trump, the former president has not committed to running in 2024, though he has previously stated that he has "made up his mind" about the decision. As a one-term president, Trump would be eligible to serve again.
Trump has dropped hints throughout the year at the prospect of launching a 2024 campaign, such as claiming that many people want him to run and stating that people would "be upset" if he did not do so.
If Biden and Trump were to be pitted against each other during the next presidential election, it could cause an even bigger rift than was seen during the 2020 race, a long and bitter campaign that ended with an insurrection of Trump supporters at the Capitol who attempted to stop the certification of Biden's victory.
While Trump has continued to assert false claims that he won the 2020 election, the former president appeared to admit for the first time on Wednesday that he had lost the race, stating in a new interview that "had we won the election, [the border wall] would be completed by now."
Newsweek has reached out to Trump's office for comment.
Update (12/22/2021, 8:30 p.m. ET): This story has been updated with additional information.