Joe Biden Says He's Going to Win With a Mandate for Action on Racism, Climate and COVID
Democratic presidential nominee Joe Biden said that the voters had called for a "mandate" on the problems that face the U.S. at a drive-in campaign event in Wilmington, Delaware on Friday.
Biden's campaign had reportedly hoped that the race would be called before Biden delivered his speech. While the event site at Chase Center was originally secured for a Biden victory rally, the results of the U.S. presidential election were still unclear on Friday. Biden acknowledged that fact, telling those in attendance that "we don't have a final declaration of victory yet."
Biden said that the more than 74 million Americans who voted for the Democratic ticket had "given us a mandate for action on COVID, the economy, climate change, systemic racism."
"They made it clear," Biden continued. "They want the country to come together, not continue to pull apart. The people spoke, more than 74 million Americans. They spoke loudly for our ticket. But while we're waiting for the final results, I want people to know we're not waiting to get the work done and start the process."
At the time of his remarks, Biden was ahead of President Donald Trump in both the national popular vote and in the electoral college. Biden had garnered more than 74 million votes while Trump had received over 70 million votes. According to information from CNN, Biden had received 253 electoral votes to Trump's 213 electoral votes.
However, both Fox News and the Associated Press projected a win for Biden in Arizona on Wednesday, giving Biden 264 electoral votes in their tallies. Trump's re-election campaign has filed federal lawsuits in some battleground states asking for the tabulation of mail-in ballots to be halted. Biden has urged Americans to remain calm until all the votes have been counted.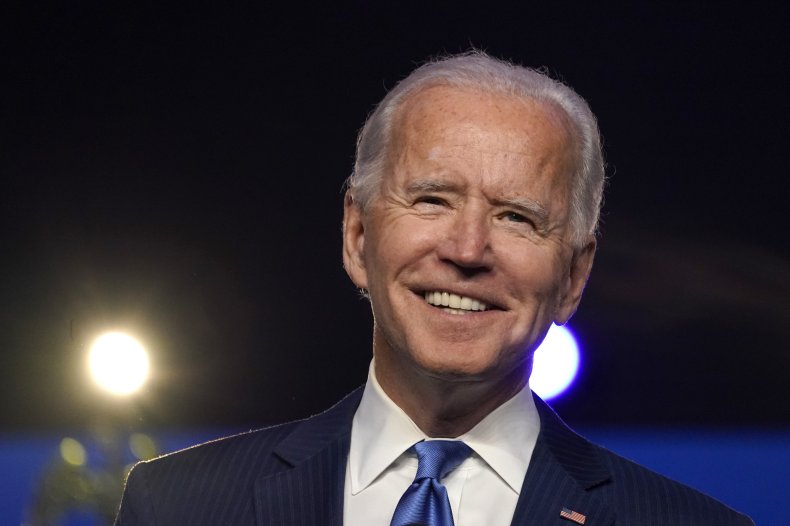 On Friday, election workers in swing states were still processing an influx of mail-in ballots, a voting method that Trump had claimed during his re-election campaign would lead to instances of election fraud. In a Friday tweet, Trump said it was too early for Biden to declare victory in the election.
"Joe Biden should not wrongfully claim the office of the President," Trump tweeted Friday. "I could make that claim also. Legal proceedings are just now beginning!"
Biden did not claim victory during his speech but did comment on his growing margin in traditionally Republican areas. "We're going to be the first Democrat in Arizona in 24 years," Biden said. "We're going to be the first Democrat to win Georgia in 28 years. And we rebuilt the blue wall in the middle of a country that crumbled just 4 years ago—Pennsylvania, Michigan, Wisconsin, the heartland of this nation."
Because of his concerns that mail-in voting would cause irregularities in the tabulation process, Trump encouraged Republicans to wait until Election Day and cast their ballots in person. Democrats embraced mail-in voting as a way to avoid crowded polling places during the COVID-19 pandemic. In some polling places, votes cast on Election Day are counted before mail-in ballots.
When final election results were not immediately available on Election Night, Trump alleged that the Democrats were attempting to steal the election by adding "illegal votes" to the official tabulations.
"If you count the legal votes, I easily win," Trump said in a Thursday speech. "If you count the illegal votes, they can try to steal the election from us. If you count the votes that came in late—we're looking at them very strongly. But a lot of votes came in late."
Many believed that Trump's claims were presented without evidence. In a Friday interview, Pennsylvania Republican Senator Pat Toomey told NBC that Trump's "allegations of large-scale fraud and theft of the election are just not substantiated. I'm not aware of any significant wrongdoing here."