Joe Biden Says He's on Track to Win the Election, Will Take Time to Count Votes
In a televised statement from his Delaware home early on Wednesday morning, Democratic presidential nominee Joe Biden said he believed he was on track to win the U.S. presidential election.
Final tallies for the presidential election were not immediately available on Tuesday night as states continued to count mail-in and absentee ballots. A definitive election result will not be available until later in November.
Biden called for Americans to be patient and wait for the election results.
"We knew this was going to go long but who knew we were going to go into maybe tomorrow morning, maybe even longer," Biden said. "But look, we feel good about where we are. We really do. I'm here to tell you tonight we believe we're on track to win this election."
"And it ain't over until every vote is counted, every ballot is counted," Biden added. "But we're feeling good about where we are."
Biden expressed optimism about winning battleground states such as Pennsylvania and Georgia, although Biden said that Georgia was not a state where the campaign expected to do well.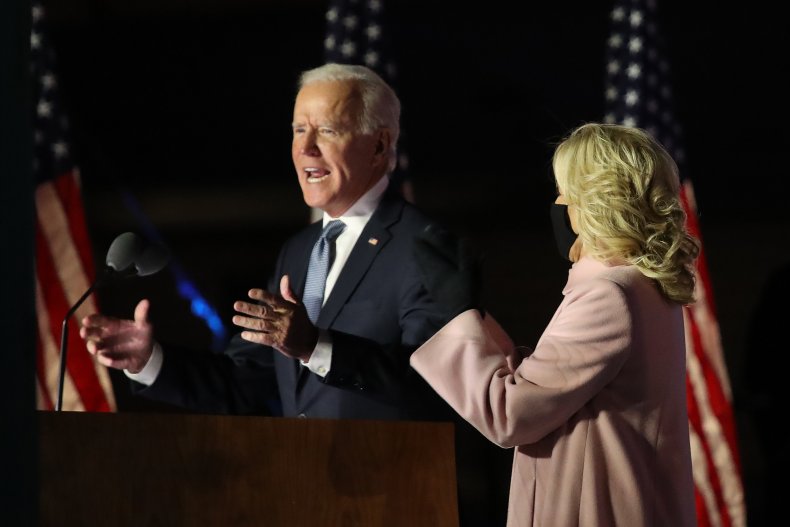 "We could know the results as early as tomorrow morning but it may take a little longer," Biden said. "As I've said all along, it's not my place or Donald Trump's place to declare who has won this election. That's the decision of the American people. But I am optimistic about this outcome."
Trump was also expected to address the American people on Wednesday, although a tweet indicated his message could be somewhat different.
"We are up BIG," Trump tweeted, "but they are trying to STEAL the Election. We will never let them do it. Votes cannot be cast after the Polls are closed!"
Twitter flagged Trump's tweet as being potentially "misleading about an election or other civic process."
Trump has referred to the widespread usage of mail-in ballots as a vehicle for massive election fraud. During a presidential debate in September, Trump urged his supporters to vote in person.
"If I see tens of thousands of ballots being manipulated," Trump said, "I cannot go along with that."
In swing states like Pennsylvania, the counting of ballots is not expected to be finished until later in November. Pennsylvania is not expected to finish counting votes until Friday at the earliest. In October, the U.S. Supreme Court allowed North Carolina election officials to extend its mail-in ballot deadline for 9 days after the election.