Joe Biden Says No Government Shutdown Unless Someone 'Decides to Be Totally Erratic'
President Joe Biden said Thursday he doesn't think a government shutdown will happen as the deadline looms for lawmakers to reach a funding deal.
Biden was asked by a reporter if there will be a shutdown as he left the National Institutes of Health (NIH) after speaking about the administration's approach to the coronavirus pandemic and new Omicron variant.
"No," the president responded, adding, "Look, I don't believe that will happen.... I spoke with Mitch McConnell, I spoke with [Senate Majority Leader Chuck] Schumer. There is a plan in place unless somebody decides to be totally erratic."
Lawmakers have until Friday at midnight to pass legislation to keep the federal government operating.
Congressional leaders announced Thursday they have a plan to keep federal agencies funded through mid-February, but the tentative deal would need support from all 100 senators to quickly pass before Friday's deadline. Some Republicans have threatened to delay the process in opposition to the Biden administration's COVID-19 vaccine guidelines.
Biden addressed the GOP effort during his remarks at the NIH.
"Some of my friends on the other team are arguing that if I don't commit that there'll never be any more mandates, they're going to let us default," Biden said. "In the neighborhood I come from in Claymont [Delaware], they'd look at me and say, 'Go figure.'"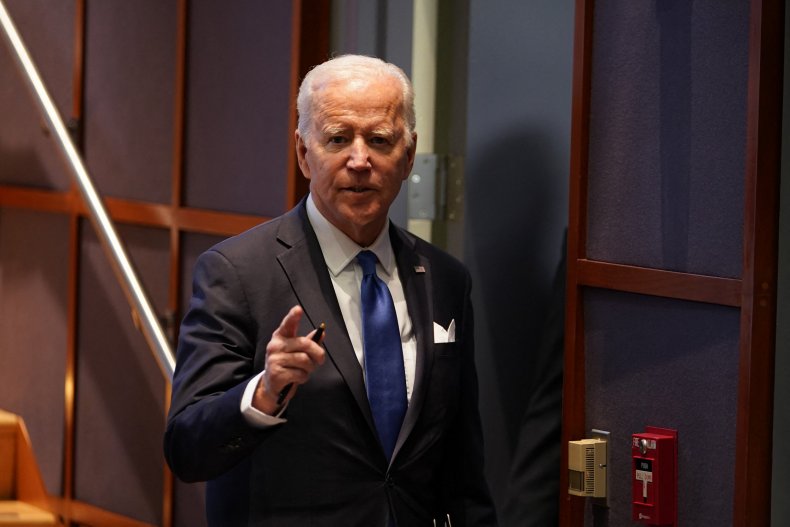 The Republican lawmakers threatening to block efforts to keep the government open oppose the Biden administration's rule requiring businesses with 100 or more employees to ensure their workers have received a CVOID-19 vaccine or undergo weekly testing.
Utah Senator Mike Lee said on the Senate floor Thursday that "the only thing I want to shut down is enforcement of an immoral, unconstitutional vaccine mandate."
Schumer, meanwhile, said he hopes "cooler heads prevail" in the GOP.
"Let's be clear, if there is a shutdown, it will be a Republican, anti-vaccine shutdown," the New York Democrat said.
House Appropriations Committee Chair Rosa DeLauro said Thursday morning that the agreement reached by negotiators will fund the government until February 18. Spending would remain unchanged, except for an additional $7 billion to support those evacuated from Afghanistan during the U.S. military withdrawal in August.
"While I wish it were earlier, this agreement allows the appropriations process to move forward toward a final funding agreement which addresses the needs of the American people," DeLauro said in a statement.
Update 12/2/21, 4 p.m. ET: This story was updated with more information and background.