Joe Biden Says 'Nothing Macho' About Not Wearing Masks: 'We're at War'
President-elect Joe Biden reminded Americans that the U.S. is "at war" with the coronavirus and encouraged people to wear face masks during the upcoming holidays.
Biden has encouraged Americans to wear face masks to help curb the spread of the coronavirus. President Donald Trump has offered mixed messages on mask wearing, often declining to wear one in public. During his Monday remarks, Biden underlined the importance of wearing masks and the continuing threat of the coronavirus.
"I just want to make sure that we're able to be together next Thanksgiving, next Christmas," Biden said. "It is an international crisis, it's an international health crisis. We're at war with the virus, and it is, we're at war for real."
"There's nothing macho about not wearing a mask," Biden added, calling back to a remark he made in May about Trump's apparent distaste for wearing a face mask. "It's just absolutely this macho stuff," Biden said. "It's cost people's lives."
Echoing the advice of health experts, Biden recommended holding Thanksgiving celebrations with a maximum of 10 people in attendance, observing social distancing and wearing face masks.
Newsweek reached out to the Biden transition team for further comment.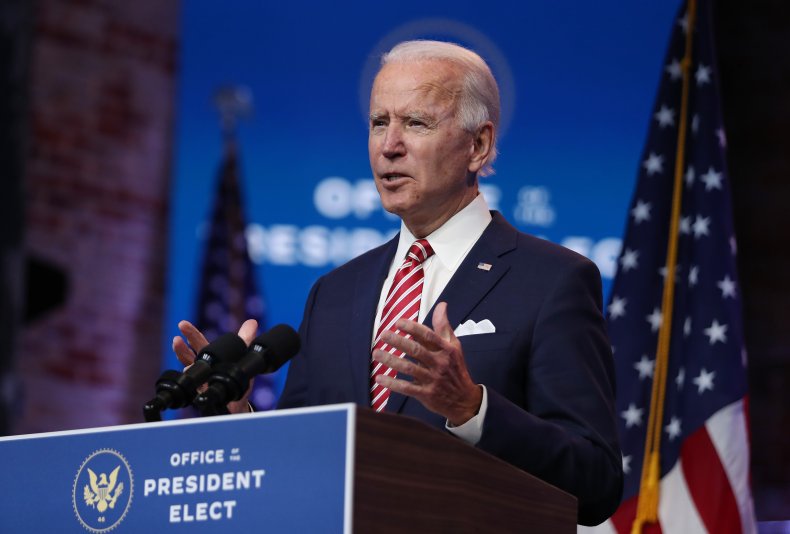 Biden has expressed support for a national mask mandate, although that may not be something he could enact as president. Public health laws are currently enforceable on a state level but not a federal level, bringing the legality of a national mask mandate into question. However, Biden said in October that his administration would mandate masks on federally-owned property and public transportation.
During an August speech, Biden said that if a nationwide mask mandate were enacted, "the estimates are that we will save 40,000 lives in the next three months once that is done."
Trump criticized Biden's support of a mask mandate during a coronavirus task force meeting in August. "We do not need to bring the full weight of the federal government down on law-abiding Americans to accomplish this goal," Trump said.
Republican Nebraska Governor Pete Ricketts said on Tuesday that should a national mask mandate be enacted under a Biden administration, he would not support it.
"If President-elect Biden is indeed confirmed to be the next president, and he approaches me about a mask mandate," Ricketts said, "I would not be going along with a mask mandate."
Infectious diseases expert Dr. Anthony Fauci said during an October appearance on CNN that a nationwide mask mandate would be "a great idea."
"There's going to be difficulty enforcing it," Fauci said, "but if everyone agrees that this is something that's important, and they mandate it and everybody pulls together and says, you know, we're going to mandate it but let's just do it, I think that would be a great idea."
Recent data indicated 11,503,287 positive cases of the coronavirus since the beginning of the pandemic with 252,441 fatalities attributable to COVID-19.