Joe Biden Says Schools Should Stay Open as Classrooms Close Across the U.S.
As thousands of schools remain closed in the United States due to the threat posed by the Omicron variant, President Joe Biden says he's committed to keeping schools open amid the latest surge in COVID-19 cases.
"We know that our kids can be safe when in school," Biden said after meeting with the White House COVID-19 response team on Tuesday. "That's why I believe that schools should remain open."
Biden added that schools across the U.S. should have the necessary resources to continue in-person instruction from the American Rescue Plan, which was passed last March.
"We provided the states with $130 billion...to specifically keep our students safe and schools open," the president said from the White House.
Biden said the stimulus package includes funding to provide ventilation in schools, to social distance in classrooms and on school buses and to ramp up COVID-19 testing.
On Tuesday, he urged state officials to help schools benefit from the funds by allocating monies toward such initiatives.
"That money went out to the states and the states and the school districts have spent this money well," Biden said. "Many have, but unfortunately some haven't. So, I encourage the states and school districts to use the funding that you still have to protect your children and keep the schools open."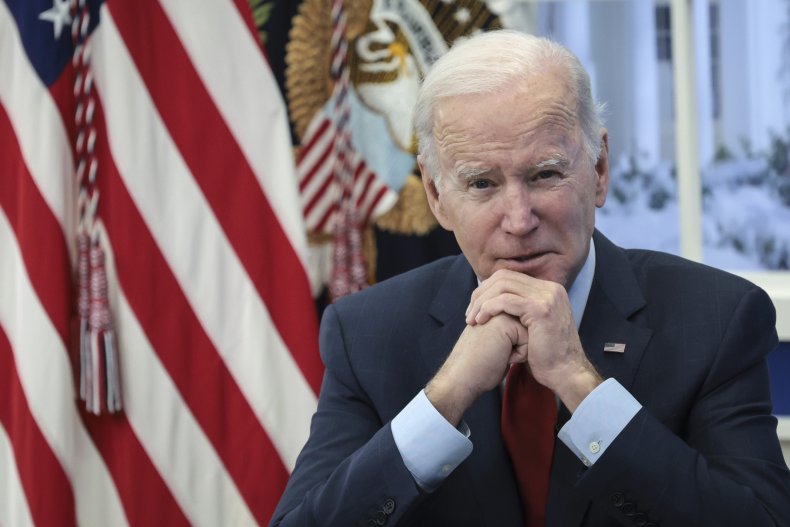 His remarks come as more than 2,700 schools remained closed this week following the winter break after new cases skyrocketed over the holidays when many were gathering inside.
A Burbio tracker, which actively monitors more than a thousand K-12 school districts across the country, showed that 2,753 schools were closed in the week beginning January 3.
"The closures that are occurring in January are due to COVID cases triggering shortages," Burbio co-founder Dennis Roche previously told Newsweek. "There is testing going on and as you know there are very high percentages of COVID in certain parts of the country."
Most of the school closures involved classes going remote for the first one to two weeks of January.
On Tuesday, White House Press Secretary Jen Psaki noted that the thousands of closures represent roughly three percent of the nation's schools.
"Ninety percent of schools are open across the country, and the president wants school to be open," Psaki said. "That's why months ago, even when people questioned his advocacy for this funding, he advocated for $130 million in the American Rescue Plan and $10 billion to cover testing, even when many people said that was not necessary and was not needed, that has all been distributed to states."
She reiterated the president's message to the country's governors, saying "If states have not used it, and some have not, and school districts have not used it, now's the time to use it."
A handful of large districts have also distributed rapid tests to students and teachers ahead of return to in-person learning.
New Jersey, which has the largest number of school closures in the country, is reporting its highest number of infections since the pandemic began. Pediatric hospitalizations are also on the rise.
This week, state officials said that new COVID cases among students more than doubled. Among school staff, those figures are even higher, quadrupling in the last month.
The state has identified 373 outbreaks, which led to 2,123 reported cases, related to in-school activities.