Joe Biden Says Trump Administration's Handling of COVID-19 'More Dire Than We Thought'
President Joe Biden has blamed the current pace of the COVID-19 vaccine rollout on former President Donald Trump, saying the previous administration's handling of the pandemic was "even more dire than we thought."
In an interview with CBS Evening News that aired ahead of Sunday's Super Bowl, host Norah O'Donnell told Biden that "at the current rate of 1.3 million doses a day, it's going to take almost a year to get" to herd immunity. She noted that Dr. Anthony Fauci, the Biden administration's chief medical adviser, has said that 75 percent of Americans need to be vaccinated to achieve herd immunity from the virus.
"One of the disappointments was, when we came into office, the circumstances relating to how the administration was handling COVID, [it] was even more dire than we thought," Biden said, before clarifying that he's referring to the Trump administration.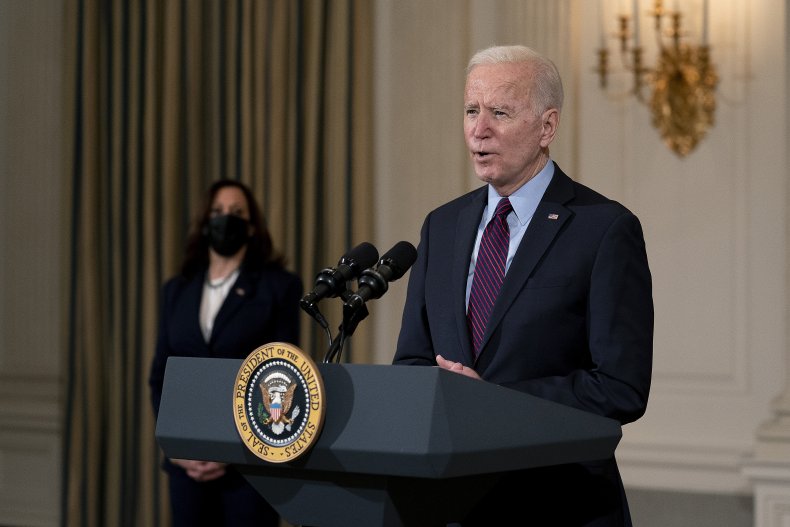 "We thought they indicated there was a lot more vaccine available, and it didn't turn out to be the case. So that's why we've ramped up everywhere we can," he continued. "It was one thing if we had enough vaccines, which we didn't, so we're pushing as hard as we can to get more vaccines manufactured."
The president admitted that it would be "very difficult" to reach herd immunity by the end of summer, but said that "it's time for schools to reopen safely."
"You have to have fewer people in the classroom, you have to have ventilation systems that have been reworked, our CDC commissioner is going to be coming out with science-based judgments as early as Wednesday to lay out what the minimum requirements are," he added.
Newsweek reached out to Trump representatives for comment. This story will be updated with any response.
Attendance for the Super Bowl at Raymond James Stadium in Tampa, Florida, has been limited to 22,000 guests—including 7,500 already vaccinated health care workers—this year due to the ongoing coronavirus pandemic. All attendees are being given a KN95 mask and the city's mayor, James Castor, has ordered compulsory mask-use outdoors around the stadium and in other parts of the region.
On Friday night, Fauci urged Americans to watch the sporting game with just their households and warned that holding large viewing parties could result in "mini super spreader" events.
"Enjoy the Super Bowl, but don't do it with a large crowd of people in your house in a place when it's cold and you don't have good ventilation," Fauci told MSNBC's Ari Melber. "It's a perfect setup to have a mini super spreader event in your own house. Don't do that for now. There will be other Super Bowls."