Joe Biden Says U.S. Won't Follow Russia, China and Curry Others' Favor in Sharing COVID Vaccine
President Joe Biden announced Monday that the U.S. will be an "arsenal" for COVID-19 vaccines and will share an additional 20 million doses with the world while adding that the move is not to curry favor with other countries like China and Russia have done.
As vaccine demand in the U.S. has decreased in recent weeks, the extra doses will come from existing Pfizer, Moderna or Johnson & Johnson vaccines that have already been produced. The Biden administration previously promised to share 60 million AstraZeneca vaccine doses by the end of June, although it has not yet been approved for use in the U.S.
"We will not use our vaccines to secure favors from other countries," Biden said. The announcement marks the first time the U.S. will share COVID doses approved for use within its own borders with other countries.
There has been mounting pressure for the U.S. to share available vaccines with the world while it has already provided Mexico and Canada with around a total 4.5 million doses of AstraZeneca.
This story is breaking and will be updated with more information when it is available.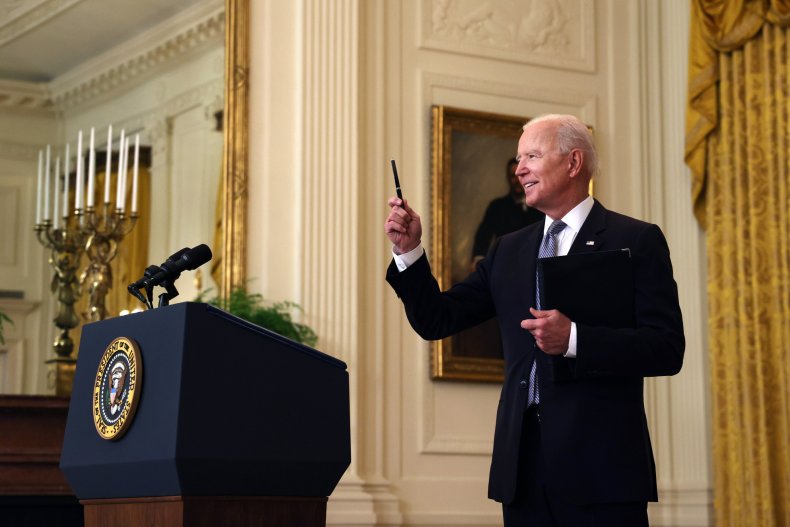 For more reporting from the Associated Press, see below.
Biden said the additional 20 million doses of COVID-19 vaccines will be shared with the world in the coming six weeks.
"We know America will never be fully safe until the pandemic that's raging globally is under control," Biden said at the White House.
The AstraZeneca doses will be available to ship once they clear a safety review by the Food and Drug Administration.
Biden is also tapping COVID-19 coordinator Jeff Zients to lead the administration's efforts to share doses with the world. The Biden administration has yet to announce how they will be shared or which countries will receive them.
"Our nation's going to be the arsenal of vaccines for the rest of the world," Biden said.
Additional doses of the Pfizer vaccine manufactured in the U.S. have begun to be exported as the company has met its initial contract commitments to the federal government.
More than 157 million Americans have received at least one dose of a COVID-19 vaccine, and 123 million are fully vaccinated against the virus. Biden hopes the U.S. will have 160 million people fully vaccinated by July Fourth.
Globally, more than 3.3 million people are confirmed to have died from the coronavirus. The U.S. has seen the largest confirmed loss of life from COVID-19, at more than 586,000 people.
Newsweek, in partnership with NewsGuard, is dedicated to providing accurate and verifiable vaccine and health information. With NewsGuard's HealthGuard browser extension, users can verify if a website is a trustworthy source of health information. Visit the Newsweek VaxFacts website to learn more and to download the HealthGuard browser extension.