Joe Biden Scores Huge Win by Averting Railroad Strike Before Midterms
A national railroad strike that was due to take place on Friday has been averted, as the Biden administration has reached a tentative agreement with railroad unions and freight rail companies.
President Joe Biden announced the deal early on Thursday after he personally intervened on Wednesday evening to bring both sides—freight rail companies and unions and the government—to an agreement.
Negotiations reportedly lasted deep into the night for a total of 20 hours of talks, but finally, the Biden administration managed to avoid a strike that experts feared would have had a devastating impact on the U.S. economy.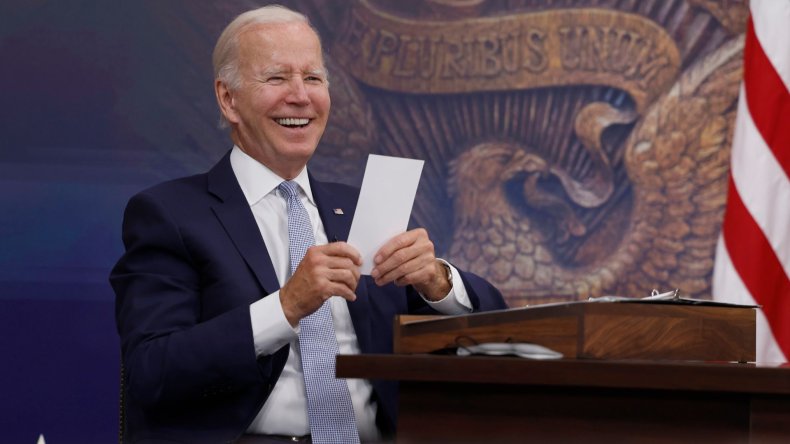 The terms of the deal are not yet known, but on August 16, the Presidential Emergency Board (PEB) recommended a 24 percent wage increase over the five-year period from 2020 through 2024—with a 14.1 percent wage increase effective immediately—and five annual $1,000 lump sum payments. The deal was accepted by some railroad unions, but not all.
The tentative agreement now needs to be ratified by union members. While a final decision has been reached, there will be a "cooling off" period of several weeks during which union members won't strike.
Whatever the result of the union's ratification vote, the deal reached on Wednesday night is already a huge victory for Biden. A railroad strike of that size would have been certain to impact the economy at a time when the U.S. is already struggling with high inflation and a cost of living crisis.
The strike could also have had a significant political impact on Democrats in the upcoming midterm elections.
"The tentative agreement reached tonight is an important win for our economy and the American people," Biden said, while announcing the agreement.
"It is a win for tens of thousands of rail workers who worked tirelessly through the pandemic to ensure that America's families and communities got deliveries of what has kept us going during these difficult years," Biden said.
The president added that as a result of the deal "these rail workers will get better pay, improved working conditions, and peace of mind around their health care costs: all hard-earned."
"The agreement is also a victory for railway companies who will be able to retain and recruit more workers for an industry that will continue to be part of the backbone of the American economy for decades to come."
Update, 9/15/2022 7:15 a.m. ET: This breaking news article has been updated to offer more details on the story.