Joe Biden Tells Scranton: Donald Trump 'Doesn't Care About the Middle Class'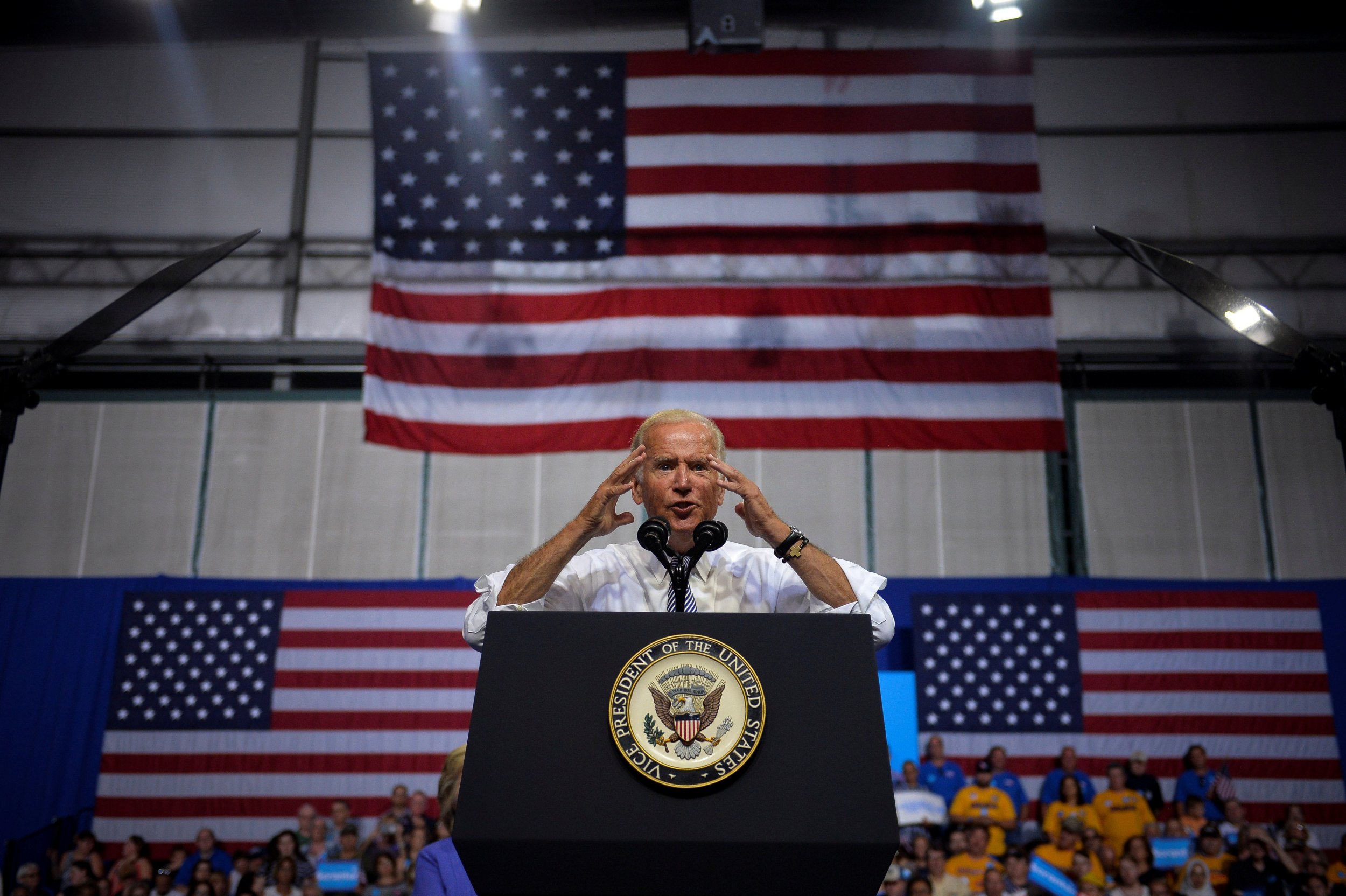 While campaigning for Hillary Clinton in front of a group of working-class residents of Scranton, Pennsylvania, Vice President Joe Biden on Monday said he believes the phrase Donald Trump probably is most proud of is, "You're fired."
While his reference to the line Trump made famous during his days as a reality TV star wasn't exactly groundbreaking—Biden made a similar argument about the Republican presidential nominee's "lack of empathy and compassion" during his speech at the Democratic National Convention last month—he took it in a new direction, asking the crowd gathered in the blue-collar town to think about what their parents or grandparents would say about the phrase.
"What bothers me the most about Donald Trump is his cynicism is unbounded," Biden said about the New York billionaire. "No matter where you were raised, how could there be pleasure in division and you're fired? And he's trying to tell us he cares about the middle-class? Give me a break."
Biden is from Scranton, and it's notable that he chose the city for his first joint campaign appearance with the Democratic presidential nominee. On Monday, Biden attempted to make a connection through his childhood roots and understanding of the middle class, telling the crowd that Trump doesn't understand them. "This guy doesn't care about the middle class," Biden said. "He doesn't understand it. He doesn't have a clue."
Clinton also has roots in the Electric City, as her father was born there.
"Home is where your character is stamped, where it's stamped into your soul. Where your values are set, where your view of the world and your place in that world begin," said Biden, who once was considered to be a potential 2016 presidential candidate. He officially declined a bid in October, five months after his son, Beau, died from brain cancer.
Pennsylvania has not gone for a Republican presidential candidate since the 1988 election. But Trump long has been hoping to turn it into a battleground state. Meanwhile, Biden said Scranton "deserves someone who's made of the same stuff. That's Hillary Clinton."
Biden also highlighted Clinton's foreign policy credentials, saying she's been tested on an international stage while serving as secretary of state. He reiterated his view of Trump as unfit and unqualified to lead the United States, especially when it comes to holding the country's nuclear codes.
He added: "Hillary gets it more than anyone I know. That America can be defined in one single word: possibilities.… That's the America I know and, ladies and gentlemen, that's the America Hillary Clinton knows."
Before introducing Biden, Clinton said that, wherever life takes her, she remembers she is a granddaughter of a factory worker and the daughter of a small-business owner, and that her family's story is far from unique.
"No matter what Donald Trump says, America is great, and the American dream is big enough for everyone to share in its promise," she said.
As Clinton's rally wrapped up in Pennsylvania, Trump prepared to take the stage in neighboring Ohio, where he delivered a speech on his terrorism plan. His best chance of coming out victorious in November likely lies in the Rust Belt, where he has been focusing on trade and the economy.