Joe Biden Promised to Up His Debate Game. He Failed.
Former Vice President Joe Biden, who fell flat and then was hammered on his record during the first debate, made a promise to his supporters ahead of Wednesday's debate: he was "not going to be as polite this time."
Well, we all have good intentions.
Biden may have come out with a pep in his step (literally, he almost skipped onto the stage) but he was unfailingly, and almost irritatingly, polite. Before the debate began, he even told Harris to "Go easy on me kid."
Harris overruled the request and within minutes led the first of many attacks on Biden, who failed to levy anything remotely strong of his own.
One of the strongest, which will probably surprise most New Yorkers, came from Mayor Bill de Blasio who successfully and repeatedly beat down on Biden dodging questions about more than 3 million deportations during the Obama administration. De Blasio, repeating his question, accused Biden of going "right around the question."
"I was vice president. I am not the president," Biden said in his second go at responding. It wasn't a strong defense.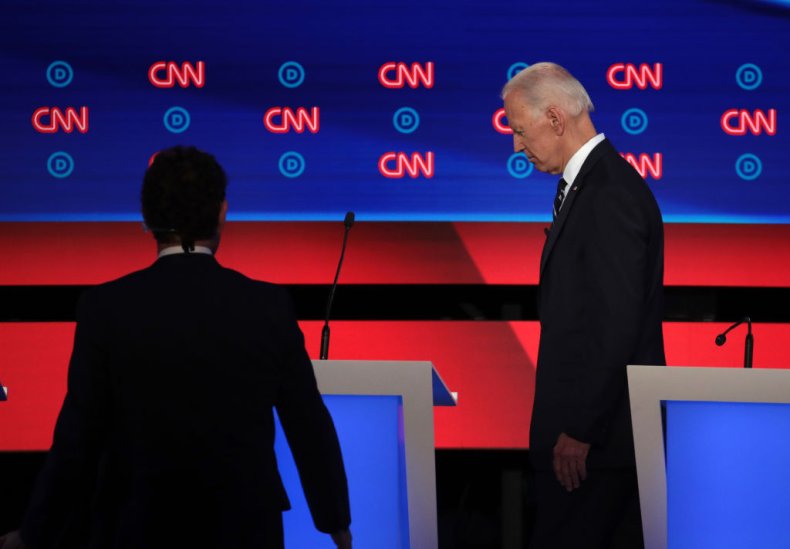 Cory Booker also piled on the Biden-bashing wagon, at one point saying the former vice president, who had just evaded answering another question, invokes President Barack Obama "more than anyone else" and "you can't do it when it's convenient and then dodge it when it's not."
Biden's response? A simple nod.
But the most memorable moment may have come when Biden tried to criticize Booker's record fighting crime as mayor of Newark.
"There's a saying in my community," Booker retorted. "You're dipping into the Kool-Aid and you don't even know the flavor."