Joe Biden Slammed by Fellow 2020 Democrats for Reminiscing About 'Civility' With Segregationist Senators
Former Vice President Joe Biden is under fire from progressive groups and his fellow 2020 Democratic candidates after invoking two segregationist lawmakers when recalling an era of "civility" in the Senate.
Biden was at a fundraising event with wealthy donors in New York City on Tuesday evening when he touted his professional relationship with late senators James O. Eastland and Herman Talmadge—two Southern Democrats who were strongly opposed to desegregation and the civil rights movement.
"I was in a caucus with James O. Eastland. He never called me 'boy,' he always called me 'son,'" Biden reminisced. "Well guess what? At least there was some civility. We got things done. We didn't agree on much of anything. We got things done."
The 2020 Democratic hopeful went on to slam the current era of partisan politics, stating that "today you look at the other side and you're the enemy. Not the opposition, the enemy. We don't talk to each other anymore."
Biden's comments, an extension of the bipartisanship pitch he's made on the campaign trail for the past several weeks, were a step too far for fellow 2020 Democrats and activists.
"Vice President Biden's relationships with proud segregationists are not the model for how we make America a safer and more inclusive place for black people, and for everyone," Senator Cory Booker wrote in a statement released on Wednesday. The 2020 Democrat added that he is "disappointed" that Biden has yet to issue an apology for "the pain his words are dredging up for man Americans."
New York City Mayor Bill de Blasio also sharply condemned Biden's remarks and called for an apology, writing on Twitter that it's 2019 and the former vice president "is longing for the good old days of 'civility' typified by James Eastland." De Blasio added that this only further exemplifies how "out of step" Biden is with the values of the Democratic Party.
Senator Kamala Harris told Fox News on Wednesday that she was concerned about Biden's comments and his past relationship with Eastland and Talmadge: "Yes, it concerns me deeply. If those men had their way I wouldn't be in the United States Senate and on this elevator right now."
Shaun King, a civil rights activist and co-founder of Real Justice PAC, tweeted that the two senators Biden "praised" were not just opposed to desegregation, "they said Black people were subhuman."
Biden's advisers reportedly warned the 2020 Democrat to avoid bringing up Eastland when discussing civility in politics. One person close to Biden told CNN that while the anecdote is intended to show the value of working together, the presidential candidate "needs to use a new, less problematic example."
"I know the new New Left tells me that I'm—this is old-fashioned," Biden also said at Tuesday's fundraiser. "Well guess what? If we can't reach a consensus in our system, what happens? It encourages and demands the abuse of power by a president."
Biden's insistence that Republicans will want to work with Democrats after President Donald Trump is voted out of office has largely been met with scrutiny. Even a former Obama aide slammed Biden earlier this week for suggesting that "you can shame people into doing things the right way."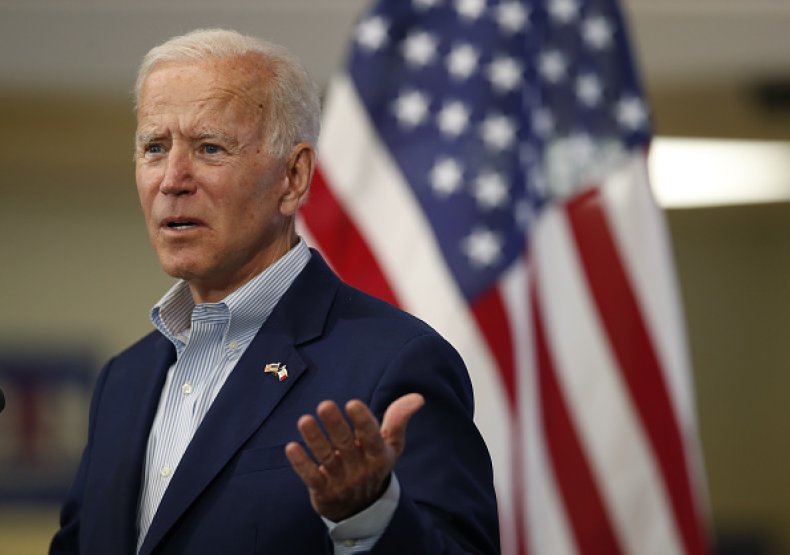 Still, Biden has been leading the crowded Democratic primary field since he entered the race in late April. In multiple national polls, the former vice president is beating his closest Democratic competitor—often Bernie Sanders and lately Elizabeth Warren—by double digits.
Several 2020 polls also show Biden taking down President Trump, even in states that voted for Trump during the 2016 presidential election. The latest Quinnipiac University poll released on Tuesday found Biden leading Trump in Florida by 9 percentage points. Internal polling by the Trump campaign indicated that Biden was ahead of Trump in the key states of Wisconsin and Pennsylvania.