Joe Biden Tells Colbert 'Yes,' He's Going to Beat Donald Trump in 2020 Election
It's been a long eight-week run of filming late-night TV at home, and now Stephen Colbert will finally get a little break.
But before the Late Show host enjoys a much-deserved summer vacation, he got to chat via web video with one of his most important guests yet: Former Vice President and presumptive Democratic presidential nominee Joe Biden.
Despite being restricted to his own home, Biden (and his black face mask) displayed ample confidence over the future of his campaign while talking with Colbert on Thursday. Simply put, the 77-year-old was sure he was going to win the 2020 presidential election. When asked by Colbert if he was going to beat President Donald Trump, Biden replied, "Yes, yes, yes."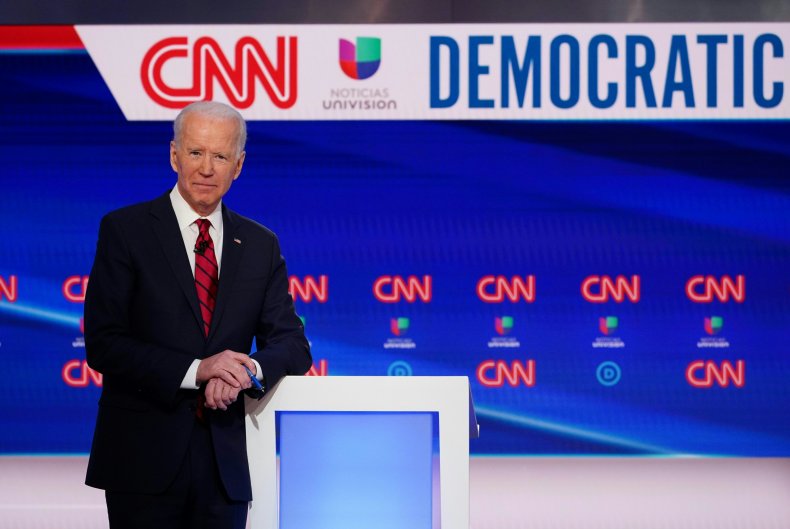 "I don't want to jinx myself, but I'll tell you why: The American people, they fully understand what's at stake here. I mean, this is the most important election in anybody's life—not because I'm running, but because of the circumstances," Biden said. "We've lost 36 million jobs. We have over 93,000 dead and the number's climbing. And the way [Trump has] walked away from the rest of the world—he's not having our folks at any of the international meetings of the World Health Organization or dealing with those nations who are working on vaccines as well. I just do not understand it."
According to Biden, his opponent isn't taking into account the severe conditions that the coronavirus has placed on everyday Americans. Biden said that the president has based his chances of being reelected on the well-being of his golf-course buddies at Mar-A-Logo. However, he was certain that way of thinking could put the country in even more jeopardy if a second wave of coronavirus does arrive, like how Dr. Anthony Fauci, director of the National Institute of Allergy and Infectious Diseases, and other scientists have warned.
"The president has one measure of how he's going to be reelected in his view and that is his Mar-A-Lago friends, are they doing well and is the stock market rising. Because that's his basis upon which he measures whether or not there's any economic success. And I think he's prepared to do virtually anything to try to get that moving without paying nearly enough attention to what Dr. Fauci to scientists all over the country have said," Biden said.
Biden also criticized the president for removing the U.S. from the global conversation surrounding the development of a coronavirus vaccine. "Our allies are working on a vaccine, like at Oxford in England, that can help make a breakthrough possibly. We should be able to take advantage of that and work with them," he said.
"Trump is finally appointing some people to lead the effort about getting the vaccine. But it's much too little too late on the P.P.E., on the issue of testing, on guidance for reopening. And we definitely can't afford 'too little too late' on the vaccine," Biden continued.
Should he find himself in the White House come January 20, 2021, Biden said he already has a feasible strategy in mind for how he'd go about preparing the country for a potential approved vaccine, starting with making the investment to ensure the U.S. was prepared to manufacture a vaccine without delays and provide access to it everywhere needed, from urban and rural areas in the U.S. to worldwide.
"The truth of the matter is, even if we take care of it at home, it can still come back through other sources around the world in terms of travel," he said. "We've learned that viruses don't get stopped by walls."
Biden said he would also be willing to work with congressional leaders on both sides of the aisle.
"This isn't a partisan issue. I know it sounds almost trite to say it," he added. "There's nothing partisan about this, and there are a lot of Republicans and a lot of Republican docs and scientists that know what has to be done."