Joe Biden Still Believes More Cops Will Lead to Less Crime
Democratic Presidential Nominee Joe Biden said he still believes that more cops lead to less crime during his town hall event in Philadelphia on Thursday night.
"You've often said that more cops clearly mean less crime. Do you still believe that?" ABC News moderator George Stephanopoulos asked Biden.
"Yes, if in fact they're involved in community policing, not jump squads," the Democrat replied.
"For example, when we had community policing from the mid '90s until Bush got elected, what happened? Violent crime actually went down... remember the significant rise in violent crime that was occurring in the late '80s into the '90s, it went down and fewer African Americans were arrested," he explained. "It actually started to come down."
Biden added that we shouldn't be defunding cops, but explained very clearly that the money should go to community policing.
Newsweek reached out to the Biden campaign for comment.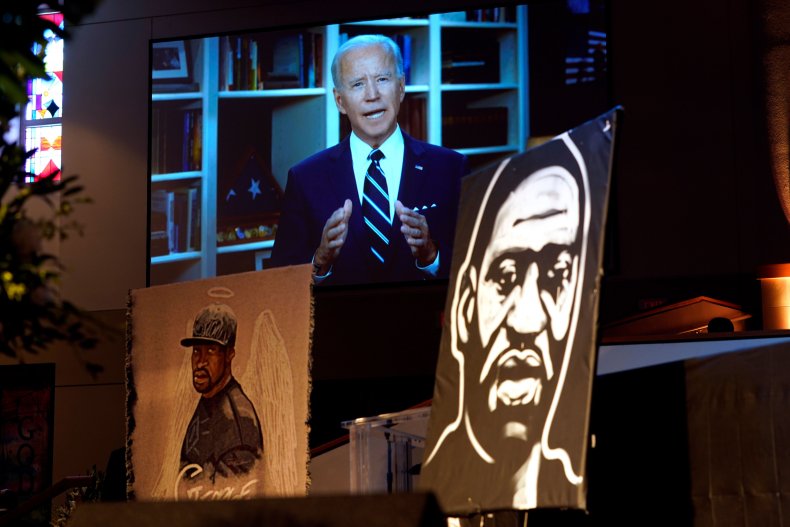 President Donald Trump also held a town hall event on Thursday night. Biden announced his first after the president pulled out of the second presidential debate because organizers had shifted the in-person event to a virtual format. Trump then scheduled his own event to run from the same time as Biden's.
During Trump's event, hosted by NBC News, the president said he knew "nothing" about QAnon.
"I do know they are very much against pedophilia, they fight it very hard, but I know nothing about them," he said. "I know about Antifa, and I know about the radical left, and I know how violent they are and how vicious they are."
Moderator Savannah Guthrie then asked Trump why he retweeted a QAnon conspiracy theory that claimed Navy SEALs killed a Osama Bin Laden body double in 2011. "That was a retweet," the president said. "That was an opinion of somebody and that was a retweet. I'll put it out there, people can decide."
When Biden was asked whether he intends to pack the Supreme Court, the former vice president declined to answer directly, saying he would reveal after Election Day. He did, however, indicate that his decision will depend on whether the Republican-led Senate rushes through Judge Amy Coney Barrett's nomination.
"You got a lot of people not able to pay their mortgage, not being put food on the table, not being able to keep your business open, not being able to do anything to deal with what's going on in terms of the economy as a consequence of COVID, and they have no time to deal with that," Biden said.
"But they have time to rush this [Supreme Court nominee] through," he added. "Right now, it looks like they're gonna have a vote around Halloween."