Joe Biden has instructed the Department of Education to extend the suspension of federal student loan payments until September amid mounting pressure on the new president to wipe college debt for thousands of students.
Some 44 million Americans are in debt associated with their education, totaling around $1.5 trillion.
With student debt a key electoral issue in the run-up to the 2020 presidential election, Biden campaigned hard on the subject, citing the statistic that one in five adults who hold student loans are behind on payments, a disproportionate number of whom are Black.
The former U.S. education secretary, Betsy DeVos, warned in 2018 that federal student loans made up around one-third of the government's total balance sheet.
Pressure on the new administration, including a petition signed by more than 850,000 people, comes as hopes were raised that Biden may consider wiping some—if not all—student loan debt.
Despite anticipation about a move in that direction, the president has not committed to canceling all student debt.
He has, however, proposed a scheme that offers public service workers $10,000 a year in student loan relief and pledged to make public colleges tuition-free for all families with incomes below $125,000.
On his first day in office, Biden directed the Acting Secretary of Education to extend the pause on federal student loan payments and collections and keep the interest rate at 0 percent.
"Too many Americans are struggling to pay for basic necessities and to provide for their families," the White House statement said. "They should not be forced to choose between paying their student loans and putting food on the table."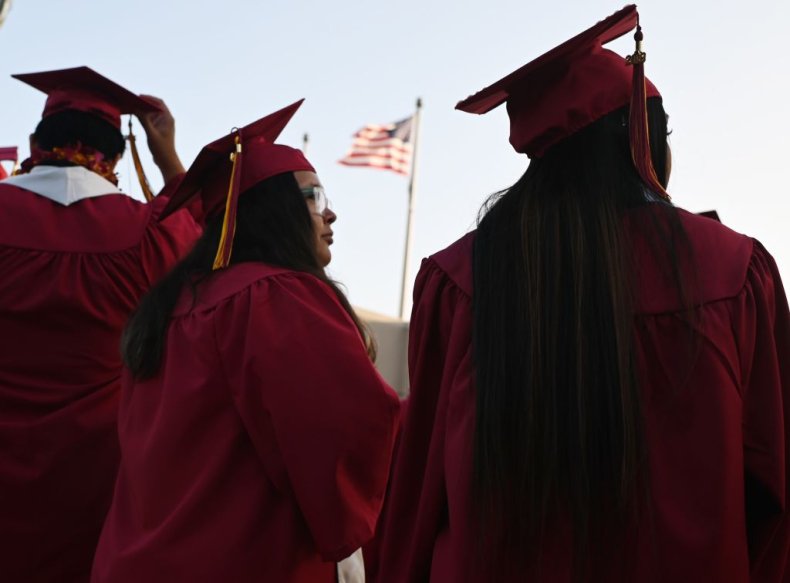 During the presidential election campaign, Biden vowed to tackle student debt and the cost associated with attending college.
The Biden campaign said last year that student debt "both exacerbates and results from the racial wealth gap," with a policy statement released in March 2020 stating: "The cost of higher education has skyrocketed, roughly doubling since the mid-1990s. States have dramatically decreased investments in higher education, leaving students and their families with the bill.
"And, too often individuals have been swindled into paying for credentials that don't provide value to graduates in the job market. As president, Biden will address all of these challenges."
Biden promised to make public colleges and universities tuition-free for all families with incomes below $125,000, target additional financial support to low-income and middle-class individuals by doubling the maximum value of Pell grants—which already help 7 million students a year afford college—and more than halve payments on undergraduate federal student loans by "simplifying and increasing the generosity of today's income-based repayment program."
Under that plan, individuals making $25,000 or less per year would not owe any payments on their undergraduate federal student loans and also won't accrue any interest on those loans.
Everyone else would pay 5 percent of their discretionary income (income minus taxes and essential spending like housing and food) over $25,000 toward their loans, the policy briefing said.
The Biden team said this plan would save millions of Americans thousands of dollars a year, and after 20 years, the remainder of the loans for people who have responsibly made payments through the program will be 100 percent forgiven.
In addition, he promised to create a "new, simple program which offers $10,000 of undergraduate or graduate student debt relief for every year of national or community service, up to five years."
Under that scheme, those working in schools, government, and other non-profit settings would be automatically enrolled in this forgiveness program; up to five years of prior national or community service will also qualify.
Biden also promised to fix the existing Public Service Loan Forgiveness program by securing passage of the What You Can Do For Your Country Act of 2019, ensuring adjunct professors are eligible for loan forgiveness, depending on the amount of time devoted to teaching.