Joe Biden Stumble on Air Force One Sparks Avalanche of Jokes, Memes
Joe Biden has been mocked on social media after a video of the U.S. president stumbling as he boarded Air Force One went viral over the weekend.
The clip was shared on Twitter by the RNC Research, a page dedicated to "exposing the lies, hypocrisy, and failed far-left policies of Joe Biden," according to its website.
The clip has so far been viewed more than 1.5 million times since being posted on Sunday.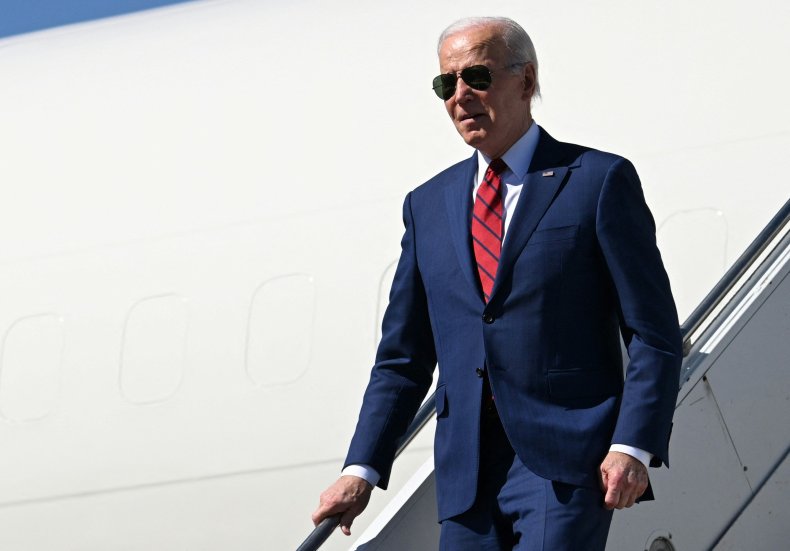 Joe Biden is seen stumbling briefly as he walks up the stairs into Air Force One. The incident occurred as he departed from Selma, Alabama.
Biden was visiting the town of Selma to commemorate the 58th anniversary of the "Bloody Sunday" civil rights march.
Some social media users ridiculed the president due to the frequency of his stumbles while boarding his presidential aircraft, most recently during his trip to Europe.
Mike Davis, the former chief counsel for nominations to Senate Judiciary Chairman Chuck Grassley, responded to the viral clip simply by writing "again" and sharing one of his previous tweets on Biden falling in Poland in February.
The initial tweet read: "Really sad to watch. And dangerous. Biden's handlers need to escort him up and down these airplane stairs. So he doesn't fall and hurt himself. Have the military do it, to make it look more presidential."
Comedian and impressionist Steven Voiceover mocked the president by sharing a mock advert for Acorn Stairlifts with a Biden impersonator praising the product.
Another Twitter user shared a photoshopped image of Biden using a stairlift alongside the pun "Stairforce One."
Twitter user SAVande07803615 also mocked the president with an image saying before judgement is passed a person should walk a mile in Biden's clown shoes.
Despite the mockery, some social media users defended the president.
Twitter user DrydenNovelette wrote:" It happens to younger people too. B**** please."
Twitter user ThommyB8 also wrote: "We have all tripped going up stairs at some time in our life... but okay, hypocrites."
With any blunder for Biden, his health is regularly called into question by his critics.
Biden last received a medical exam in November 2021 from Kevin O'Connor, who has worked as Biden's primary care physician since 2009.
In O'Connor's summary of the physical, he said the president "remains a healthy, vigorous, 78-year-old male, who is fit to successfully execute the duties of the Presidency."
O'Connor also confirmed that Biden was taking medication in order to manage his health conditions.
This included medication to help manage non-valvular atrial fibrillation, a heart condition that can cause strokes, along with hyperlipidemia, caused by the blood containing too much fat, and gastroesophageal reflux disease, which sees stomach acid leak up into the gullet.
Newsweek has contacted the White House via email for comment.