Fact Check: Did Biden Say Doctors Opened Skull 'to See if I Had a Brain'?
A video of U.S. President Joe Biden talking about surgery is circulating on social media, with some of his critics using it to question his aptitude and speculate about the state of his health.
The video footage provided a small snippet of a speech Biden made at the 2023 International Association of Fire Fighters Legislative Conference in Washington, D.C.
In the short clip, Biden mentions suffering from headaches and that "they had to take the top of my head off a couple times."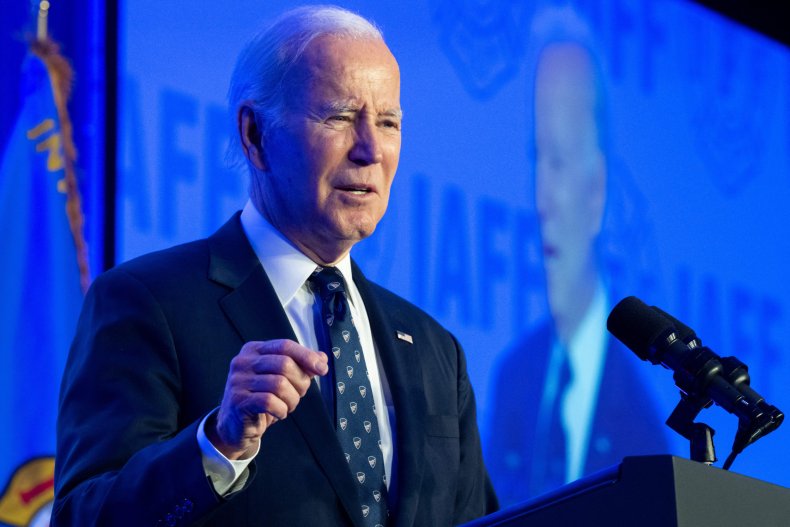 The Claim
The clip was shared on the Twitter page Breaking911 on March 6 and has been viewed more than 2.8 million times.
During the short clip, Biden says: "I had these terrible headaches. I was diagnosed with having a—well, anyway. They had to take the top of my head off a couple times, see if I had a brain."
As the video went viral, some social media users accused Biden of hiding a medical condition from the public. Others used it to suggest Biden is not fit to remain president.
The former New York City Police Commissioner Bernard B. Kerik tweeted the clip, adding: "WTF?! What the hell is going on? Is this real and if so, why is this allowed to continue?"
Cardiologist Dr. Afshine Emrani also tweeted: "This a reminder that I've been saying Biden will not be finishing his presidency and will be moved out in the next few months."
The Facts
The White House provided the transcript of Biden's entire speech during the event. Biden admitted that he was "kidding" moments after the remarks in the clip are cut off.
During this part of his speech, Biden was speaking about the time the fire department came to his aid and how grateful he was for their dedication.
Speaking about surgery that Biden needed for a brain aneurysm while he was the Senator of Delaware, Biden told the audience how the fire department aided him in traveling during snowstorm conditions.
Biden said: "My fire company at home saved my life. I came back from a trip, after being away for a couple of days, and—I had these terrible headaches.
"I was diagnosed with having a—well, anyway. They had to take the top of my head off a couple times, see if I had a brain.
"But I—all kidding aside, what happened was: There was a snowstorm. And I had a cranial aneurysm. And it had to be operated on immediately. And the doc who was going to do it was the best doc that was around—it was down at Walter Reed.
"And I couldn't get down. The President—the Republican President offered me to—Marine One to get down, but it couldn't fly because of the weather. So my fire company got me down in the middle of a snowstorm for a nine-hour operation and saved my life."
Biden went on to speak about the firefighters' role in saving the lives of his two sons after they were in a car crash that claimed the lives of his wife and infant daughter.
The aneurysm incident that Biden spoke about occurred in early 1988 and required immediate surgery.
Once being diagnosed in the Saint Francis Hospital in Wilmington, Biden was told surgery was his best chance of survival as the aneurysm was lying below the base of his brain, according to a Delaware Online report.
In Biden's book, Promises to Keep, the president underwent a microsurgical craniotomy at Walter Reed National Military Medical Center. The book also notes the chances of surviving the surgery were 50 percent.
Newsweek has contacted the White House via email for comment.
The Ruling
Needs Context.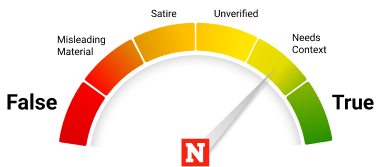 While it is true that Biden did say doctors opened his skull "to see if he had a brain," he quickly clarifies in his speech that was a joke.
Biden was referring to an aneurysm he had that required surgery in 1988.
The clip is not an admission by Biden that he is currently suffering from any medical conditions that prevent him from remaining the President of the United States.
Biden last received a medical exam in February 2023 from Kevin O'Connor, who has worked as Biden's primary care physician since 2009.
"The President remains fit for duty, and fully executes all of his responsibilities without any exemptions or accommodations," O'Connor's memorandum says, later adding that Biden "remains a healthy, vigorous, 80-year-old male, who is fit to successfully execute the duties of the Presidency."
FACT CHECK BY Newsweek