Joe Biden Is 'Swamp Thing" on Giant Billboard on the Sunset Strip
After Donald Trump Jr. at the Republican National Convention labeled Joe Biden the "Loch Ness Monster" of the DC swamp, conservatives turned the imagery in their heads into a social media meme. On Thursday, a secretive group took it to the extreme by illegally hijacking a billboard on Sunset Boulevard in Hollywood and turning it into a monstrous anti-Biden hit piece.
The gigantic billboard sits atop the Whisky a Go Go nightclub, and it used to advertise Swamp Thing, the DC Comics television show that airs on the CW network. But working through the night Wednesday, a secret, conservative group of street artists known as "The Faction" dubbed Biden's face over that of the "real" Swamp Thing.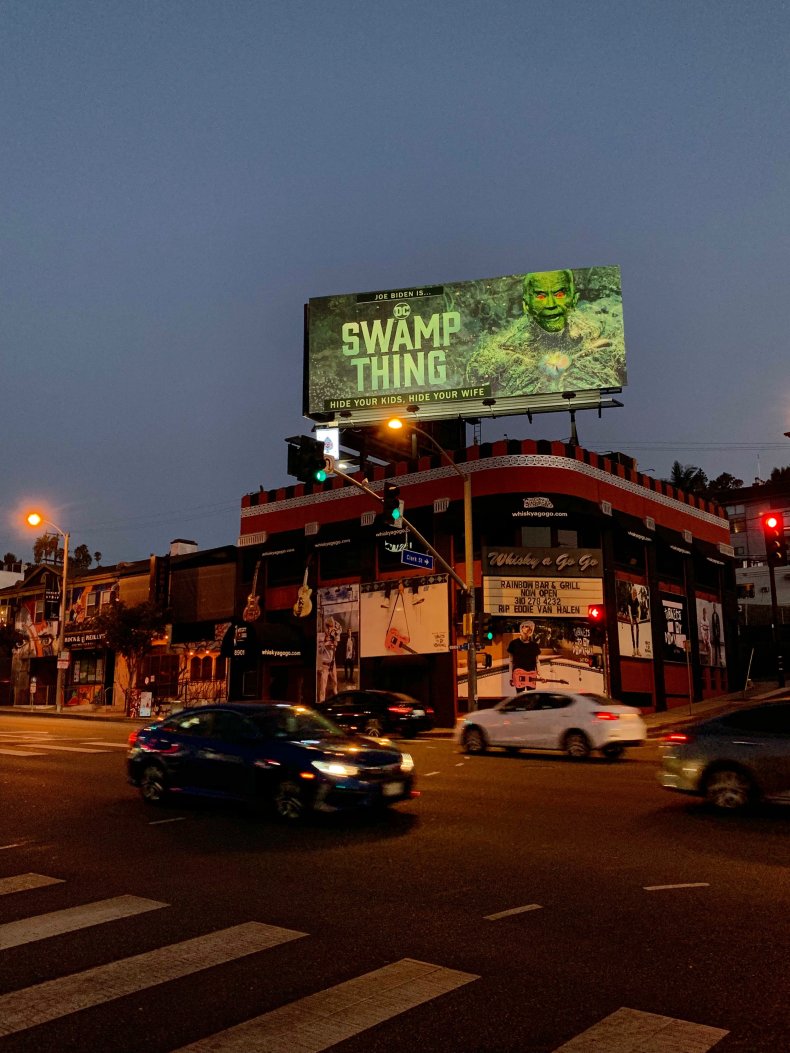 The Faction also altered the words on the billboard so that instead of the original, "Deep water, deep secrets," it now reads, "Joe Biden is…Swamp Thing," and "Hide your kids, hide your wife."
Warner Bros., which controls DC and the CW, declined to comment, though Donald Trump Jr. told Newsweek: "Whoever made this billboard nailed it. Joe Biden spent 47 years in Washington, D.C., enriching his family, exporting the jobs of American workers and selling out our country to the Chinese Communists. There is no bigger 'Swamp Thing' in American history than Joe."
The Biden campaign did not respond to a request for comment.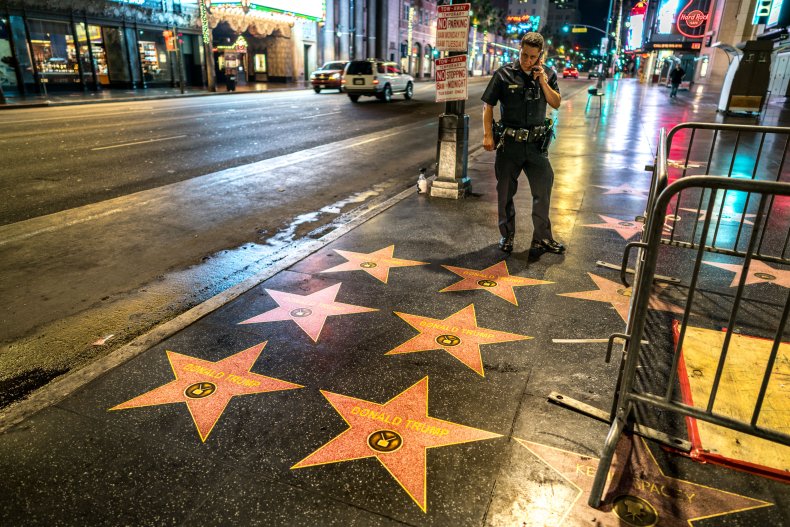 The Faction previously made headlines worldwide when it placed dozens of fake but remarkably authentic-looking Donald Trump stars on the Hollywood Walk of Fame, a reaction to the several times that the president's real star there was vandalized. After that, the Faction attacked CNN by hijacking a billboard outside its Los Angeles studio.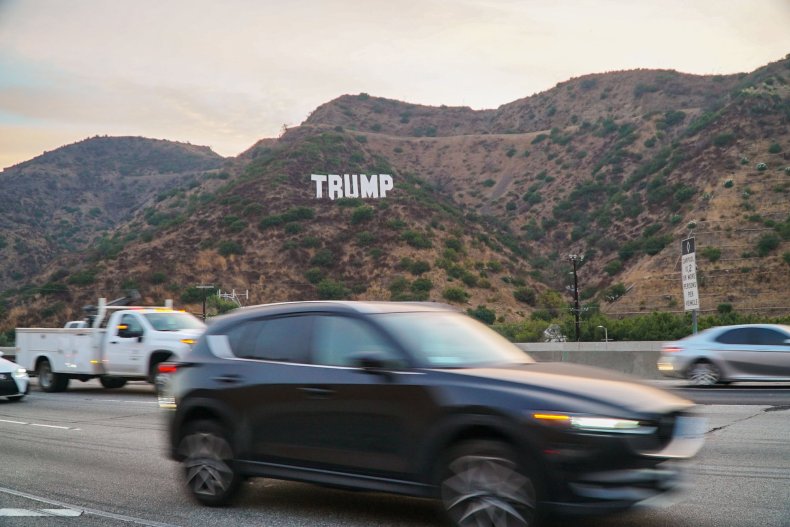 Conservative street art, pioneered by a man who goes by the name Szabo, has become quite elaborate during this presidential election cycle. Last week, for example, a group whose anonymous members include some folks with legitimate jobs in the movie and TV industries, created a "TRUMP" sign, 20 feet tall and 70 feet wide, on a hillside near the 405 freeway in Los Angeles that mimicked the famous "Hollywood" sign. It lasted throughout much of night and early morning, but by 9 a.m. government workers were knocking down the letters and removing them. The group behind that effort told Newsweek they are simply known as "anonymous patriots."
"It's a psychological terror op designed to counter the psychological terror ops that the Democratic government of California has been running on its citizens since the lockdown," an "anonymous patriot" told Newsweek. "It's a signal to all of the war-weary citizens here behind enemy lines that they are not forgotten and that there are others like them here in Vichy California."
October 15: Story altered to clarify "anonymous patriot" group separate from The Faction.