Joe Biden Takes Different Tone Than Trump Detailing Killing of ISIS Leader
In a speech on Thursday morning, President Joe Biden announced that the leader of the Islamic State, Abu Ibrahim al-Hashimi al-Qurayshi, was dead after blowing himself up as U.S. troops closed in on him in Syria.
More than two years ago, President Donald Trump made a similar speech about the death of ISIS's former leader, Abu Bakr al-Baghdadi, who died after detonating a suicide vest while being cornered by U.S. troops. But Trump's speech took a different tone than Biden's and focused more on insulting the former ISIS leader. It even faced criticism for being "crass."
During his 2019 speech, Trump said al-Baghdadi died "like a dog."
"He died like a dog, he died like a coward. The world is now a much safer place," Trump stated. "He was a sick and depraved man, and now he's gone. Baghdadi was vicious and violent and he died in a vicious and violent way. He was whimpering and crying and screaming all the way."
In his speech on Thursday, Biden condemned and criticized al-Qurayshi, calling him a "horrible terrorist leader," and pointed out that he was behind the genocide against Iraq's Yazidi minority in 2014. His rhetoric was far less heated than Trump's, though.
The president noted that knowing al-Qurayshi had surrounded himself with families, including children, officials decided to conduct a special forces raid, "rather than targeting him with an airstrike."
Biden said that "in a final act of desperate cowardness, with no regard to the lives of his own family or others in the building, [al-Qurayshi] chose to blow himself up...taking several members of his family with him, just as his predecessor did."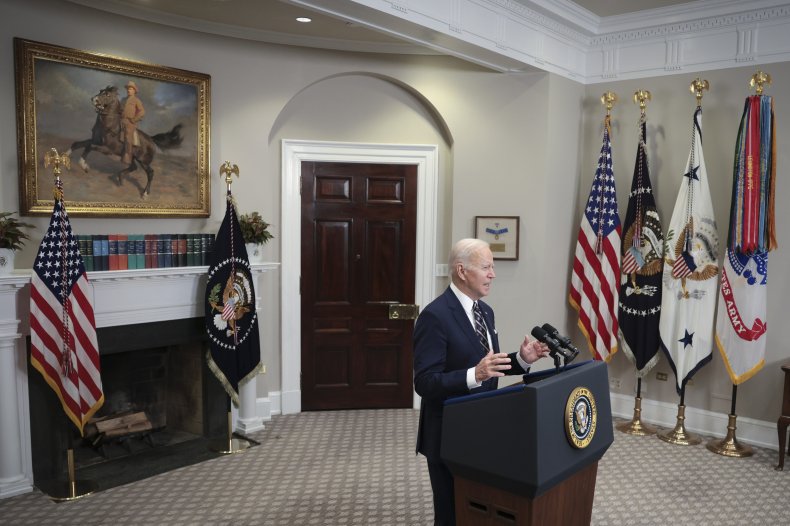 "Last night's operation took a major terrorist leader off the battlefield and it sent a strong message to terrorists around the world: we will come after you and find you," Biden said.
White House Press Secretary Jen Psaki noted Thursday that the explosion Thursday night killed not only al-Qurayshi but a woman and three children.
In contrast, Al Jazeera reporter Patty Culhane said in 2019 that Trump's "crass" rhetoric would "incite al-Baghdadi's followers." In an interview with TIME, Daniel Benjamin, who served as the coordinator for Counterterrorism at the State Department from 2009 to 2012, called what Trump said in his speech "beneath us all."
"These people are criminal, they are wrong at what they do, they don't have respect for human life, they should be brought to justice," Benjamin said. "What I don't understand is why we need to get down in the gutter and use this kind of language. I don't think it is American. I think it is beneath us all."
Newsweek reached out to former President Trump's press office for comment.