Economists Say Joe Biden's Tax Plans Don't Add Up
Ahead of the U.S. presidential election, policy pledges are coming into focus, not least Democratic contender Joe Biden's future plans for the tax system.
Economists and policy analysts have been trying to work out whether what he has promised is actually viable.
Biden has not yet released a formal tax plan, but has proposed changes related to issues such as climate change, health care, education and infrastructure.
A large portion of tax increases which Biden has proposed will fall on high earners and businesses, according to a report by the Tax Foundation think tank.
One pledge is to repeal the Tax Cuts and Jobs Act (TCJA) individual income tax reductions for those earning over $400,000 and restore the top marginal income tax rate to 39.6 percent, up from today's 37 percent.
The Section 199A deduction would also be phased out for those earning over $400,000.
Another proposal would raise the corporate income tax rate from 21 to 28 percent.
The Tax Foundation totted up the numbers in March, and estimated that Biden would increase taxes overall by between $3.3 trillion and $4 trillion over the next decade, if he were to get into power.
When costed in, depending on how you understand Biden's pledges on healthcare, over the next decade, Biden's plans would also result in extra spending totalling between $5 trillion and $8 trillion, economist Erica York from the think tank's Center for Federal Tax Policy told Newsweek.
Based on those predicted figures, that is a potential difference of almost $5 trillion between what Biden pledges to spend and raise.
"If we put this into a historical context, Biden's tax plan would be the fifth largest tax increase since the 1940s in the United States," York said. "We're talking about a really significant amount of revenue that Biden is proposing to raise."
"The actual economic burden of the taxes Biden has proposed don't line up with their objectives. For example, the proposal to increase the corporate income tax rate from 21 percent to 28 percent, while that would be paid by corporations, the economic burden of that can fall on people across the spectrum.
"The tax increase could harm economic output, employment and wages. That burden can fall on anyone," York continued.
"His plans are not fully paid for yet, and that doesn't even factor in the existing budget deficit that we have built in due to the covid relief we provided. The budget deficit for this year is going to be $3.3 trillion."
York said that it would likely require Biden to violate one of his pledges to actually enact what he has proposed.
The Tax Foundation also suggested that Biden's plans would also reduce long-run economic growth by 1.51 percent and cost about 585,000 full-time equivalent jobs.
Newsweek has approached Biden's campaign representatives for comment.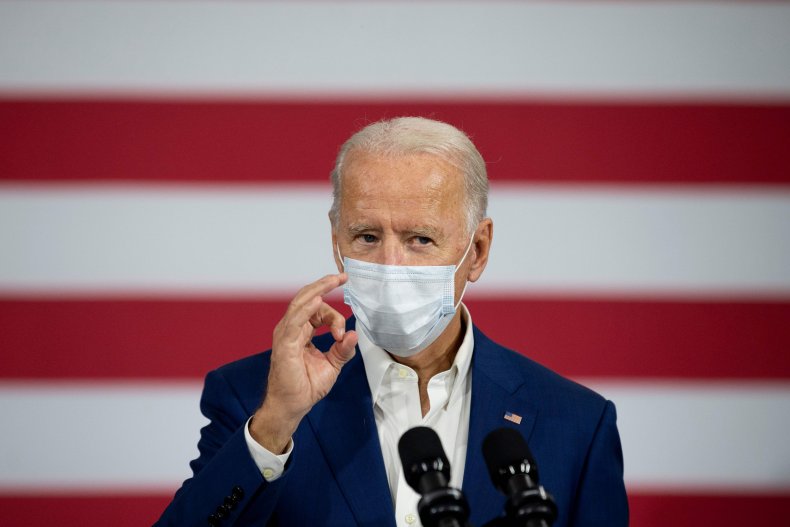 While York has misgivings about the policies, Mark Mazur, director of the Tax Policy Center think tank, was more optimistic about whether they could be enacted.
"If Biden wins the election he'll have to come in and re-evaluate the economy," Mazur told Newsweek.
"My guess is the US economy will still be in a slump in the first quarter of 2021, and instead of imposing tax increases they would more likely think about components of the tax plan that are more stimulative and focus on that," he continued.
"You wouldn't implement his plans immediately, but you might implement it after a year or whenever you felt the economy had recovered enough."
"Nobody likes paying taxes, but you need to pay for the government you demand. And if you're demanding better roads, a military and a better education system, somehow people know they need to pay for it," Mazur added.