Joe Biden Tears Up While Discussing Grief With Black Pastor Who Lost Wife to S.C. Shooting: I 'Lost My Son'
Former Vice President Joe Biden spoke emotionally about grief during a CNN town hall event Wednesday.
Biden was addressing a question from Episcopalian Rev. Anthony Thompson, whose wife was killed by a white supremacist in a 2015 mass shooting targeting African Americans at a church in Charleston, South Carolina. Biden's first wife Neilia and their one-year-old daughter Naomi were killed in a 1972 car accident, with sons Beau and Hunter suffering injuries but surviving the crash. Beau died of brain cancer in 2015.
"I've learned the only way, I don't know how you've dealt with it, reverend, but the way I've been able to deal with when my wife was killed and my daughter was killed and then my son died," said Biden. "I've only been able to deal with it by realizing they're part of my being."
"My son, Beau, was my soul," Biden continued as he began to tear up. "And what I found was, I had to find purpose, purpose. And what was the purpose? Every day I get up, I'm sorry to go on, I apologize. But every day I get up, I literally, and not a joke, reverend, and... I ask myself, 'I hope he's proud of me today.' ... It took me a long time to get to the point to realize that that purpose is the thing that would save me. And it has."
The untimely death of Beau Biden has been cited as one of the reasons the former vice president did not ultimately pursue a run for the White House in 2016.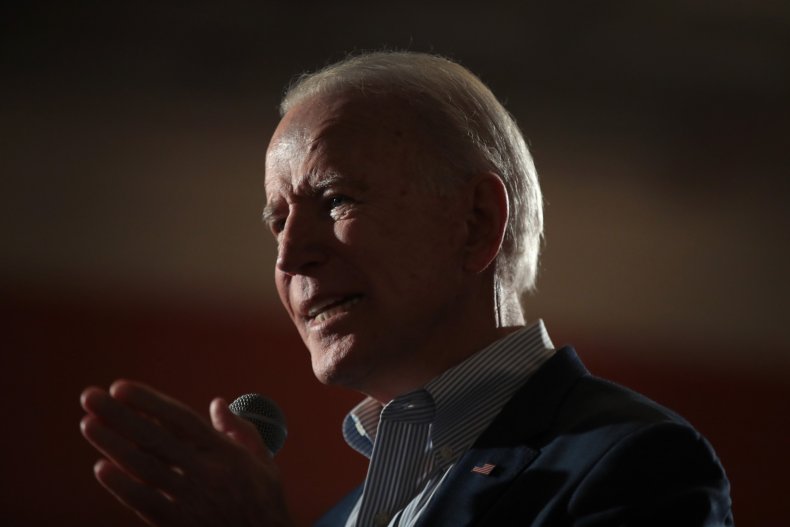 Biden's town hall appearance also saw him relating the personal importance of his Catholic faith, while being careful to note that he was not interested in "proselytizing" his religion to the audience. He also praised the response of Thompson and others who had suffered due to the 2015 Charleston massacre.
"I kind of know what it's like to lose family and my heart goes out to you," Biden told Thompson. "What you all did was astounding. I don't know whether you all know this, all of those who died, who were killed by this white supremacist, they forgave him. They forgave him. The ultimate act of Christian charity."
The town hall event was part of a busy schedule for Biden. He hopes to launch a comeback by winning the South Carolina primary on February 29, after a string of surprisingly disappointing results in the first three nominating contests. Recent polls in the state show him with a significant lead over national frontrunner Senator Bernie Sanders.
Newsweek reached out to the Biden campaign for comment but did not receive a response in time for publication.