Joe Biden Tests Negative for COVID-19
Democratic nominee Joe Biden tested negative for the coronavirus Friday morning.
The news comes hours after President Donald Trump and his wife, first lady Melania Trump, tested positive COVID-19.
"Vice President Joe Biden and Dr. Jill Biden underwent PCR testing for COVID-19 today and COVID-19 was not detected," Dr. Kevin O'Connor said in a press release on Friday. "I am reporting this out in my capacity as both Vice President Biden and Dr. Biden's primary care physician."
Following the announcement, Biden tweeted: "I'm happy to report that Jill and I have tested negative for COVID. Thank you to everyone for your messages of concern. I hope this serves as a reminder: wear a mask, keep social distance, and wash your hands."
The two presidential candidates shared a stage during the first presidential debate earlier this week. Trump and Biden refrained from shaking hands and neither wore a mask during the debate.
Amid Trump's latest test, everyone who attended the debate in Cleveland this past Tuesday, including Biden, would undergo testing for the virus, according to the Commission on Presidential Debates.
The head of the commission, Frank Fahrenkopf has declined to comment on what the president's diagnosis will mean for the next two presidential debates.
CNN reported that neither the Trump campaign nor the White House contacted the Biden campaign to alert them of possible exposure, according to an official who was with the Democratic candidate at the Cleveland debate.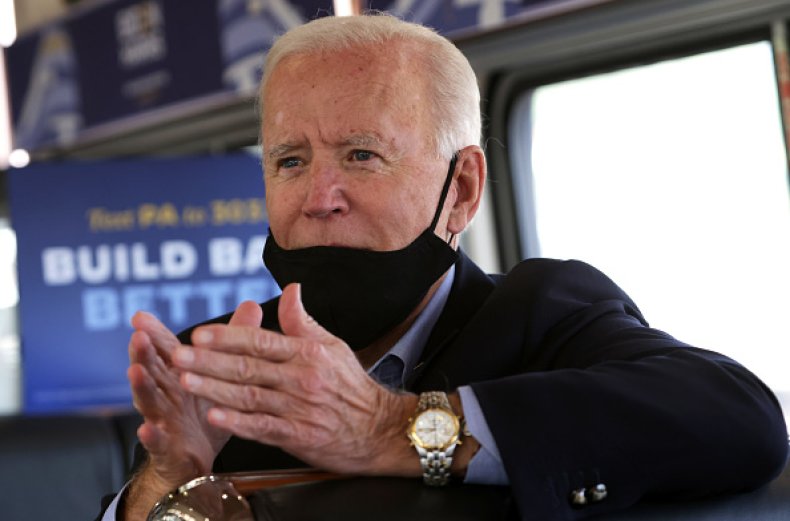 Trump announced early Friday that he and the first lady would begin a 14-day quarantine recommended for those infected with the virus. The two were tested after one of his close advisors, Hope Hicks, also tested positive late Thursday.
Both candidates fall into the high risk category for serious complications from COVID-19 due to their age. Biden is 77 and Trump is 74.
Vice President Mike Pence and second lady Karen Pence tested negative for COVID-19 Friday morning, according to a statement from Pence's spokesperson Devin O'Malley.
"As has been routine for months, Vice President Pence is tested for COVID-19 every day. This morning, Vice President Pence and the Second Lady tested negative for COVID-19. Vice President Pence remains in good health and wishes the Trumps well in their recovery," O'Malley wrote.
White House officials also said Ivanka Trump and Jared Kushner have tested negative for the virus.
Prior to his own coronavirus test, Biden took to Twitter to wish Trump "a swift recovery."
"Jill and I send our thoughts to President Trump and First Lady Melania Trump for a swift recovery," Biden tweeted. "We will continue to pray for the health and safety of the president and his family."
As of Friday, over 200,000 Americans have died from the coronavirus and more than 7.2 million have been infected.
Newsweek reached out the Biden campaign for comment, but did not hear back before publication.