Joe Biden Thanks Trump Administration for Ability to Get COVID Vaccine Out Fast
President Joe Biden tossed former President Donald Trump some credit for why America is better positioned this year to handle the Omicron outbreak than at the start of the pandemic.
Trump has pat himself on the back for the ability for science to bring about a COVID-19 vaccine in one year and officials have credited his administration's financial commitment to helping bring the vaccine to the public in record time. While the White House often tries to contrast Biden's approach with Trump's, on Tuesday, Biden gave Trump credit for helping to bring about the COVID-19 vaccine.
"Thanks to the prior administration and our scientific community, America was one of the first countries to get the vaccine," Biden said.
When Trump was still in office, Dr. Anthony Fauci, director of the National Institute of Allergy and Infectious Diseases (NIAID), backed the decision to make a significant financial investment in the COVID-19 vaccine before it proved safe and effective. By pouring millions of dollars into securing doses of multiple vaccines before Phase III trials ended, it helped ramp up manufacturing of the vaccine so doses could be available soon after the Food and Drug Administration (FDA) authorized the vaccines.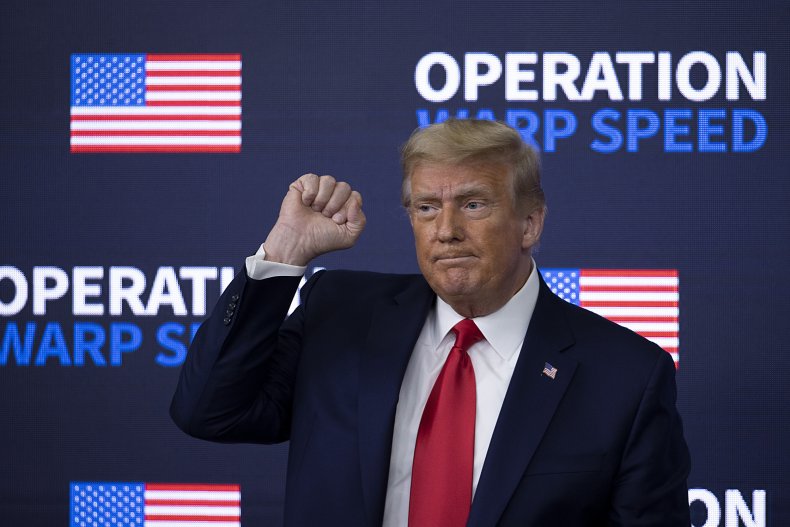 Trump fell short of his goal to vaccinate 35 million people and left office with just 13.5 million Americans vaccinated against COVID-19. Months later, Biden fell short of his goal of vaccinating 70 percent of Americans by July 4, but in the months since, America surpassed the 70 percent threshold with about 77 percent of Americans over the age of 5 having at least one dose of the COVID-19 vaccine.
While Biden credited Trump with helping to bring the vaccine to the public in a short time, the president didn't give his predecessor all the credit. He noted that his administration, in conjunction with the "hard work" of Americans, made America a world leader in vaccine rollout.
About 20 percent of Americans still remain hesitant about getting vaccinated, something that Biden attributed to misinformation spreading on social media and cable television. He criticized television personalities and companies that spread misinformation for "killing their own customers" and called for it to come to an end.
During Biden's speech, he said vaccinated Americans, especially those with the booster dose, shouldn't panic about the Omicron variant, as they're likely to have some protection against getting seriously ill if they contract COVID-19. However, he warned that unvaccinated Americans are making a risky choice and could be responsible for why hospitals become overwhelmed and are unable to care for people who need to be treated for something other than COVID-19.