One Week From Thanksgiving, What Joe Biden Has Said About Celebrating
Ahead of Thanksgiving, President-elect Joe Biden has spoken of the COVID-19 pandemic's impact on the celebration.
In a virtual roundtable with frontline workers, he spoke of his experts' warnings on limiting gatherings due to the outbreak.
"The docs that have been advising me all along are telling me that it's going to cause problems in my family. Thanksgiving's coming up, well they said, 'Joe, maximum ten people in your home, maximum Joe.' I've got a big family, you've probably heard a lot about, we do everything together."
He spoke of the issues of mixing people from different places.
"There's gonna be three of us," he said, in regard to his own celebrations, due to not wanting to have a gathering with a mix of people from different areas.
In terms of numbers, he said on Monday that he had been told a maximum of ten people was a limit people should abide by.
He said at a press conference on Monday the advice was five people but at a maximum indoor gatherings should be limited to "a maximum of 10 people, socially distanced and wearing masks.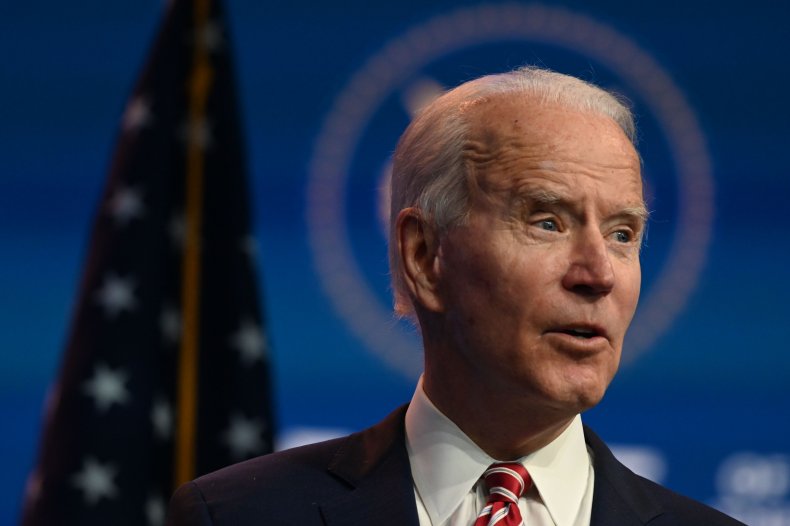 "I would strongly urge for the sake—not just for your sake, but for the sake of your children, your mother, your father, your sisters, your brothers, whoever you get together with for Thanksgiving—think about this. There should be no group more than 10 people in one room, at one time, inside the homes. That's what they're telling me.
"I just wanna make sure that we're able to be together next Thanksgiving, next Christmas. It is an international crisis.
"We're at war with the virus."
Newsweek has contacted the Biden transition team for further comment.
Biden's comments come with the Centers for Disease Control and Prevention CDC) also warning people to curtail their celebrations.
"The safest way to celebrate Thanksgiving this year is to celebrate with people in your household. If you do plan to spend Thanksgiving with people outside your household, take steps to make your celebration safer," its guidelines state.
The guidelines also highlight mask-wearing and social distancing and urge gatherings to be outside if possible. Measures such as heightened sanitation of surfaces and increase hand hygiene, as well as the use of single-use utensils, could be useful safety precautions.
Biden's comments come with COVID-19 deaths in the U.S. surpassing 250,000 and confirmed cases over the course of the pandemic topping 11 million in the nation, according to Johns Hopkins University figures.
The below graphic, from Statista, shows the nations with the most confirmed COVID-19 cases as of November 16.