President Joe Biden asserted Wednesday that people will look back at his $2 trillion infrastructure plan and say "this was the moment that America won the future."
The remarks were made during a press conference in Pittsburgh, Pennsylvania where Biden officially unveiled his American Jobs Plan to spend $2 trillion in infrastructure over the next eight years.
The initiative, the president said, will "put us in a position to win the global competition with China in the upcoming years."
At least $621 billion would go to transportation infrastructure such as bridges, roads and airports; $400 billion to care for elderly and disabled Americans; $300 billion to improve drinking water and expand broadband access; $580 billion to enhance American manufacturing; among other measures.
"It's a once in a generation investment in America, unlike anything we've seen or done since we built the Interstate Highway System and the space race decades ago," Biden said. "In fact, it's the largest American jobs investment since World War II."
The White House said it it to pay for the package by raising the corporate tax rate to 28 percent—an idea generally opposed by Republicans in Congress, including Senate Minority Leader Mitch McConnell. The GOP slashed the corporate tax rate from 35 percent to 21 percent under former President Donald Trump.
Moody's Analytics chief economist Mark Zandi told CNN on Wednesday that while "higher corporate taxes has a marginal negative effect, the benefit of the infrastructure spending is quite substantial—so the net benefit of all of this is very positive through the economy [in the] long run."
When asked about the GOP opposition to higher corporate taxes, an administration official previously told Newsweek on Wednesday: "If folks like the plan but have a different way to pay for it, we are open to hearing their suggestions. This investment is a priority, and creating millions of good-paying, middle class jobs—especially in this moment of unprecedented crisis—is absolutely worth some of the wealthiest Americans contributing their fair share."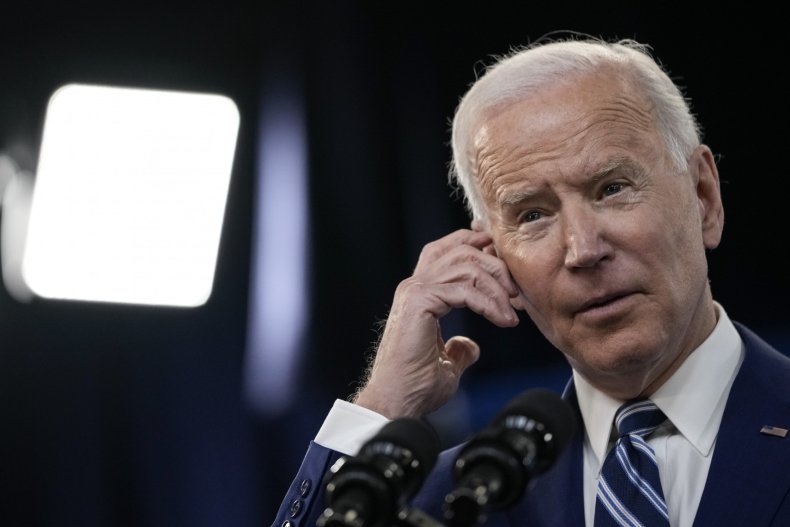 The official added, "President Biden is eager to engage across the aisle. Republican elected officials and business leaders alike have been on the record for years saying this investment in our nation's infrastructure must be prioritized. Now is the time – we are ready to work together, the country is demanding progress, and we hope they will join us."
Biden will need at least 10 conservatives in the U.S. Senate to approve of the American Jobs Plan in order for it to pass the filibuster. There's already reports that Democrats are eyeing ways to bypass the 60-vote threshold by using the budget reconciliation process for a second time. It was first used earlier this month to implement Biden's $1.9 trillion coronavirus relief package in a 50-49 vote.
Biden expressed openness to reforming the filibuster if Republicans continue to "abuse" the practice. But first he called for slight reforms to the practice, including the reintroduction of the "talking" filibuster that would require a senator to talk for an extended period of time in order to block a bill.
"If we have to, if there's complete lockdown and chaos as a consequence of the filibuster, then we'll have to go beyond what I'm talking about," Biden told reporters during his first solo press conference.