Joe Biden on Anita Hill: 'I Don't Think I Treated Her Badly'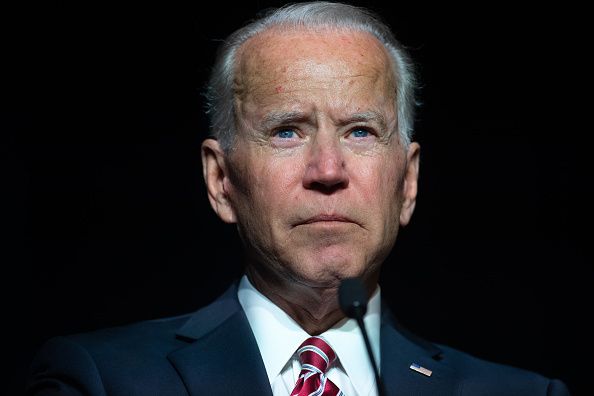 In his first television interview since announcing his 2020 candidacy, former Vice President Joe Biden struggled to answer questions about Anita Hill and the accusations made by several women of inappropriate touching.
"I don't think I treated her badly," Biden said of Hill during an appearance on The View on Friday morning, a day after he officially announced he was running for president.
"I'm sorry she was treated the way she was treated," Biden added at one point during the segment. "There were a lot of mistakes that were made across the board and for those I apologize."
Biden has been under fire for months over his handling of Hill's 1991 testimony against Clarence Thomas, who was in the process of being confirmed by the Senate to become a justice of the Supreme Court. Biden was chairman of the Senate Judiciary Committee and was responsible for overseeing the confirmation hearing.
Hill had accused Thomas of sexual harassment, but her allegations were not taken seriously by the committee at the time, say critics. Thomas was confirmed to the lifelong position with a 52 to 48 vote, though it was the most narrow margin for a justice in over a century.
During the interview, Biden claimed that he "did everything in my power to do what I thought was within the rules."
Biden also called Hill earlier this month to express his "regret for what she endured" when she testified before the Senate. But Hill told The New York Times she didn't consider Biden's words an apology, and said that he should properly address sexual harassment and violence toward women.
"I cannot be satisfied by simply saying, 'I'm sorry for what happened to you.' I will be satisfied when I know there is real change and real accountability and real purpose," Hill told the Times.
In addition to the Hill controversy, Biden has been heavily scrutinized after several women came forward to accuse him of inappropriate touching. At least a half a dozen women have this year alleged Biden had touched them in ways that were unwelcome.
"I have to be, and everybody has to be, much more aware of the private space of men and women," Biden said on The View. "I am much more cognizant of that."
He added that he had to think about whether or not to hug the hosts when he came onstage. "I actually thought in my head when I walked out here," he said. "I mean, do I? We're friends. But I have to be aware of it. I have to be more cognizant."
When it appeared Biden stopped short of a full-on apology for his own actions, co-host Joy Behar pushed back, saying, "[House Speaker] Nancy Pelosi wants you to say, 'I'm sorry I invaded your space.'"
In response, the former vice president parroted her question, responding simply with, "I'm sorry I invaded your space."