The Democratic nominee rides discontent with Donald Trump to leads in national polls, with two-thirds of Latino voter support in tow.
That's the story of Hillary Clinton, who looked set to win four years ago, until she didn't.
But to the mounting terror of Democrats, it's also the situation Joe Biden finds himself in as polls have tightened as we are in the general election sprint to November 3. The Biden campaign—eyes wide as they look to upend the electoral map by winning states like Arizona, Georgia, or Texas—publicly waved away concern about the state of the Latino vote for months, until senior advisor Symone Sanders acknowledged the campaign "has work to do" with the community on September 13.
That work accelerated privately at the end of August and into September, with the campaign working to grow its Latino support behind the scenes, efforts that are now partially fueled by its $365 million August fundraising windfall, Newsweek has learned.
In successive weeks, at the end of August and into mid-September, the campaign internally examined ways to turn more Hispanics into Biden voters. During one meeting on September 1, the campaign's senior Latino staff—including deputy campaign manager Julie Chavez Rodriguez, senior advisor Cristobal Alex, pollster Matt Barreto, and consultant Adrian Saenz—met with the analytics team to discuss growing the universe of Latino voters being targeted by the campaign, according to sources with knowledge of the meetings.
In other words, the pre-Labor Day meeting was to discuss ways to identify yet more Latino voters to receive ads through digital platforms like Pandora digital radio and Instagram feeds, as well as through phone calls and direct mail.
The timing of the meetings, coming in the final stages of the campaign, reflect how seriously the Biden campaign is now taking the Latino vote. But the campaign has also been dogged by enduring concerns that have persisted since sealing the primary win that it wasn't prioritizing Latino voters or doing enough to court them, fears that are now most pronounced in the perennial battleground state of Florida.
The issue is not whether Biden will win the Latino vote—Democrats always have in modern presidential elections—but whether his campaign will perform well enough with these voters to win critical states like Florida and Arizona, or crushingly fall short yet again.
In Florida, Biden has faced subpar polling compared to Clinton with Latino voters, as well as in the largest Democratic county of Miami-Dade, where Democrats often look to run up the score to beat back Republicans. He also faces charges, aided by disinformation campaigns on social networks and messaging apps, that he is a socialist, anathema to many Latinos who came from socialist Latin American countries and support Trump.
The hopes and fears of this burgeoning group of voters could decide who will be the next president.
Latinos are set to become the largest racial or ethnic group in the 2020 electorate, with a record 32 million eligible voters, comprising 13.3 percent of the electorate, according to Pew Research Center. Since 2000, the share of Latino eligible voters has increased 80 percent, and this cycle their outsized presence is felt most in battlegrounds like Florida, Arizona, Nevada, and Texas—only one of which, Nevada, went for Clinton four years ago.
These voters are not monolithic. While the majority of Latinos are Mexican-American and lean Democratic, there are key differences in a state like Florida, where Cuban-Americans and Puerto Ricans play a major role.
If Biden can improve his performance with Hispanics in the late stages of the race, as his campaign believes he can, he could deal a fatal blow to Trump's reelection chances. But despite their electoral heft, an all-out effort to court Latinos from either campaign has been elusive for much of the cycle. In fact, an August poll by Latino Decisions of 1,842 Hispanic adults found a shocking statistic: Despite campaigns saying all the right things about the importance of the Latino vote in American presidential politics, nearly two-thirds, 64 percent, of registered Latino voters had not heard from either campaign or party.
Coming off a bruising primary, Biden was slow to ramp up his paid media investment in Hispanics, before doing so this summer in seven states; Arizona, Florida, Pennsylvania, Nevada, North Carolina, Minnesota, and Texas, as part of what his campaign calls an "eight figure" Latino voter program. After being outspent on Spanish-language television and radio into the early summer, as Newsweek reported, the Biden campaign outspent Trump $3,523,985 to 2,032,405 from June 23 to September 7, according to a media tracking report used by Democrats.
The messaging of those ads, specifically targeted to Latinos, has been that the president is out of his depth in regards to the coronavirus pandemic—that the nearly 200,000 deaths were largely avoidable—that Trump has targeted and failed the Latino community, and Biden has been a trustworthy man of faith throughout his life.
The campaign says Biden's financial investment in reaching Latinos is "historic," but refuses to provide specific dollar figures despite continual requests from reporters, particularly after Biden's record August haul.
The campaign has hired and elevated Latino staffers, including a slate of Obama alums, into key leadership roles.
Rodriguez, the newly promoted deputy campaign manager and granddaughter of civil rights icon Cesar Chavez, was brought on this Spring to grow the small ranks of influential, senior Latino staffers within the campaign, like senior advisor Cristobal Alex, who was an early campaign hire and liaison to many of the Latino leaders reaching out to the campaign.
"The Latino vote is core to our path to victory, which is why we are focused on mobilizing Latino voters and showing them Joe Biden's solutions for our community," Rodriguez told Newsweek. "We have hired directors focusing on turning out the Latino vote in every major battleground state, and expanded our Latino paid media program to include North Carolina, Minnesota, and Nevada because we know how important it is that we communicate with Latinos where they live and congregate online to tell them about Joe Biden, and ask for their vote."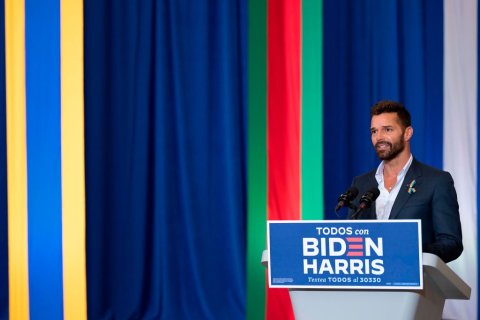 It is not a reach to predict that Donald Trump is not going to win the Latino vote, but he doesn't need to—he's looking to expand his base support marginally, while denying Biden the wide support past Democrats have enjoyed in bounding to victory. Trump campaign senior advisor Jason Miller confidently predicted on a call with the reporters on September 1 that the president will garner 40 percent of Hispanic support, which itself would be a sea change, and a figure not seen by a Republican presidential nominee since George W. Bush in 2004.
Biden's support from Latinos hasn't inspired confidence among Democrats, many of whom are gloomily sharing the latest troubling polls in group chats, precisely because it has alternated between looking suspiciously like Clinton's support four years ago or worse. An NBC News/Wall Street Journal/Telemundo poll conducted September 13 to 16 showed Biden at 62 percent Latino support, with Trump at 26 percent.
Biden is also only up by 28 points in an average of live interview polls, according to a September 15 analysis by CNN, while Clinton was up 37 percent in an average of final pre-election polls.
Pew Research Center has found in the past that about three in 10 Latino voters are conservative, so Trump's 28 percent support in 2016 was not terribly shocking—but election day support in the mid-thirties, as his campaign believes he can attain, would be unexpected for a president who has been described as anti-immigrant and anti-Latino by his opponents. Bush, widely considered the gold standard for "compassionate conservative" outreach to Hispanics, attained 35 percent support in 2000 and 40 percent in 2004.
The issues Latinos care about and have been affected by, like the global pandemic, represent an opportunity for Biden with the community, but he has yet to capitalize on them.
The economy, jobs and healthcare costs have long been three top issues for Latino voters, with immigration a passion point, but lower on the list. As Pew Research Center wrote in August, in a piece entitled "Coronavirus Economic Downturn Has Hit Latinos Especially Hard," Hispanics felt "downbeat" about their finances, and that was before the pandemic.
In addition to being battered economically, Latinos have been disproportionately affected both in terms of infections and death rates, according to government data and polls in recent months. Another Pew Research Center survey released in September found that the number of Latino registered voters who cited the virus as a "very important" election issue was 10 percent higher than U.S. adults broadly.
Voters who didn't take the pandemic seriously had no choice once it hit their communities, friends and families, or invaded their own bodies. Here, Trump's handling of the outbreak has cost him support among hard-hit Latinos.
"With the coronavirus all he cares about is reopening the economy," 74-year-old Atala Suarez, a Cuban-American from Miami who voted for Trump in 2016, but now supports Biden, told Newsweek. "I don't like how he's handled the coronavirus."
Kristin Urquiza, who spoke at the Democratic National Convention, grew up in Maryvale Village in Arizona, which was 70 percent Hispanic, and number one in per capita cases of coronavirus. She told Newsweek her father was still on board with Trump before he got sick. But before he died, after three weeks of battling the virus, Mark Urquiza told her "he had really trusted this guy and he had led him astray."
The Trump campaign recognizes that the pandemic is working against them.
"I think it's our number one impediment to winning," said Trump campaign senior advisor Steve Cortes, of the pandemic's effect on all voters.
But as of yet, the outbreak has not been enough to create a mass movement of Latinos away from the president. Consider that polls have not yet shown the big margins among Latinos that Obama won in his re-election, when he received 71 percent of Latino support, compared to 27 percent for Mitt Romney. Obama's recent high-water mark aside, Biden's numbers also haven't consistently shown the support the Democratic Party garnered from Latino voters in 2018, when they backed Democratic candidate 69 percent to 29 percent for Republicans, according to exit polls.
These uncomfortable truths have led to perhaps the central question keeping Democrats fearful of a second Trump term up at night: If Latinos have been slammed during a pandemic, why isn't Biden's support among Latinos higher?
"I think the Latino community has been so devastated economically, and in terms of their health, that there hasn't been much else on people's minds in the immediate moment," Representative Joaquin Castro told Newsweek. "I'm confident that Latino voter turnout will break records in 2020 and that Joe Biden will do very well with the Latino community."
According to another expert observer, the pandemic and the Latino vote are inseparable.
"The story of what is happening with COVID-19 and what is happening with the Latino vote is the same story, and to treat them as separate phenomena is missing the big picture," said Kristian Ramos, a Latino vote expert in Washington.
He noted that the same community that is facing food and economic anxiety because of the virus is also being asked to learn the ins and outs of vote by mail and early voting. The Latino community has traditionally been harder to reach because general market, English-language messaging isn't enough for robust, targeted outreach.
This new climate has come amid evidence that Hispanics have largely been ignored by campaigns, as the poll revealed.
"It's simply not true to say Latinos don't support Joe Biden," Ramos said. "There is wide support. But the bigger question is are they being reached out to? They have to be wooed and they have to be turned out."
The former vice president's investment in the Latino community has been a persistent source of criticism for his campaign, annoying staffers who feel every story about their level of outreach is negative. Headlines in the spring and summer blared that Biden's Latino outreach is under fire, from "I can't tell what their strategy is'" from Politico to "Crucial Latino voters seek more attention from Biden" from Reuters.
But Newsweek has learned that the concern was not just the province of journalists, and was raised with Biden himself this spring by former Senate Minority Leader Harry Reid of Nevada. According to a source with knowledge of the call, it included Reid expressing concern with the state of the Latino vote in the aftermath of the killing of George Floyd by police, which inflamed the nation.
A second Democratic source, who has spoken with Reid, said that he has been concerned about mobilization efforts to reach Latino voters, including those of the campaign, as well as outside groups and super PACs.
More recently, several Nevada elected officials, including Senator Catherine Cortez-Masto, the first Latina to serve in the U.S. Senate, also expressed concern to the campaign about the state of Latino outreach, two sources close to her team said.
The Latino community is a diverse one, encompassing voters of different ethnicities, immigration background, and language preference. For example, Biden can garner more support from Latinos in the southwest, who are predominantly Mexican-American, but still need to improve his support among other ethnicities.
While Cuban-Americans are a small portion of the Latino electorate nationally, the traditionally more conservative bloc plays an outsized role in Florida. Puerto Ricans, who have been long been considered Democratic stalwarts, turned out at a lower rate than Cubans in 2016 and 2018, and their propensity to register with no party affiliation makes the outlook in the state murky.
The unique makeup of the state's Latino community, which comprises 20 percent of the state electorate, is a reason why some Democrats say the issue of outreach and investment is most concerning in the critical Sunshine state. In Florida, where the winner has been decided by less than 2 percent since 2000, former New York City mayor and presidential candidate Mike Bloomberg pledged $100 million with Latinos as the "centerpiece," after recent polls showed the former vice president underperforming as compared to Clinton in populous Miami-Dade county, and among Hispanics.
A September Bendixen & Amandi/Miami Herald poll showed that while Obama beat Romney by 24 points in Miami-Dade county in 2012, and Clinton beat Trump by 29 points, 63 percent to 34 percent, Biden was only beating Trump by 17 points, 55 percent to 38 percent. Lackluster performance in the county with the most Democratic voters in the state would be an ominous sign for the campaign and is something it's looking to stave off.
September polling by EquisLabs, a political research firm founded by Obama alums Stephanie Valencia and Carlos Odio, found that Biden's numbers are also still not approaching Clinton's 2016 Hispanic support in the state. Biden is at 53 percent Latino support to 37 percent for Trump, a drop from the 62 percent to 35 percent showing four years ago.
The Real Clear Politics polling average, which had Biden up 3.3 percent in Florida in early September is now down to just 1.5 percent, taken with his dip in statewide Latino support and in Miami-Dade as compared to four years ago, it represents an ongoing concern for Democrats and Latino strategists, in spite of the increased investment by party figures like Bloomberg.
But there is another concern for Latino Biden supporters in Florida that lies outside traditional outreach methods: disinformation campaigns on the airwaves and social media.
"Our challenge continues to be a lot of disinformation that is happening in Florida targeting the Latino community," Maria Teresa Kumar, the founder of Voto Latino, told Newsweek., noting that she's seen interviews over the last year of Latinos in Florida who are "parroting" Trump ads. "They have to figure out how to disarm that disinformation," she said of the Biden team.
"I'm worried about it in Florida," said Jose Parra, a former senior advisor to Reid, of Latino investment. "I've heard that we're bleeding voters in Miami-Dade and we're getting hammered on the airwaves in Hispanic media."
That disinformation doesn't just come on traditional media like Spanish-language radio stations, but also on WhatsApp, Facebook, and YouTube where Latino voters whose families came from Cuba and Venezuela, have been repeatedly told that Biden is a socialist in the mold of Fidel Castro or Hugo Chavez. To many, often white Democrats, the idea is silly and dismissed out of hand. Biden is seen as a centrist by many—which led to a rash of criticism from voters on the left—so of course he isn't a socialist, right?
"If you don't believe that the socialism attacks against Democrats work in places like Florida, just ask Governor Andrew Gillum and Senator Bill Nelson," said Florida pollster Fernand Amandi in a tongue-in-cheek response about the two Democrats at the top of the ticket in the Sunshine state in 2018.
Amandi, who was the top consultant for Obama's Latino voter polling during both campaigns, and whose firm conducted the Miami Herald poll, said Democrats dismiss the potency of the word socialism at their own peril. "Those candidacies should have been successful in a massive blue wave year for Democrats, but were tripped up by overperformance by the Republicans with Hispanic voters that used the 'socialism' attack as one of the centerpieces of opposition."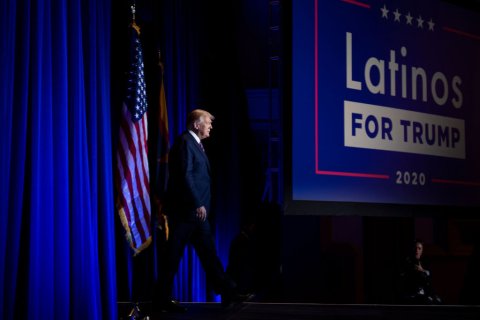 While the Trump campaign doesn't need to prioritize Hispanics in the same way as Biden does, the campaign is also not ceding the voting bloc, seeing the opportunity in Florida and beyond. The campaign told Newsweek it held 45,000 grassroots events in English and Spanish, as well as a "Day of Action Against Socialism" MAGA meet-up "to discuss horrors of socialism and phone bank into Latino communities." It also has 16 field offices targeting Latinos in Arizona, Florida, Nevada, and Texas.
The campaign said it has held dozens of zoom MAGA meet-ups to discuss the July White House Executive Order on the Hispanic Prosperity Initiative in states like Florida, Nevada and Texas. Trump's executive order, which was unveiled at the White House with fanfare among Hispanic Republican Leaders, created the Hispanic Prosperity Initiative within the Department of Education, to "improve access by Hispanic-Americans to educational and economic opportunities" around school choice and an improved focus on workforce development for students.
The Trump campaign often touts their digital events—like a weekly Latinos for Trump women's meeting every Wednesday, which includes women watching "The Right View," a YouTube show with Lara Trump, Kimberly Guilfoyle, and Mercedes Schlapp.
The campaign said it also registered dozens of voters at events in Florida, Arizona, Nevada, Wisconsin, and Pennsylvania, while collecting items to be donated to food banks, evidence that the Trump campaign also recognizes the ways the community has suffered this year. Despite the economic downturn, Latinos for Trump has focused on a "Promises Made, Promises Kept" message.
On September 14, Trump also sat in on a Latinos for Trump roundtable in Phoenix, Arizona, of nearly a dozen community members talking about their American dream.
But Cortes told Newsweek there is also a measure of telling Latino voters why Biden is bad for them, and failing that, at least keeping them home even if they won't vote for Trump, citing the example of disenchanted supporters of Senator Bernie Sanders.
"I don't know that we can win over a lot of those Hispanic Bernie supporters but we can convince them not to vote for Biden," Cortes said. "They're not enthusiastic and Biden's not winning them over. I would rather win them over, but we'll take the half-win of them not voting for Biden."
The Biden campaign has tried outlining Latino-specific policy plans, but it's unclear how much awareness of those plans has penetrated the community. A 2018 report by Stanford University revealed that the number of Hispanic small businesses grew 34 percent over the last decade, while it was just 1 percent for all U.S. business owners.
So when the Biden campaign unveiled a Latino agenda in August, it made sure to include an injection of capital to small businesses of more than $50 billion "in additional public-private venture capital to Latino entrepreneurs and other entrepreneurs of color by funding successful state and local investment initiatives and making permanent the highly effective New Markets Tax Credit."
It also highlighted its support of a $15 minimum wage, a push for a Smithsonian National American Latino Museum, and appointments of Latinos in a future Biden administration.
But one way in which the Clinton campaign appears to have surpassed the Biden Latino operation is in how much it used Latino and Spanish-language media to spread the message of how its policies would impact the community. The Clinton campaign touted then, and former staffers told Newsweek, it had the most "candidate time" given to Latino outlets ever, with Clinton granting interviews to national Univision and Telemundo audiences six times, and speaking to Spanish-language radio hosts across the country from Miami to a small station in Arizona getting a ten-minute interview with Clinton.
A source close to the Biden campaign said staffers have tried to get Biden on Spanish-language television like Univision and Telemundo more often, only to have the idea nixed by other staffers. One possibility is that the campaign was avoiding having Biden get boxed in by questions on immigration, where he is quick to defend his old boss Obama, scoffing at comparisons of his deportation policies and Trump's, but which takes him away from discussing his own plans and policies.
Biden, for example, did not grant an interview to influential Univision host Jorge Ramos until a week before the Nevada caucuses, where he was forced to defend Obama immigration policies, and negative headlines followed.
The Biden campaign did not respond to a request for comment on their Spanish-language and Latino media outreach, compared to the Clinton campaign's, but it did have him sit down with Telemundo's Jose Diaz-Balart, a veteran Cuban-American anchor from Florida, on September 15. Biden used the opportunity to message to Latinos in Florida, saying Trump is treating Puerto Ricans like "second-class citizens," and the University of Puerto Rico "should get the same kind of assistance that historic black colleges and minority universities get."
Asked about Trump's charges that he aligns with the "extreme left," Biden said it is the president who cozies up to dictators.
"He's more like Castro than he is like Churchill," Biden said.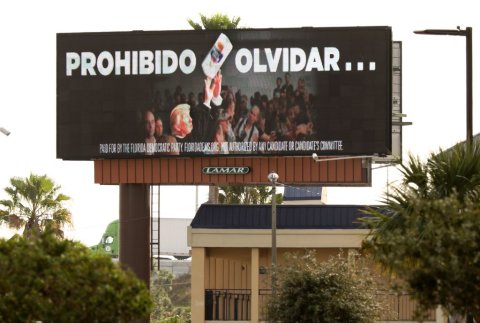 But while there are obstacles with Latinos, there is also promise, and the campaign is banking it can lead to growth of support in the final weeks. Beyond Florida, there are Latino-heavy states like Arizona, where Hispanic voters make up 24 percent of eligible voters that could go a long way towards helping Biden win a state that hasn't gone blue since Bill Clinton in 1996.
In Arizona, Representative Ruben Gallego, a Biden surrogate, said Hispanics, including young Latinos, are activated like never before.
"There was apprehension at the beginning, as the primary wrapped up, because the Biden campaign hadn't ramped up yet," he said. "But there's no way you can say they're not investing enough money in Arizona and Florida now." Gallego predicted that as was the case with the blue wave in 2018, young Latinos would break for Democrats in the end.
Voto Latino, which specializes in courting young Latino voters, says the enthusiasm among young people, particularly Latinas, is real. The group has registered 310,000 people this year, 80 percent of whom are under 33, and 75 percent who are Hispanic women, which could help Biden.
Kumar, who penned an op-ed for CNBC in August calling out Biden's enthusiasm issue with Latinos, said she has seen a "marked difference among enthusiasm with the announcement of Kamala Harris," tying it to her immigrant roots, which resonates in the Latino community.
The Biden campaign has sought to supplement its Spanish-language ads with a clear appeal to young Latinos, using a song from gender-bending, reggaeton and Latin trap superstar Bad Bunny in an anti-Trump ad. The song, which translates to "But Not Anymore," gives voice to Latinos who may have supported Trump, but don't any longer.
While young Latino Biden staffers giddily shared the ad on their Instagram and Twitter accounts, it was also one of the most viewed Biden ads on YouTube the week it was released. The Trump campaign followed with their own Bad Bunny ad, but fans of the artist know he has blasted Trump, including in his latest freestyle song where he insulted Trump and declared "Black Lives Matter."
"His voice is very supportive of causes I support like LGBTQ rights and fighting political corruption in Puerto Rico," Joel Maysonet, director of Latino paid media for the Biden campaign, told Newsweek. "That's why I thought it made sense even though it looked unconventional to have Joe Biden and Bad Bunny."
But the Biden campaign is clearly still looking for ways to get its policies and message in front of more Latino voters. While pollsters this cycle say there are fewer undecided voters than in 2016, the Biden campaign itself believes undecided Latino voters will break for the former vice president in October, according to two sources close to the campaign.
The theory of the case is that Latino voters are late deciders, and as Castro argued, they've been too inundated with health and financial concerns to focus fully on the battle for the White House. "It's a culture—whether campaign culture or the culture of Latino voters—that they're generally responsive later in the cycle," a source close to the campaign said.
One addition the Biden campaign made at the end of July was bringing on Saenz to coordinate direct mail campaigns within states, an operative that brings expertise from the successful Obama campaigns as national Latino vote director, where he helped implement its Hispanic voter program. EquisLabs' Valencia, who worked with Saenz, said that in addition to his work for Obama, he has run campaigns in diverse communities in New Mexico, Texas and Florida, and "understands the diversity and nuance of the Latino electorate."
Saenz is said to be working on a massive direct mail campaign now, Democrats told Newsweek. The campaign also hired Obama veteran Jorge Neri, who helped deliver the virtual convention for Democrats this summer, as senior advisor, and also was an architect of Clinton's 2016 primary win over Sanders in Nevada, with a heavy emphasis on Latinos.
In this final phase, the effort to identify more Latino voters undertaken by Saenz and the other Latino staffers, is being fueled by a newly cash-flush operation. While the campaign won't release specific budgets, the "spending numbers would blow people away—how much we're spending on TV, radio, and digital," a source close to the campaign said.
The campaign is also using its cash advantage to go deeper than it was previously able to when it comes to the sentiments of Latinos across the country. In Florida, it told NBC News it had a new 1,800 Latino voter sample for September—but wouldn't share the findings. That poll followed a robust 3,800 person national Latino poll conducted in August, with a new jumbo-sized 4,200 person poll in the field in nine states, Newsweek has learned.
The spending leads to more data at the campaign's finger tips, which unlocks the capability to do micro-targeted digital outreach, like pieces targeting men, immigrants, or people under the age of 30, a source close to the campaign added.
It's a genuine effort to grow Latino outreach, one the campaign argues it's been doing all along, and Democratic detractors have worried is too little—and now hopefully—not too late. But more than anything, for a party that saw Clinton come up short four years ago, ushering in the age of Trump, it's an effort to identify and reach more Latino voters—before time runs out.
In the campaign's view, however, the muscular rollout is right on schedule.
"You want to hit people when they're paying attention," a campaign source said. "It's like showing a trailer two years before the movie. Instead, you want to ramp up before the premiere day."