Joe Biden Could be Assassinated in Ukraine, Russian Pundits Warn
Russian TV pundits discussed the possibility that Joe Biden could be assassinated during his surprise visit to Ukraine.
Anton Geraschenko, adviser to Ukraine's Minister of Internal affairs, shared a translated clip of the comments to his Twitter page on February 20, captioning the video: "Propagandists are already discussing Biden's visit to Kyiv. Bloodthirsty as always."
Geraschenko did not name who was speaking or when exactly the comments were made, however, Biden's trip to Ukraine came as a surprise and was only widely reported on after he had already arrived in the country.
According to the translation, one person said: "Maybe someone in the State Department persuaded the old man [Biden] to show off, but in fact the subtext could be different.
"Here is the leak with the gas pipeline exploded and this trip may lead us to some such event as September 11.
"When Zelensky will be lying there at the same time, next to a bodyguard in sunglasses.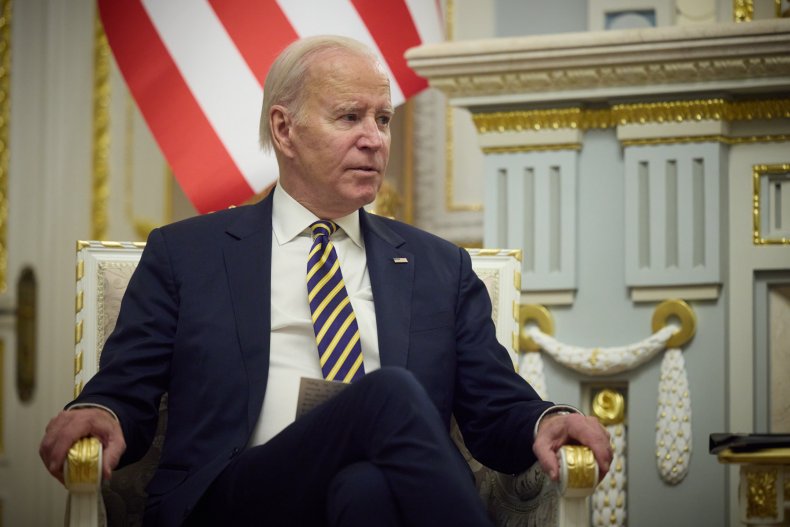 "Well, that's the kind of chic provocation they may have planned. You can imagine if something explodes on the square while we are sitting here."
Another person questions whether an attempt on Zelensky's life would actually be a staged attack.
They received the response: "And maybe they decided to eliminate Biden like that too."
National security adviser Jake Sullivan said that the U.S. notified Moscow about Biden's visit to Ukraine shortly before his departure from Washington to avoid any miscalculation that could result in an escalation in the conflict with Russia, according to an AP report.
Sullivan also noted that final approval was given for the trip on Friday and it had been in the planning stages for months. Biden was also briefed on security plans for the visit.
Speaking on Twitter, Biden confirmed his visit and used the opportunity to criticize Russian President Vladimir Putin ahead of the first anniversary of Russia's invasion.
In a tweet Biden said: "As we approach the anniversary of Russia's brutal invasion of Ukraine, I'm in Kyiv today to meet with President Zelensky and reaffirm our unwavering commitment to Ukraine's democracy, sovereignty, and territorial integrity."
In a follow up tweet, Biden wrote: "When Putin launched his invasion nearly one year ago, he thought Ukraine was weak and the West was divided. He thought he could outlast us. But he was dead wrong.
"Over the last year, the United States has built a coalition of nations from the Atlantic to the Pacific to help defend Ukraine with unprecedented military, economic, and humanitarian support—and that support will endure."
Newsweek has contacted the White House for comment.