Joe Biden Urged To Extend Unemployment Benefits Beyond Labor Day: 'Critical Lifeline'
The American Rescue Plan, also known as the COVID-19 Stimulus Package, is a $1.9 trillion economic relief bill administered by states but paid by the federal government, enacted in March this year.
This was heralded in a White House statement as "delivering direct relief to the American people, rescuing the American economy, and starting to beat the virus."
Benefits include a $300 weekly top-up to traditional benefits, additional weeks of benefits for the long-term unemployed and a program tailored for "gig economy" workers who traditionally miss out on regular unemployment benefits.
But although publicized as a temporary measure, President Joe Biden's administration has dropped a heavy hint it plans to extend the $300 extended unemployment payments program, which has just a fortnight left to run.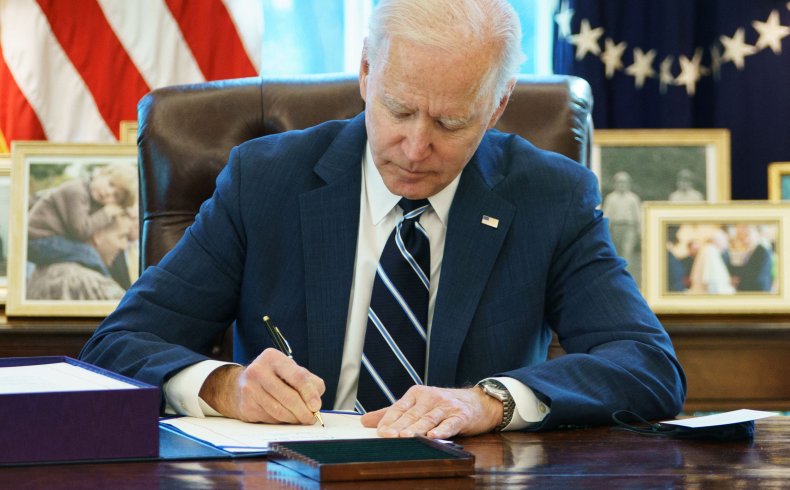 The potential alteration in attitude towards the American Rescue Plan arrives in a letter dated August 19 from Secretary of the Treasury Janet Yellen and Secretary of the Department of Labor Martin Walsh, sent to the chairman of the Senate Finance Committee and House Ways and Means Committee.
In the letter, the pair claim $350 billion could allow those unemployment payments to be extended.
Despite the plan being advertised as a short-term remedy, Yellen and Walsh argue these funds have already been earmarked to assist "state and local governments to support communities' continuing response to the pandemic, address its economic impacts, and lay the groundwork for a strong and equitable recovery."
The letter asserts: "The Treasury Department is re-affirming that states can use their allocations of the $350 billion in American Rescue Plan State and Local Fiscal Relief Funds to provide assistance to unemployed workers, including by continuing to provide additional weeks of income support to workers whose benefits expire on September 6th and to workers outside of regular state UI [Unemployment Insurance] programs."
Other areas of their four-point plan set out in the letter include offering advice to states on how to best use the pre-existing infrastructure, the provision of $47 million in new grants, and potential reform of the unemployment insurance system.
They add: "These programs have been a critical lifeline for millions of Americans who were unemployed, through no fault of their own during the COVID pandemic.
"These benefits made it possible to keep a roof over their heads and put food on the table for their families during this unprecedented public health emergency."
However, business owners have joined Republicans in criticizing the $300 top-up, highlighting the administrative obstacles faced by shops, stores and other employers in attracting workers.
Biden has witnessed his popularity wane in recent days, following criticism over the nature of the military's withdrawal from Afghanistan.
Newsweek has contacted the Senate Finance Committee and House Ways and Means Committee for comment.