Joe Biden Urges Americans to Take Vaccines as Skepticism Undermines Rollout
President Joe Biden pleaded with Americans to get COVID-19 vaccine shots as he said his administration would reach its goal of administering 100 million doses of COVID-19 within 100 days on Friday.
In a video statement released on Thursday, the president said officials expected the milestone to be reached today, and told Americans it was "critically important" that they take the COVID-19 vaccine when it is offered to them.
Biden issued his vaccine plea as several polls found that a large minority of Americans are hesitant about receiving a shot, or may even be ready to refuse the vaccine outright.
Speaking on Thursday, Biden said: "Folks, tomorrow we're going to hit a very important milestone that I promised: 100 million shots of vaccine in people's arms. So when you get your opportunity, get the vaccine, get the shot. It's critically important."
Newsweek has contacted the White House for further comment.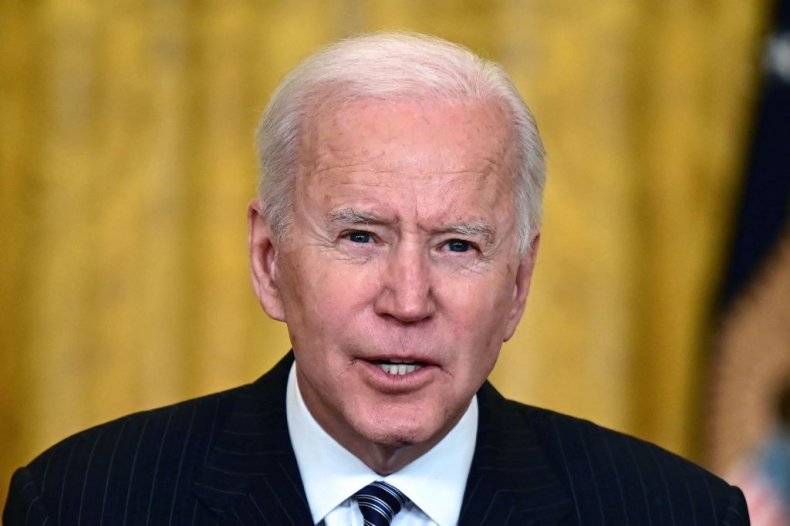 The latest YouGov/Economist poll found that a worrying 25 percent of Americans would not be vaccinated if they were offered a shot, compared to 56 percent who had either been given a dose already, or were happy to accept a shot.
A further 18 percent of Americans polled between March 13 and March 17 said they were not sure whether they would take the vaccine—further signalling that the rollout could hit a snag of skepticism down the track.
A separate poll from Monmouth University revealed an almost identical number of Americans were firmly opposed to taking a shot. Twenty-four percent of those polled said they would never get the vaccine if it was avoidable.
Another 21 percent said they'd prefer to see other people getting the shot before they would feel comfortable doing so themselves. According to Monmouth, these numbers were relatively unchanged from January this year.
The Pew Research Center reported that willingness to take a COVID-19 vaccine was improving earlier this month, with a poll from the group finding that the share of people who wouldn't get a shot fell from 39 percent to 30 percent in February.
Both Monmouth University and Morning Consult pollsters have identified partisanship as a leading factor among those who refuse to take the COVID-19 vaccine.
Republican voters are far more likely than Democrats to be skeptical of getting a shot, with more than a third telling Monmouth pollsters that they wanted to avoid the vaccine altogether, compared to six percent of Democrats.
Former President Donald Trump sought to tackle this problem by reassuring his supporters that COVID-19 vaccines were safe and "something that works" earlier this week after pressure from the White House.