Joe Biden Vaccine Mandates Faces Texas Lawsuit: 'I'll See You in Court!'
Texas Attorney General Ken Paxton has filed legal challenges to Joe Biden's vaccine mandates for federal contractors and healthcare workers, telling the president: "I'll see you in court!"
On Monday, Paxton filed a motion seeking a temporary restraining order and preliminary injunction to block the Biden administration's requirement that all employees of federal contractors be vaccinated against the coronavirus by December 8.
It described Biden's mandate as an "unprecedented overreach" that will force those who work with federal contractors "to choose between their fundamental constitutional rights and their livelihoods."
The motion calls the mandate part of the president's "unconstitutional efforts to revitalize his 'flagging vaccination campaign' at the cost of individual liberty."
Paxton also filed a lawsuit on Monday challenging the White House's vaccine mandate for healthcare workers, arguing that the mandate "threatens to exacerbate an alarming shortage of healthcare workers."
He later tweeted overnight Monday: "At a time when we need healthcare workers more than ever before, amid a harrowing worker shortage, the Biden Administration has prioritized this unlawful vaccine mandate over the healthcare of all Americans. Once again Biden, I'll see you in court!"
In an earlier statement, Paxton said: "The President's blatant disdain for those who choose to not receive a vaccine will not be allowed to seep into the great State of Texas. Here, we protect individual liberties first and foremost, and Texans do not have to sacrifice their beliefs and their health to preserve their livelihoods."
Texas is also among more than two dozen states that are taking part in lawsuits against the federal government over a vaccine mandate that would apply to private businesses with more than 100 workers. Under the rules, workers would required to be vaccinated against COVID-19 by January 4 or wear a mask and be tested weekly for the virus.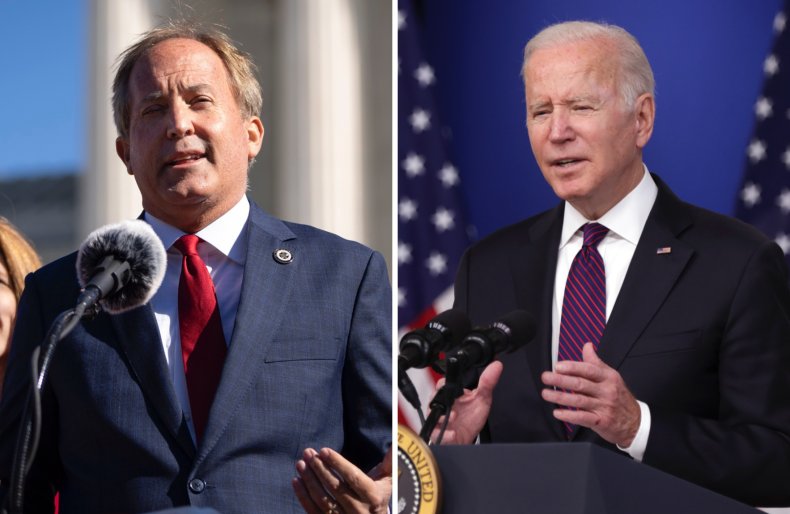 The legal challenges, mostly from Republican-led states, contend the mandate is an overreach that undermines the authority of states to determine health policies.
It comes after Paxton was grilled by Fox News anchor Chris Wallace over the contradictory positions he and state leaders hold on vaccine mandates.
"You say that Texas companies should take care of their own workers. So, given that, how do you justify the governor of Texas, Greg Abbott, issuing an executive order that bans any business in Texas from issuing a vaccine mandate?" Wallace asked on Fox News Sunday.
"And how do you justify the governor issuing a ban on all school districts on mask mandates? A ban that was overturned just this week by a federal judge."
Paxton responded by saying Abbott has "the authority under state law" to issue such orders and that Biden doesn't have the authority to enforce vaccine requirements.
Wallace pushed back, saying: "But you said that the businesses should take care of their own workers and the governor is saying they can't take care of their own workers as they see fit. They're prohibited from deciding if they so choose to issue a vaccine mandate. That's not consistent."
The White House and Paxton's office have been contacted for additional comment.